Here's a carrot salad that I've been making a lot, based on a recipe from my man in Paris, David Lebovitz.*
*By "my man in Paris", I don't mean to say I know him - he couldn't pick me out of a lineup if I cut in front of him. Sorry, a little Paris humor there.
I feel like I know David because of his wonderful blog, and because I relied so heavily on his recommendations when I went to Paris. The best one was to buy the pocket size "Paris par Arrondissement" map. I'm a habitual map looker, and I spent as much time thumbing through that map as I did looking at the city.
*See the link at the end of this post for David's book reminiscing on life in Paris as an expatriate American cookbook author who specializes in desserts.
Recipe: Grated Carrot Salad (Carottes Râpées)
Equipment:
Julienne shredder. I use the Julienne Disc for my food processor.
Ingredients:
½ lb carrots, peeled and julienned. (I get one bunch with the green tips still on.)
¼ cup minced parsley
Dressing (see Lemon Dressing post for a more detailed description)
Juice of 1 lemon (should be about 2 to 3 tbsp)
1 teaspoon lemon zest
1 teaspoon sugar
pinch of salt
pinch of freshly ground black pepper
1 medium garlic clove, minced
6 tablespoon (⅓ cup plus a little) Extra Virgin Olive Oil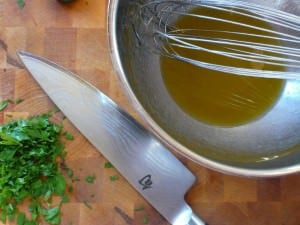 Directions:
1. Make the dressing: Combine the dressing ingredients in a medium bowl, and whisk until combined.
2. Make the salad: Add the carrots and parsley to the bowl, and toss until evenly coated with dressing. Serve and enjoy.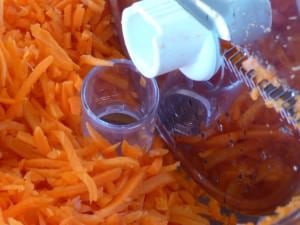 Variations:
*Dijon Mustard: Add some mustard to the dressing - David recommends this as a variation in his original recipe.
*Make ahead: Keep the carrots and parsley separate from the dressing, and toss just before serving. It tastes best freshly tossed.
*Skip the parsley: My kids don't like green stuff, so sometimes I skip the parsley if I'm not up to giving the "just eat around it" speech.
*Herbs: Never mind what I said above about green stuff; add some herbs to the dressing. I like about a ½ teaspoon of fresh thyme, but almost any herb will do.
[Added 8/20/2009]

*Moroccan Shredded Carrots: Add 1 teaspoon ground cumin and 1 teaspoon paprika (smoked Spanish paprika if you have it) to the lemon dressing
Notes:
*Use the freshest carrots you can in this recipe. Here are my preferred types of carrots, in order:
1. Carrots with their tops on, where the green tops look fresh (from your local farmer's market, if you can)
2. Carrots, whole in a bag (aka storage carrots)
3. Baby carrots in a bag
4. Pre-shredded carrots in a bag
...and by preferred type, I mean "for flavor". I'll make this recipe with #4, and it will be good, but it won't be the experience that it is with fresh, sweet carrots.
*My knife skills are good, but not good enough to julienne a bunch of carrots. That's why I recommend a julienne shredder in the "equipment" section. If you don't have a julienne shredder, you can use the large holes on your box grater. The shreds won't come out as neat looking, but the salad still tastes great.
*This is one of the few vegetables that my youngest son loves. When he sees me julienning the carrots, he hangs around until he gets his ramekin full of carrot sticks to munch on.
Related posts:
*As I mentioned in the recipe, this is just using shredded carrots with my
lemon herb dressing
from
vinaigrette week
.
Questions? Leave them in the comments.
Inspired by:
My trip to Paris.
*Sigh. I'm going to go back there back someday.
Adapted From:
Salade de Carottes Rapees [davidlebovitz.com]
David Lebovitz - My Sweet Life In Paris

*Enjoyed this post? Want to help out DadCooksDinner? Subscribe to DadCooksDinner using the RSS or Email options on the right, link to this post from your blog, recommend DadCooksDinner to your friends, or buy something from Amazon.com
through the links on this site. Thank you!