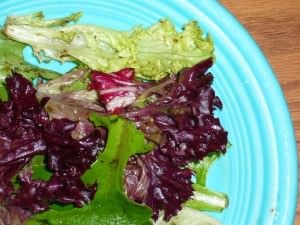 For Vinaigrette Week: here is the first vinaigrette I learned as a technique as opposed to a recipe. It's still my favorite - the balsamic vinegar gives it a hint of sweetness that I really like.
I was at a cooking class given by Fat Cats, a local restaurant. The chef did the recipes, while one of the owners kept up a running commentary. They had a good act - It was very entertaining. But, more importantly, I learned two things. The first is, this is just a technique - as long as you know the basics, you can do endless variations. They used Fig Balsamic vinegar, but it was fine if you couldn't find it; just get good balsamic vinegar. The second is that exact measuring doesn't matter - close enough is good enough, as long as you taste afterwards to adjust if you need it.
I remember something like "Add a half a cup of olive oil. (Glug-glug sound as he pours from the bottle.) OK, that's close enough. (Whisks madly, then dips his finger in and tastes.) A little more vinegar. (More whisking). That's it! Perfect!"
This is the first vinaigrette I teach other people when I'm trying to convert them to my Anti-Bottled Salad Dressing crusade.
¡VIVA LA REVOLUCION!
It's quick, and has only two ingredients (well, four if you count salt and pepper). The results are better than anything you can buy pre-bottled. A key point is that you need good ingredients - a decent balsamic vinegar, and extra virgin olive oil. Because there are only four ingredients, the quality of the ingredients matter. Splurge on your balsamic vinegar - don't by the bottle for $2.95; expect to pay $8 or more for it. (Cooks Illustrated recommends Lucini Balsamic
). If you can find a good quality flavored balsamic vinegar (I love Restaraunt Lulu Fig Balsamic
), try it.
Recipe: Balsamic Vinaigrette


See the Vinaigrette Basic Technique (Vinaigrette Basic Technique) for an overview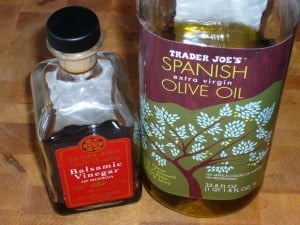 Ingredients:
For a 5oz bag of Spring Mix, or 2 quarts of mesclun mix
1 tablespoon balsamic vinegar
pinch of salt
pinch of freshly ground black pepper
3-4 tablespoon (scant ¼ cup) Extra Virgin Olive Oil
Directions: Easy Way
1. Whisk to blend: Whisk all the ingredients in a small bowl until creamy.
Note: Because you don't have the mustard to act as a binder, you need to whisk hard for this to emulsify. Don't worry if it doesn't; it still tastes great. If you're the kind of person who worries, go with the finesse recipe, below.
OR:
Directions: With Finesse
1. Dissolve the salt: Whisk the salt, pepper and vinegar in a small bowl until the salt dissolves, usually about 30 seconds.
2. Add the oil slowly: Add the oil in a slow stream, whisking until creamy and emulsified.
3. Serve: Just before serving, toss the lettuce and vinaigrette in a large bowl until the lettuce is well coated. Give the lettuce a couple more grinds of pepper, toss again, and serve.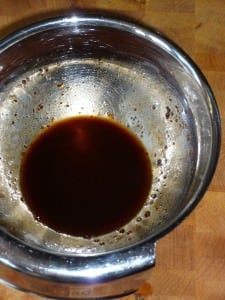 Variations:
Add 1 teaspoon of dijon mustard - helps to bind the vinegar and oil, and adds a little heat. I keep flip-flopping on wether or not I prefer this dressing with or without the mustard.
Flavored balsamic - normally, I'm a traditionalist when it comes to recipes. But this recipe works so well with flavored balsamic, I recommend you go find some. Try Fig
, Black Currant
, Lemon
, Cherry
- whatever you can find that sounds good to you.
Notes:
I like this vinaigrette with bitter greens - spring mix or mesclun mix are my favorites.
I also use it as a general purpose grilled vegetable marinade - the sweet overtones of the balsamic go well with the charred tastes from the veggies. I've used it with grilled asparagus, peppers, onions, green beans, and especially portobello mushrooms. If I want to get fancy, I put a little aside, marinate with the rest, grill the veggies, then toss them with the reserved vinaigrette.
Inspired by:
Fig Balsamic Vinegar