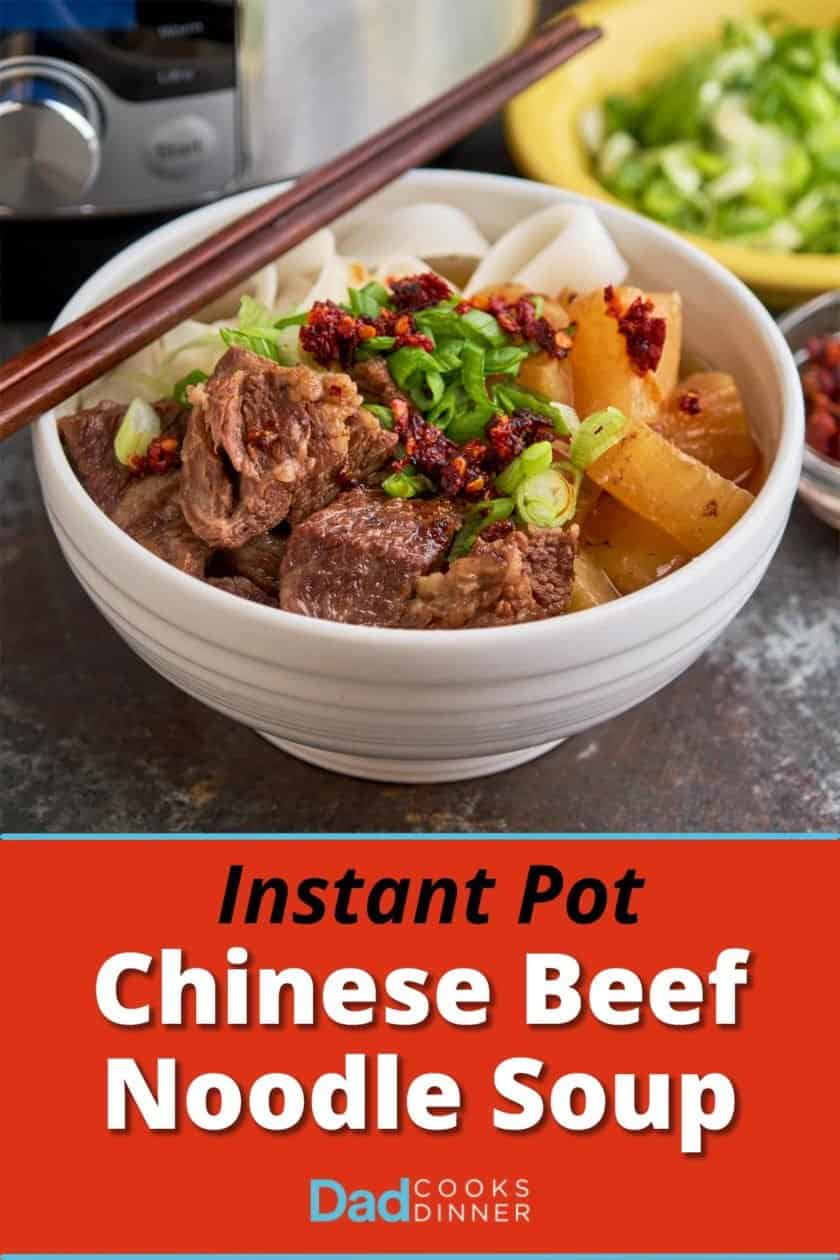 Instant Pot Chinese Beef Noodle Soup. Pressure cooker soup, Chinese style, with thin-sliced short ribs, daikon radish, and rice noodles.
The picture in Bon Appetit sold me. I was leafing through the magazine on a cold, rainy October afternoon, and I saw it. A gorgeous bowl of Chinese beef noodle soup. That's it! That's what's for dinner.
I went to my local Asian market to pick up ingredients - wide rice noodles, dried mushrooms, and daikon radish are specialized enough that I figured it was worth the trip. (And less expensive), While I was there, I picked up a jar of chili crisp. Chili crisp is my family's new addiction; my son adds it to almost everything he eats, and I needed to stock up for the soup. (Do you need all these specialized ingredients? No - check the notes section for suggested substitutions.)
The only hiccup in my plan was short ribs. My plan for the soup included making its own broth in the pot, and I wanted flanken style cross cut short ribs, for the extra depth the bones would add to the broth. But…my store was out of them, so I had to go with boneless short ribs instead. That's OK - the broth still came out great. But…if you have some homemade broth in the freezer (like I'm always recommending), use it to replace some of the water.
Looking for a warm bowl of brothy beef goodness? Some long noodles you can slurp? A hit of chili crisp heat? This is the soup for you.
Recipe: Instant Pot Chinese Beef Noodle Soup with Short Ribs
Inspired by:
Every Beef Noodle Soup Tells a Story. And Shy*Boyz Club Has Some Stories. | Bon Appétit
Print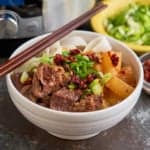 Instant Pot Chinese Beef Noodle Soup with Short Ribs
---
Author:

Mike Vrobel

Total Time:

1 hour

Yield:

6

bowls of soup

1

x
Description
Instant Pot Chinese Beef Noodle Soup. Pressure cooker soup, Chinese style, with thin-sliced short ribs, daikon radish, and rice noodles.
---
½ ounce

of dried oyster mushrooms (or any dried mushroom), optional

8 ounces

wide rice noodles, cooked according to package instructions

1 tablespoon

vegetable oil

2

scallions (green onion), root ends trimmed and cut into

2

-inch pieces

3

cloves garlic, smashed

2

-inch piece of ginger, peeled

½ teaspoon

Chinese Five Spice powder
Pinch of red pepper flakes

3

pounds boneless beef short ribs, cut into

½

-inch thick slices

2 tablespoons

rice cooking wine (Shaoxing wine - see notes)

½ cup

soy sauce

4 cups

water (or homemade beef or chicken broth - see notes)

1½

pounds daikon radish, peeled and sliced into

1

-inch thick half-moons
Minced scallions for garnish
Chili crisp for garnish
---
Instructions
Soak the dried mushrooms (optional) and rice noodles: Cover the dried mushrooms with 1 cup of hot water and let soak for at least 30 minutes. Put the rice noodles in a bowl, cover with boiling water, and soak until they are tender, stirring every few minutes. (Follow the package instructions, but taste test to make sure they're tender all the way through. Different packages have different times, and the one that worked best for me was 30 minutes of soaking.) Drain the noodles, rinse with cold water to stop the cooking, and rinse again with hot water right before serving to warm them up.
Sauté the aromatics: Pour the vegetable oil into an Instant Pot or other pressure cooker and heat over Sauté mode until the oil is shimmering. (Use medium heat in other pressure cookers.) Add the scallions, garlic, ginger, five spice powder, and red pepper flakes, and quickly sauté until everything starts to sizzle and you smell garlic, about 1 minute.
Coat the short ribs with rice wine and soy sauce: Add the short ribs to the pot and stir to coat with the oil and aromatics. Drizzle the rice wine over the beef, turning to coat, and let the rice wine come to a simmer, then simmer for 1 minute. Drizzle the soy sauce over the ribs and toss the ribs to coat with soy sauce to coat.
Water, daikon, and mushrooms into the pot: Pour 4 cups of water (or broth) into the pot, then stir in the daikon radish. Add the (optional) soaked mushrooms and the mushroom soaking water.
Pressure cook for 25 minutes with a Natural Pressure Release: Lock the lid on the Instant Pot. Cook at high pressure for 25 minutes in an Instant Pot or other electric pressure cooker (Use "Manual" or "Pressure Cook" mode set in an Instant Pot), or for 20 minutes in a stovetop pressure cooker. Let the pressure to come down naturally for at least 15 minutes, then quick release any pressure left in the pot.
Serve: Unlock the lid on the pressure cooker, turning it away from you to avoid the hot steam. Fish out and discard the ginger. To serve, put some rice noodles in a bowl, and ladle in soup to cover. Sprinkle with the sliced scallions, add a dollop of chili crisp, and serve. Enjoy!
Equipment
Notes
The ingredients for this soup are easy to find if you have a local Asian market. If you can't find them, here are suggestions for substitutes:
Shaoxing wine is Chinese rice cooking wine. Substitute dry sherry, Japanese sake, or a dry white wine
Daikon radish is a large Chinese radish. Substitute white radishes, jicama, or turnips
Can't find wide rice noodles? Substitute medium rice noodles - AKA pad Thai noodles, or another rice noodle, or a wide wheat noodle like linguine.
Chili crisp is my new favorite hot topping. Substitute red pepper flakes, or hot chili oil, or Sriracha.
The short ribs and water make their own beef broth, but you can supercharge this soup by replacing the water with homemade beef or chicken broth. (Or store-bought low sodium broth - but if you have a pressure cooker, you have to make homemade broth, at least once. You'll never go back.) 
If you can find flanken-style cross cut short ribs, use them instead of the boneless ribs. You will have to eat around the bones, but the bones add extra body to the broth.
Can't find boneless short ribs? Use a flat iron steak or chuck roast, slicing the meat into 2-inch by 1-inch by ½ inch wide pieces.
Tools
6 quart or larger pressure cooker (I love my Instant Pot 6-Quart Pressure Cooker)
Prep Time:

15 minutes

Cook Time:

45 minutes

Category:

Weeknight Dinner

Method:

Pressure Cooker

Cuisine:

Chinese
Keywords: Instant Pot Chinese Beef Noodle Soup, Pressure Cooker Chinese Beef Noodle Soup
What do you think?
Questions? Other ideas? Leave them in the comments section below.
Related Posts
Instant Pot Chicken Back Broth
Instant Pot Short Ribs with Coconut Milk and Thai Curry
Instant Pot Red Braised Pork Belly
My other Instant Pot and Pressure Cooker Recipes
Enjoyed this post? Want to help out DadCooksDinner? Subscribe to DadCooksDinner via email and share this post with your friends. Want to contribute directly? Donate to my Tip Jar, or buy something from Amazon.com through the links on this site. Thank you.