Instant Pot Indian Black Lentils and Kidney Beans. Pressure cooker Dal Makhani, adapted from Madhur Jaffrey, a simple dal for a weeknight dinner.
Back when I got my first pressure cooker in 2003, in the US it was an offbeat cooking gadget, not yet the cultural juggernaut of the Instant Pot. There were only a handful of authors who wrote pressure cooker recipes on a regular basis. There was Lorna Sass, of course; most of what I learned came from her cookbooks, and I owned everything she published. Cooking magazines would have a pressure cooker article about once every five years, and I'd get a few recipes that way. I collected the recipe booklets that came with pressure cookers, because every manufacturer would get me some more ideas to work with.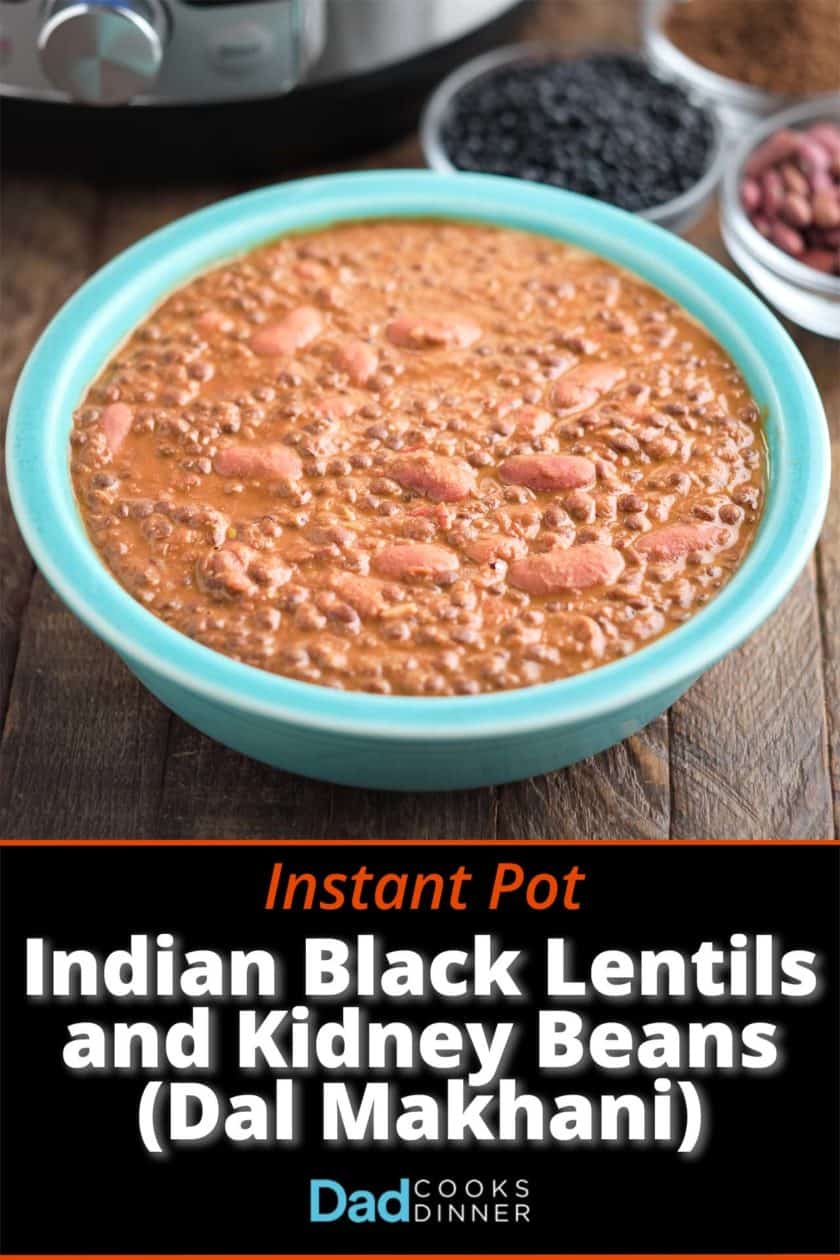 Then there was Madhur Jaffrey, whose Indian cookbooks always had some pressure cooker recipes. Pressure cookers in India stayed popular through the years, unlike the United States boom and bust that PCs went through in the 1950's US. I found a bunch of good recipes through her.
When the Instant Pot hurricane hit a few years back, Mrs. Jaffrey leaned into it with her Instantly Indian Cookbook. That's where today's inspiration came from - this is my take on her Dal Makhani recipe, with black lentils and red kidney beans, and garam masala. Her recipe is simple, but I couldn't help myself and used some of my own techniques in the cooking. I also skip her tarka of freshly sautéed onions at the end - see the notes if you want to add them. (I know, if I had an Indian grandmother, she'd be rolling over in her grave. It was a weeknight, OK?)
This recipe goes best with basmati rice, and if I'm feeling particularly health conscious, I'll make a batch of brown basmati rice to go with it.
Jump to:
🥫Ingredients
dried red kidney beans
butter
ginger
garlic
garam masala
cayenne pepper
black lentils
crushed tomatoes
heavy cream
🥘 Substitutions
If you can't find black lentils, substitute regular lentils.
Cayenne pepper: ¼ teaspoon of cayenne pepper gives this recipe a "medium heat" level. If you can't take the heat, skip the cayenne pepper. If you think Indian Hot is the only way to make dal, add ¾ teaspoon of cayenne pepper, and stand back.
Curry powder can substitute for the garam masala. It has a very different flavor, and is not authentic, but it still works with the Indian flavor profile it gives.
If you want a vegan version, substitute vegetable oil for the butter, and skip the heavy cream. It won't be as rich, but it's still good.

🛠 Equipment
A 6-quart pressure cooker. Pressure cooker dried beans are one of the key reasons I became a pressure cooker convert.
A 2-quart oven safe baking dish, or individual serving sized gratin dishes.
📏Scaling
This recipe doubles easily in a 6-quart pressure cooker. Cut all the ingredients in half and this recipe will fit in a 3-quart pressure cooker.
🤨 Soaking Kidney beans
Kidney Beans need a soak to cook evenly in a pressure cooker. Also, it helps speed up their cooking time so the rest of the ingredients don't turn to mush while pressure cooking.
The lentils don't need a soak - they're going to be just on the edge of falling apart at the end of the pressure cooking time.
I do an overnight soak - when I remember - and a quick soak when I don't remember. (Which, unfortunately, is most of the time. I'm an enthusiastic home cook, but not that good at planning ahead.)
💡Tips and Tricks
Salt your bean water! "Salt toughens beans" is a myth. Salting before cooking helps season the beans all the way through as they cook.
If your beans are still tough when the cooking time is over, especially any "floaters" at the top of the pot, give the beans a stir, lock the lid, and pressure cook for another five minutes. Older beans take longer to cook, and if the beans have been sitting in the shelf at your store for a while, they may need extra time.
Adapted from: Madhur Jaffrey's Instantly Indian Cookbook
Print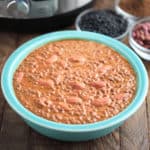 Instant Pot Indian Black Lentils and Kidney Beans (Dal Makhani)
---
Author:

Mike Vrobel

Total Time:

8 hours 55 minutes

Yield:

8 cups

of dal

1

x

Diet:

Vegetarian
Description
Instant Pot Indian Black Lentils and Kidney Beans. Pressure cooker Dal Makhani, adapted from Madhur Jaffrey, a simple dal for a weeknight.
---
Soaking kidney beans
6 ounces

(

¾ cup

) dried red kidney beans, sorted and rinsed

6 cups

water

1 ½ teaspoons

fine sea salt
Dal Makhani
1 tablespoon

butter

1

-inch piece of fresh ginger, peeled and minced

2

garlic cloves, crushed

2 teaspoons

garam masala

¼ teaspoon

cayenne pepper

6 ounces

(

¾ cup

) kidney beans, soaked (see above)

12 ounces

(

1¾ cups

) black lentils, sorted and rinsed

5 cups

water

15 ounce

can crushed tomatoes

1½ teaspoons

fine sea salt

½ cup

heavy cream

1 tablespoon

butter

1 teaspoon

garam masala
---
Instructions
Sort and rinse the kidney beans: Sort the kidney beans, discarding any stones, dirt, or broken beans. Rinse the beans, then do an overnight or a quick soak.
Overnight soak: Cover the kidney beans with 6 cups of water, and sprinkle with 1 ½ teaspoons of salt. Leave the beans to soak at least 8 hours, or overnight. Drain and discard the soaking liquid.
OR: Pressure Quick Soak for 1 minute with a 30 minute rest: Put the kidney beans and 6 cups of water in an Instant Pot or other pressure cooker. Sprinkle with 1 ½ teaspoons of salt. Pressure cook at high pressure for 1 minute ("Manual" or "Pressure Cook" mode in an Instant Pot for 1 minute), then quick release the pressure. Let the beans soak in the pot for 30 minutes, then drain the beans and discard the soaking liquid.
Toast the aromatics and spices: Melt 1 tablespoon of butter in an Instant Pot set to sauté mode (use medium heat in a stovetop PC). Add the ginger and garlic to the butter, and sprinkle with 2 teaspoons garam masala and the cayenne pepper. Toast for 1 minute to bloom the spices.
Beans and liquid in the pot: Stir in the soaked and drained kidney beans, rinsed black lentils, 5 cups water, crushed tomatoes, and 1 ½ teaspoons fine sea salt.
Pressure cook for 15 minutes with a Natural Release: Lock the lid on the Instant Pot and cook on high pressure for 15 minutes. (12 minutes in a stovetop PC). Let the pressure come down naturally, about 20 minutes. (If you're in a hurry, you can quick release any remaining pressure after 15 minutes). Remove the lid carefully, opening away from you – even when it's not under pressure, the steam in the cooker is very hot.
Stir, season, and serve: Stir the beans in the pot vigorously to break up some of the lentils and thicken the stew. Stir in the heavy cream, butter, and 1 teaspoon garam masala. Serve with basmati rice and enjoy!
Equipment
Notes
Tarka: Mrs. Jaffrey recommends cooking a tarka - sautéed aromatics and spices stirred into the dal at the last minute. This was a step too far for my weeknight dinners, but it does add a touch of elegance and finesse to the recipe. If you want to add a Tarka, sauté a small sliced onion in 2 tablespoons of butter over medium heat until browned around the edges, then sprinkle it with ¼ teaspoon of paprika, and stir it in at the end of the recipe.
Prep Time:

10 minutes

Soaking time:

8 hours

Cook Time:

45 minutes

Category:

Weeknight Dinner

Method:

Pressure Cooker

Cuisine:

Indian
Keywords: Instant Pot Indian Black Lentils and Kidney Beans (Dal Makhani), Pressure Cooker Indian Black Lentils and Kidney Beans (Dal Makhani)
☃️ Storage
This recipe freezes well, in 2-cup containers, for up to 6 months. The bread crumb crust will get soggy, but still taste good.
🤝 Related Posts
Instant Pot Quick Lentil Curry
Instant Pot Masala Desi Chickpeas (Masala Desi Chana)
Instant Pot Short Ribs with Coconut Milk and Thai Curry
My other Instant Pot and Pressure Cooker Recipes
Enjoyed this post? Want to help out DadCooksDinner? Subscribe to DadCooksDinner via email and share this post with your friends. Want to contribute directly? Donate to my Tip Jar, or buy something from Amazon.com through the links on this site. Thank you.