I'm a loyal subscriber to Canal House Cooking by Melissa Hamilton and Christopher Hirsheimer. It is one of my favorite…magazines? Quarterlies? Series of small cookbooks? I'm not sure what to call it, exactly; they publish three issues a year. Except when they don't; they took a sabbatical last year to finish their cookbook.
I'm not the most patient person - it seems like it's been over a year since I got an issue of Canal House. I'm starting to show signs of withdrawal.
Hamilton and Hirsheimer are back with Canal House Cooking Volume 8: Pronto!, and it was worth the wait. As usual, it is stuffed with simple, spectacular recipes (Why, hello, grilled butterflied chicken alla diavola. Where have you been all my life?).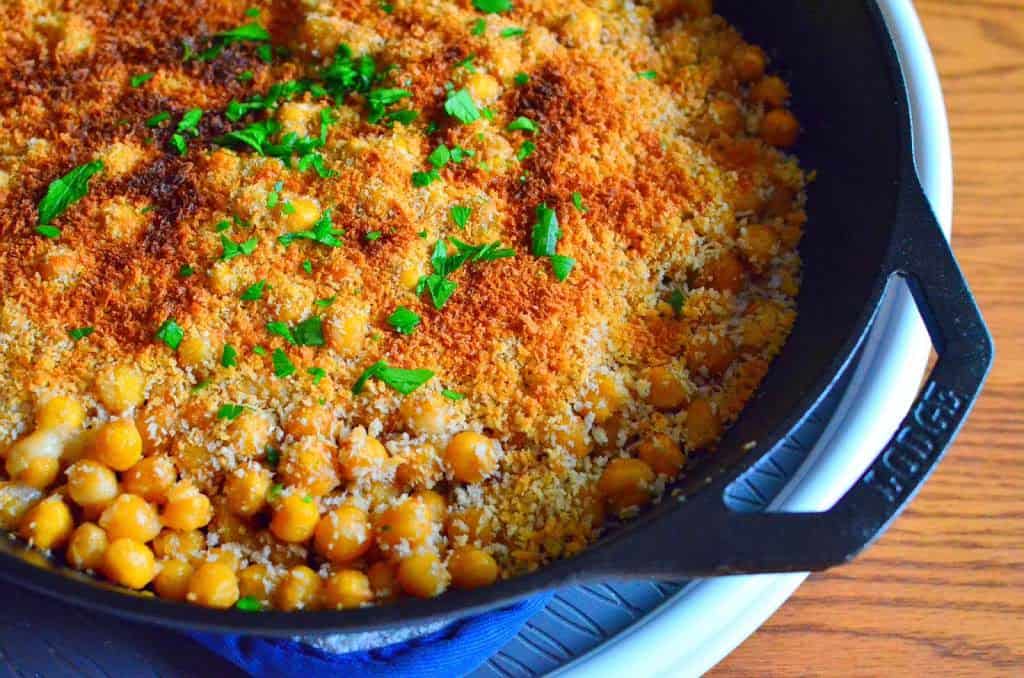 Jump to:
Today, I was inspired by the combination of two ingredients - chickpeas and breadcrumbs - in one of their pasta dishes. Chickpeas and breadcrumbs sounded like a great combination. (Maybe too good of a combination - I didn't bother reading the rest of the recipe and went straight for the bag of dried chickpeas in my pantry.)
Now, this recipe may seem like a lot of steps - pressure cook the chickpeas, sauté the chickpeas, broil the breadcrumb crust. It's not that bad, really - especially if you pressure cook the chickpeas ahead of time, like I suggest in the notes section. (See my pressure cooker chickpeas recipe here.)
I'm not a vegetarian, and I don't pretend to that I'll ever become one. But if I ever do, dishes like this are what will make it possible. The creamy chickpeas, salty Parmesan, and crunchy bread crumbs give me everything I get out of a good cut of meat.
🥫Ingredients
Dried Chickpeas
Baking soda
Onion
Bay Leaf
Olive oil
Lemon
Shredded parmesan
Panko bread crumbs
Parsley
See recipe card for quantities.
🥘 Substitutions
Chickpeas are also called Garbanzos in Spanish, or Ceci in Italian.
No dried chickpeas? Substitute 2 (15-ounce) cans of chickpeas, drained, and start with the sauté step.
You can replace the onion with a couple of unpeeled cloves of garlic, or skip it altogether.
You can also skip the bay leaf if you don't have any. Beans, water, and a little salt are enough for cooking the beans - but the onion and bay add a subtle extra flavor to the beans.
I like olive oil in this recipe - it adds some extra Mediterranean flavor to the dish - but a neutral vegetable oil will work, too.
Shredded pecorino Romano is a less expensive substitute for the shredded parmesan, with a similar (though slightly stronger) taste.
I like the extra crunch from Japanese-style Panko bread crumbs, but regular bread crumbs will work too.
🛠 Equipment
A 6-quart pressure cooker. (Or larger - this recipe was originally cooked in my 10-quart stovetop pressure cooker, but I switched to full time Instant Pot use years ago.)
Pressure cooker dried beans are one of the reasons I became a pressure cooker convert. Try them - you'll never go back to canned beans. (OK, maybe you will, for convenience - but see the Storage section for tips on make ahead freezer beans.)
I switch to a 12-inch frypan for the sauté step - the chickpeas crisp up quicker in a single layer- and it needs to be a broiler-safe pan to toast the bread crumbs.
📏Scaling
This recipe scales down easily - cut everything in half if you don't need as many beans, or have a 3-quart pressure cooker. Scaling up runs into space issues; if you have an 8-quart pressure cooker, or larger, you can double this recipe, but it's too much to fit in a 6-quart pressure cooker. (And you'll need a second frypan, too.)
🤨 Soaking chickpeas?
I get the "to soak, or not to soak?" question all the the time. I don't soak my chickpeas in this basic recipe. They don't need an overnight soak, and cook to tenderness with 45 minutes at high pressure.
That doesn't mean you can't soak the beans. They turn out fine, though the bean broth isn't quite as full bodied. Soaked beans cook much quicker, 20 minutes at high pressure. I use that when I'm cooking the beans with other ingredients, where the shorter cooking time keeps me from overcooking the whole dish just to get the beans tender.
Sorting Beans
Beans are an agricultural product, and stuff tends to creep in when they are processed. Beans should always be sorted and rinsed before using, to get rid of any twigs, stones, clumps of dirt, or broken beans.
To sort the beans, I pour them out on one side of a rimmed baking sheet (a half-sheet pan), to keep the beans from escaping. Then I slowly run my fingers through the pile of beans, pulling them towards me on the sheet. I watch the beans as they move, looking for anything that doesn't seem right. If I see something, I poke around in the beans until I find what caught my eye, and discard it. I repeat this a couple of times, until I'm satisfied everything is out of the beans.
Then I dump the beans into a fine mesh strainer and rinse them under cold running water, to wash off any dirt or dust still on the beans.
Now the beans are sorted, rinsed, and ready for soaking or cooking.
💡Tips and Tricks
Salt your bean water! "Salt toughens beans" is a myth. Salting before cooking helps season the beans all the way through as they cook.
If your beans are still tough when the cooking time is over, especially any "floaters" at the top of the pot, give the beans a stir, lock the lid, and pressure cook for another five minutes. Older beans take longer to cook, and if the beans have been sitting in the shelf at your store for a while, they may need extra time.
Inspired by: Canal House Cooking Volume 8: Pronto! by Hamilton and Hirsheimer
Print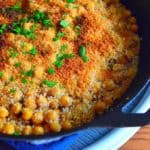 Pressure Cooker Chickpeas with Toasted Parmesan Bread Crumb Crust
---
Author:

Mike Vrobel

Total Time:

1 hour 20 minutes

Yield:

4

-

6

cups

1

x
Description
Pressure Cooker Chickpeas with Toasted Parmesan Bread Crumb Crust recipe. Chickpeas, cooked in the pressure cooker and sautéed on the stovetop, make a hearty side dish or main course.
---
Chickpeas
1

pound dried chickpeas (garbanzo beans), sorted and rinsed

7 cups

water

1 teaspoon

fine sea salt

¼ teaspoon

baking soda (optional if you have soft water)

1

small onion, peeled and cut in half

1

bay leaf
Chickpea sauté
1 tablespoon

olive oil

½ teaspoon

fine sea salt

½ teaspoon

fresh ground black pepper
Juice of

½

a lemon
Parmesan and Bread Crumb Crust
½ cup

shredded Parmesan, Romano, or a mix

1 cup

panko (Japanese bread crumbs) or regular bread crumbs

½ cup

minced fresh parsley for garnish
---
Instructions
Pressure cook the chickpeas: Put the chickpeas, water, 1 teaspoon kosher salt, baking soda, onion, and bay leaf in the pressure cooker. Lock the lid and cook on high pressure for 45 minutes in an Instant Pot or other electric pressure cooker (use "manual" or "pressure cook" mode in an Instant Pot), or for 40 minutes in a stovetop pressure cooker. Let the pressure release naturally for 15 minutes, then quick release any remaining pressure in the pot. Reserve ¼ cup of the bean liquid, then drain the beans and discard the onion and bay leaf.
Sauté the chickpeas: In a large, broiler-safe frypan, heat 1 tablespoon olive oil over medium-high heat until the oil is shimmering, about 3 minutes. Pour in the drained chickpeas (watch out for splattering), and sauté until the chickpeas are dried and just starting to brown, about 5 minutes. Sprinkle the chickpeas with the salt and pepper, drizzle with the lemon juice, and toss to mix.
Broil the Parmesan and bread crumb crust: Pour the ¼ cup of reserved bean liquid over the chickpeas, sprinkle with the Parmesan, and cover with an even layer of bread crumbs. Put the pan 6 inches below a broiler set to high. Broil until the bread crumbs are golden brown, checking the bread crumbs every minute. Get the pan out of the oven as soon as the bread crumbs are browned, because they will go from browned to burnt in a heartbeat.
Serve: Sprinkle the minced parsley over the top of the bread crumbs and serve. I served family style - the pan went on a trivet in the center of the table (be careful - the pan is hot!), stuck in a spatula, and let everyone scoop out their own servings.
Prep Time:

5 minutes

Cook Time:

1 hour 15 minutes

Category:

Pressure Cooker

Cuisine:

American
Keywords: Pressure Cooker Chickpeas with Toasted Parmesan Bread Crumb Crust, Instant Pot Chickpeas with Toasted Parmesan Bread Crumb Crust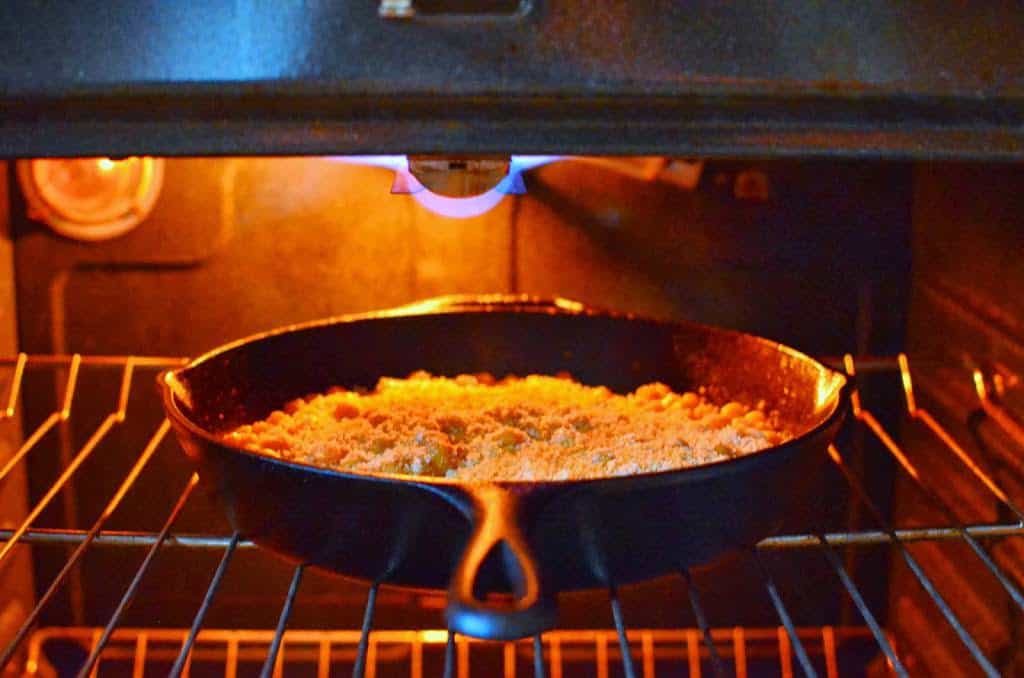 ☃️ Storage
A 2-cup container of cooked chickpeas, with cooking liquid, replaces a 15-ounce can of beans from the grocery store. They'll last in the refrigerator for a few days, and freeze for up to 6 months. I always make extra beans, and freeze the leftovers for use in other recipes. Freezer beans are ready to use with about 5 minutes in the microwave, and are so much better than canned.
🤝 Related Posts
Pressure Cooker Hummus
Pressure Cooker Chickpeas
Sauteed Chickpeas
My complete list of pressure cooker recipes
*Enjoyed this post? Want to help out DadCooksDinner? Subscribe to DadCooksDinner using the RSS or Email options on the right, recommend DadCooksDinner to your friends, buy something from Amazon.com
through the links on this site, or donate through my tip jar. Thank you.