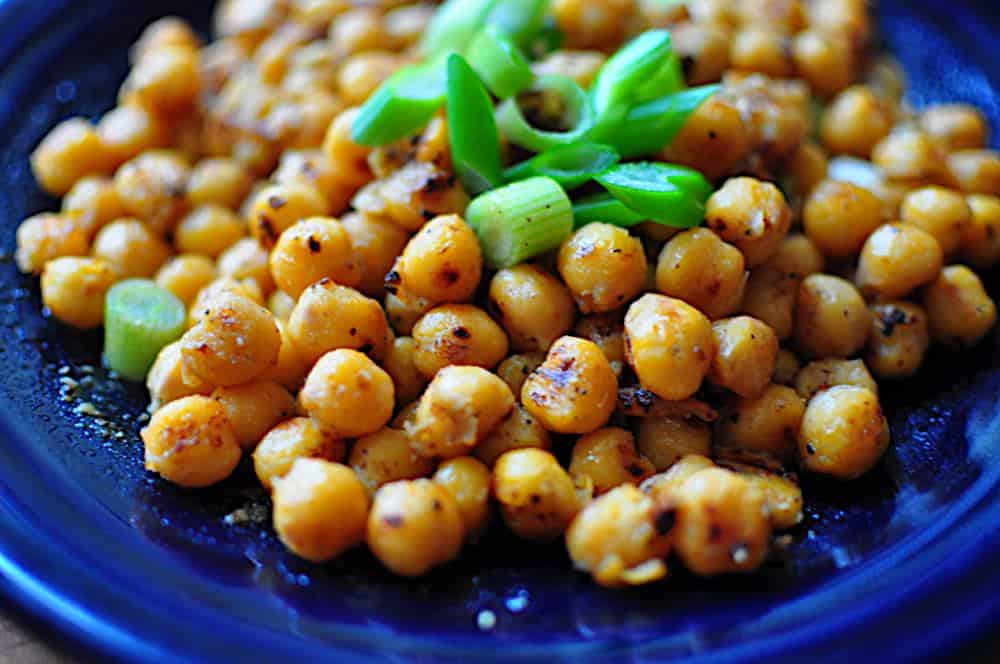 What do you do with chickpeas after you've made hummus?
I love cooking my own chickpeas in the pressure cooker. Chickpeas have a sweet taste and a creamy, meaty feeling when you bite into them.
*Tim, my youngest son, is addicted to them. When he saw me cooking for this post, he refused to eat his pepperoni sandwich, and insisted on chickpeas. Can you imagine? A kid turning down pepperoni for beans?
I top salads with chickpeas, and stir them into soup. Of course, there's lots and lots of hummus. But after that, I didn't know what to do. How do I use up the batch of chickpeas stored in the freezer?
Sauteed chickpeas are the answer. They are the star of the show, not something to use as a topping. Sauteing chickpeas gives them a hint of crunch as you bite into them, before you get to the creamy interior. Toss them them in a vinaigrette to add a tart finish, and you have chickpeas that are good enough to stand on their own.
As usual, this recipe is best with homemade chickpeas (from your pressure cooker, of course). But...OK, I'll admit it. Homemade chickpeas add a level of finesse to the recipe, and add depth to the flavor, but canned chickpeas are still pretty good. If canned are all you have (or all you have time for) don't be ashamed. Drain a can of chickpeas and get to work. Sure, homemade is better, but don't let perfect be the enemy of very good.
Recipe: Sauteed Chickpeas

Inspired by: Heidi Swanson Pan Fried Chickpea Salad [101cookbooks.com]
Cook time: 8 minutes
Equipment:
Ingredients:
2 tablespoon olive oil
2 cups cooked chickpeas, drained and thoroughly dried
½ teaspoon kosher salt
2 garlic cloves, minced or pressed through a garlic press
1 green onion, cut on the diagonal into ¼" thick slices
Dressing:
2 tablespoon sherry vinegar
pinch of salt
pinch of fresh ground pepper
¼ cup extra virgin olive oil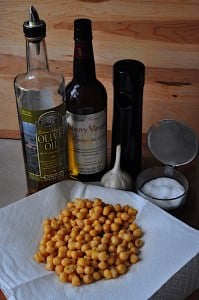 Directions:
1. Saute the chickpeas: Heat 2 tablespoon olive oil over medium-high heat until shimmering. Add the dried chickpeas and saute, tossing and stirring occasionally, until the chickpeas are browned and crispy on the outside, about 8 minutes. Add the minced garlic and saute for another 30 seconds, then stir the garlic into the chickpeas.
| | |
| --- | --- |
| Patting dry with paper towels | Sauteing until browned |
2. Toss with the dressing: While the chickpeas are sauteing, whisk together the dressing ingredients. Immediately after cooking, toss the chickpeas with the dressing until well coated. Add the scallions and toss again to combine. Serve.
Variations:
*Any vinaigrette works with this recipe - I particularly like the citrus flavor of lemon vinaigrette with chickpeas.
*For a Spanish tapas version, add a couple of ounces of diced chorizo to the pan when sauteing the chickpeas.
Notes:
*This is a perfect use for make-ahead chickpeas. When I make dried beans, I always make extra, freeze them, and use them for recipes like this one.
*If you're going to buy canned chickpeas, seek out the Goya
brand chickpeas. I've heard good things about them, and they're no more expensive than the other brands.
What do you think? Questions? Other ideas? Leave them in the comments section below.
Related Posts:
Pressure Cooker Chickpeas
Hummus
Turkey Soup with Chickpeas and Vegetables
Adapted from:
Heidi Swanson Pan Fried Chickpea Salad [101cookbooks.com]

*Enjoyed this post? Want to help out DadCooksDinner? Subscribe using your RSS reader or by Email, recommend DadCooksDinner to your friends, or buy something from Amazon.com through the links on this site. Thank you!