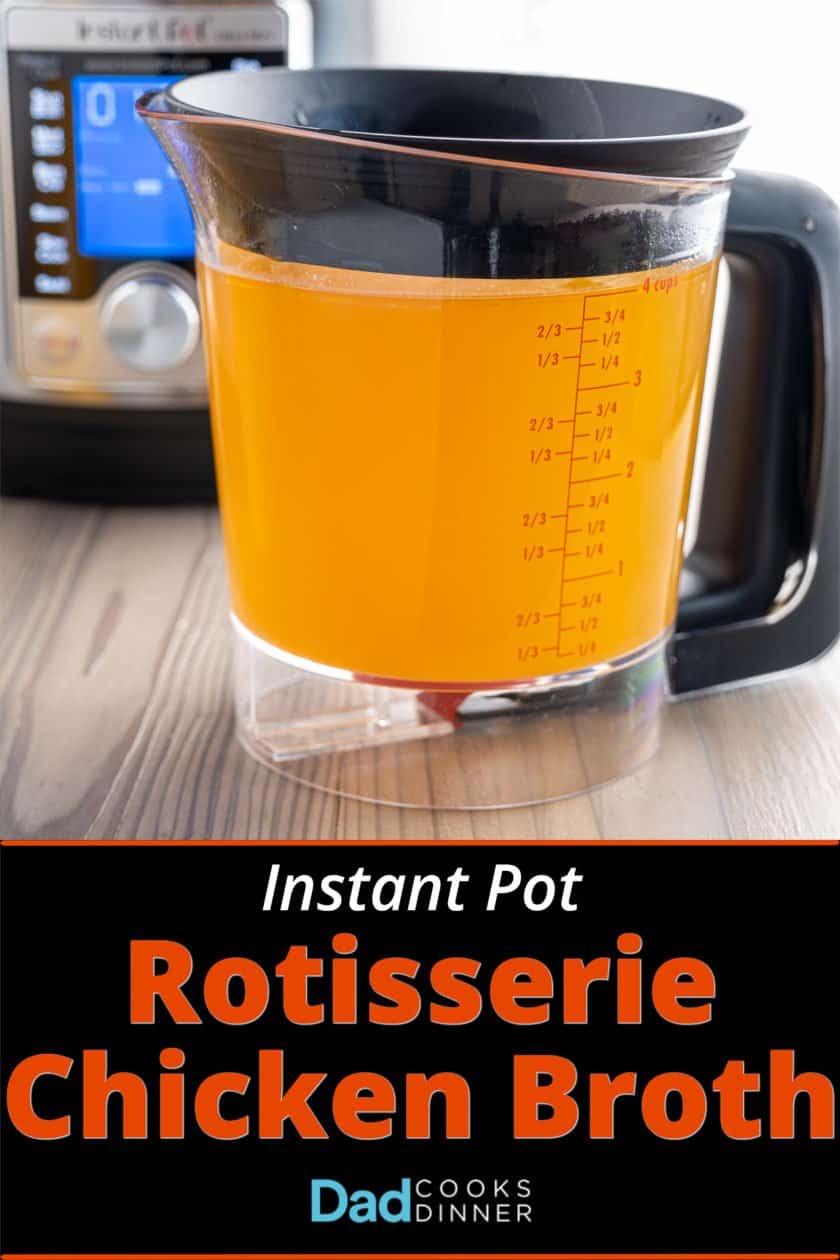 Instant Pot Rotisserie Chicken Broth. Homemade broth is pressure cooking's secret weapon, and it's quick and easy if you start with a store-bought rotisserie chicken.
I've made a lot of chicken broth. Because I love it. It's the reason my first pressure cooker didn't wind up on a back shelf, gathering dust. But pressure cooker chicken broth was too good, too useful, and too easy. Thanks to it, my pressure cooker stayed out, stayed useful, and slowly took over more and more jobs in my kitchen.
I like the flavor of a browned chicken broth, the extra flavor that a roasted chicken adds to the broth. (Not that there's anything wrong with a blonde chicken broth - sometimes I just buy a pack of frozen chicken backs when I need a cheap broth fix.) But the rotisserie chickens are always waiting for me, lined up and waiting by the entrance to the grocery store. (And, if you have a Costco membership, you already know about their rotisserie chickens. Unfortunately, my nearest Costco is a 45 minute drive, so a membership does not make sense for me.)
Pressure cooking makes - dare I say it - a better broth than traditional stovetop cooking. It forces the flavors and gelatin out of the chicken bones and in to the liquid, and it does it in an hour under pressure, instead of having to simmer all afternoon. The other advantage is the sealed environment - instead of the flavor escaping into the air as it simmers, the pressure cooker traps the flavor molecules in the pot, where they condense and drop back into the broth as the cooker cools down. (That's why I recommend a natural pressure release with broth. It keeps more of the flavor in the broth.)
This recipe is great for soups, like my Instant Pot Rotisserie Chicken and Wild Rice Soup, Instant Pot Rustic Rotisserie Chicken Potato Leek Soup, or Instnat Pot Rotisserie Chicken and Lentil Soup.
Recipe: Rotisserie Chicken Broth
Print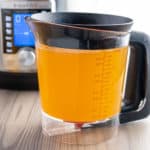 Instant Pot Rotisserie Chicken Broth
---
Author:

Mike Vrobel

Total Time:

1 hour 45 minutes

Yield:

8 cups

chicken broth

1

x
Description
Instant Pot Rotisserie Chicken Broth. Homemade broth is pressure cooking's secret weapon, and it's quick and easy if you start with a store-bought rotisserie chicken.
---
1

(2- to 4-pound) rotisserie chicken, breast meat removed and saved for later
Juices from the rotisserie chicken container

1

onion, peeled and halved

1

carrot, scrubbed and cut in half (or

4oz

baby carrots)

1

stalk celery, cut in half

2

bay leaves

1 teaspoon

fine sea salt

8 cups

water
---
Instructions
Everything in the pot: Cut the chicken breast meat off of the rotisserie chicken and save for another use. Put the rotisserie chicken carcass, onion, carrot, celery, bay leaves, and salt in the Instant Pot or pressure cooker, then pour in 8 cups of water. (The water should just cover the rotisserie chicken – it's OK if the knobs of the drumsticks are poking out.) 
Pressure cook the broth for 60 minutes with a Natural Release: Lock the lid and pressure cook on high pressure for 60 minutes in an Instant Pot or other electric pressure cooker (Manual or Pressure Cook mode in an Instant Pot) or for 50 minutes in a stovetop pressure cooker. Let the pressure come down naturally – about 30 minutes. (It takes a long time for all that water to cool off.) If you're in a hurry, let the pressure come down naturally for 20 minutes, then quick release the remaining pressure.
Strain and save: Unlock the lid and open it away from you to avoid any hot steam. With a slotted spoon, scoop the chicken carcass and vegetables out of the pot and discard; they gave their all to the broth. Strain the broth through a fine mesh strainer. Refrigerate the broth for a couple of days, or portion into 2-cup containers and freeze for up to 6 months.
Notes
Defatting the broth (quickly): If you want to reduce the fat in the broth, after straining, pour the broth into a fat separator and let it rest for 5 minutes for the fat to rise to the top. (I have a 1 quart fat separator, so I do this in 2 batches).
Defatting the broth (overnight): Refrigerate the broth overnight. The fat will float to the top and congeal into a fat cap. Gently scoop the fat cap from the broth and discard. (If you refrigerate the broth overnight, it will have the consistency of Jell-o, thanks to all the gelatin in chicken bones)
For an even simpler broth, skip all the ingredients except for the chicken carcass, onion, salt, and water. It won't be as complex as the regular broth, but it's still quite good.
You can halve this recipe for a 3-quart Instant Pot, or double it for an 8-quart Instant Pot. Just scale the ingredients up or down. I usually buy two chickens, pull out my 8-quart pot, and double the recipe; if I'm going to make broth, I might as well make a big batch. And I always like to have extra broth in the freezer.
You don't have to buy the chicken specifically for this recipe. Have the bones of a leftover roast chicken lying around? Or even just some back and neck bones? Perfect!
Tools
Prep Time:

15 minutes

Cook Time:

90 minutes

Category:

Building Block

Method:

Pressure Cooker

Cuisine:

American
What do you think?
Questions? Other ideas? Leave them in the comments section below.
Related Posts
Instant Pot Rotisserie Chicken Noodle Soup
Instant Pot Rotisserie Chicken Tortilla Soup
Instant Pot Rotisserie Chicken Gumbo Soup
Instant Pot Chicken Back Broth
My other Instant Pot Pressure Cooker Recipes

Enjoyed this post? Want to help out DadCooksDinner? Subscribe to DadCooksDinner via email and share this post with your friends. Want to contribute directly? Donate to my Tip Jar, or buy something from Amazon.com through the links on this site. Thank you.