I didn't win the Sous Vide BBQ contest - bummer - but they said I can keep the SousVide Supreme if I send them $100, or write four more sous vide recipes over the next six months. Guess which one the cheapskate chose…
[This] is the stance of a man I met in eastern Africa. He was a reedy, white-blond Berliner named Gregor. Gregor had spent five years driving trucks up and down the coast from Mombasa to Capetown. He had seen a lot of backcountry meals over that time, and whenever he was served one, he reacted in one of two ways. If the plate of food he was handed included an egg, he would look happy and eat. If it didn't, he'd look mournfully up at whoever had delivered it and ask, always as though for the first time: "What about egg?"
Tamar Adler, An Everlasting Meal
Put an egg on top is my new motto.
I'm home alone this week, cooking for one. I also had some important stuff to do (hey, those cookbooks don't read themselves), so I used the SousVide cooker to do all the hard work:
4:30 PM - Put eggs in sous vide at 62°C. Salt and vacuum seal filet mignon. Go out and mow the lawn
5:30 PM - Drop temp to 54.5°C by adding ice and the filet mignon pouches. Read book, drink tasty beverage
6:15 PM - Preheat grill on high.
6:30 PM - Toss the salad, sear steak on grill, slice, crack an egg on top. Eat! (With another tasty beverage, of course.)
Dinner was on the table with 15 minutes of active time and minimal cleanup. And, in spite of how much laying around I did, it was a feast, not a "food is fuel, dump a salad and throw in some salami." Um…not like I ate that the day before or anything…
I apologize for repeating myself with put an egg on top. And filet mignon with a salad. And sous vide. I was hungry, and it seemed like a good time to put them all together.
Recipe: Grilled Sous Vide Filet Mignon with Sous Vide Egg and Fresh Herb Salad
Cooking time: 2 hours
Equipment
Ingredients
4 large eggs
4 thick cut (8 ounce) filet mignon steaks
2 teaspoons kosher salt (or bonfire smoked sea salt)
16 sprigs thyme (a small handful)
5 ounces fresh herb salad mix (or spring mix, or other salad blend)
Vinaigrette
pinch of salt
½ teaspoon fresh ground black pepper
2 tablespoons rose wine vinegar (or sherry vinegar)
1 tablespoon Dijon mustard
¼ cup olive oil
Directions
1. Sous vide the eggs
Set the sous vide for 62°C/143°F, add the eggs, and cook for 1 hour.
2. Sous vide the steak
Drop the sous vide temperature to 54.5°C/130°F (I added 2 cups of ice to help cool it down). Sprinkle the filet mignons with the salt, lay the thyme sprigs on top, then vacuum seal the filets, 2 to a bag. Drop the bags in the sous vide and cook for 1 hour. (Leave the eggs in the sous vide - they'll be fine.)
3. Set the grill up for direct high heat
After the steaks have been in the sous vide for 45 minutes, set the grill up for cooking on direct high heat. I preheat my Weber Summit with all burners on high for 15 minutes, then brush the grate clean with a grill brush.
4. Prepare the salad
While the grill is preheating: in a large bowl, whisk the vinaigrette ingredients until they emulsify. Dump the fresh herb salad mix on top. (Don't toss the salad yet - wait until the steaks are cooked.)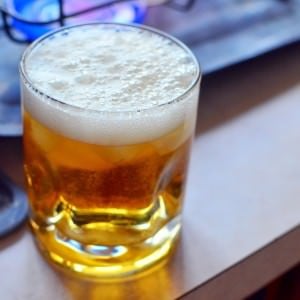 How did that picture of a tasty beverage get in here?
5. Sear the steaks
Take the filet mignon bags out of the sous vide, cut the bag open, discard the thyme, and pat the steaks dry with paper towels. Put the steaks on the grill over direct high heat and sear until browned, 1 to 2 minutes, rotating 90 degrees halfway through. Flip the steaks and brown the other side, another 1 to 2 minutes, rotating halfway through. Move the steak to a platter to rest for 5 minutes.
6. Serve
Toss salad with vinaigrette, and split between 4 plates. Slice the filet mignons into ½ inch slices, and fan each steak out on top of a salad. Crack an egg onto the top of each steak and serve immediately.
Notes:
I cooked this recipe for one, but wrote it up for four. The extra eggs were for breakfast the next day.
Lucky Peach magazine suggested poaching sous vide eggs. I cracked the 62°C egg into a slotted spoon, then dipped it into boiling water to "poach" the loose, outer white. The outer white broke away once it solidified, instead of sticking to the yolk. It wasn't worth the effort. Just crack the 62°C egg right onto the steak. The white will still be runny, but it will mingle with the steak juices and salad dressing.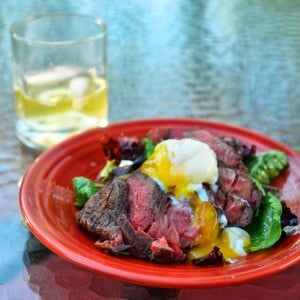 I need a refill on the tasty beverage, to go with this tasty salad.
What do you think?
Questions? Other ideas? Requests for a recipe that isn't beef on a greens? Leave them in the comments section below. (Requests to skip the egg will be ignored.)
Related Posts:
Grilled Pizza with Egg and Pepperoni.
Plank Grilled Filet Mignon with Blue Cheese Salad
Sous Vide Grilled New York Strip Steaks
*Enjoyed this post? Want to help out DadCooksDinner? Subscribe to DadCooksDinner using the RSS or Email options on the right, recommend DadCooksDinner to your friends, buy something from Amazon.com
through the links on this site, or donate through my tip jar. Thank you.