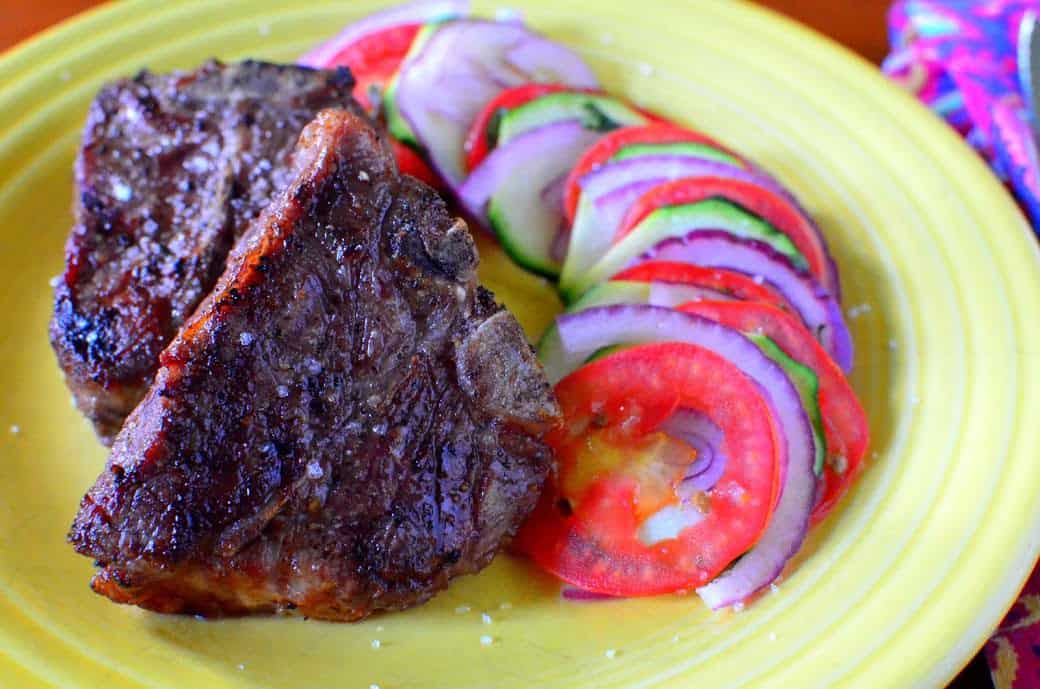 Shameless plug alert: This recipe is my entry in the SousVide Supreme Summer Blogger BBQ Challenge. Please go vote for me - if I win the fan favorite voting, I get to keep the SousVide Supreme. Otherwise, I'll have to send it back, and I'll be sad to see it go. There's something in it for you, too, (beyond not listening to me whine: "I could have been a contender.") If you vote, you're entered in a drawing for a $200 gift certificate from SousVide Supreme. So, get over there and vote!
...UPDATE: Whoops. They linked to my 48 hour short ribs recipe, not this one. My fault, and they're trying to fix it. Until they do, please vote for my 48 hour short ribs. Thanks!
Lamb on the grill takes me back to Provence. I spent a week, taking cooking classes and exploring hill towns, the rolling vineyards, the heat of a Provencal summer…
…oh, wait, my memory's getting carried away. I was there in March. A chilly wind was blowing, and I spent most of the time with my jacket zipped up to my neck. But I was at a cooking school in France, drinking Rosé for lunch. How bad could it be?
This recipe takes the flavors from Provence - lamb and herbs, squash and tomatoes, onions, lots of garlic - and cooks them in the SousVide Supreme. Patrick, my Provencal chef, would be appalled by sous vide. He was a traditionalist. Whenever I tried something new, his response was "Louis XIV is rolling over in his grave!" So, my apologies to Le Roi, but I love playing with new cooking techniques.
I sous vide the lamb to a perfect Medium, 140°F, and then sear it on the grill. I didn't believe in vacuum marinating before I started this contest. Now I'm a believer. Vacuum sealing forces the garlic and herb flavors deep into the lamb.
My side dish is Tian Provencal, a stack of thin sliced squash, tomatoes, onions, and basil. I slide the stacks into a vacuum bag, and I seal them with one hand on the cancel button - these are juicy vegetables, and I don't want to flood the vacuum sealer. After fifteen minutes of sous vide cooking, the Tian is tender-crisp and bursting with the flavors of summer produce.
I hope you try this taste of Provence, and then (shameless plug alert #2) go vote for me!!
Recipe: Sous Vide Grilled Lamb T-Bones with Provencal Tian
Cooking time: 64 minutes
Equipment
Ingredients
Lamb chops
8 (1 inch thick) lamb loin chops (aka lamb t-bones)
4 teaspoons kosher salt
1 teaspoon fresh ground peppercorn mix
8 springs thyme
4 sprigs rosemary, cut in half to make eight pieces
2 cloves garlic, slivered
Tian Provencal
2 medium (3 inch thick) zucchini, sliced into thin rounds
6 Roma tomatoes, cored, sliced into thin rounds
2 medium red onions, halved, then sliced as thin as possible
2 teaspoons kosher salt
5 basil leaves, rolled and cut into ribbons
Coarse salt for sprinkling
Olive oil for drizzling
Directions
1. Sous Vide the lamb chops
Sprinkle the lamb chops with salt and pepper. Split the lamb chops between 2 small (quart/0.9 liter) vacuum pouches, 4 chops to a bag. Top each chop with a sprig of thyme, a spring of rosemary, and a few slivers of the garlic. Seal the bags and sous vide at 140°F/60°C for at least 1 hour, up to 6 hours.
(140°F is for medium doneness - that's how I like my lamb. For medium-rare, cook at 130°F/54.5°C; for rare, cook at 120°F/49°C)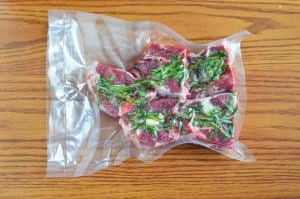 2. Assemble and Sous Vide the Tian Provencal
Make an alternating stack of zucchini, onion, and tomato, one slice after another, overlapping them like a fanned out deck of cards. Keep stacking until the row is about 6 inches long - as wide as a small sous vide bag - and finish with a piece of zucchini. Sprinkle the stacks with the kosher salt and basil ribbons. (You should end up with about 8 rows of vegetables, depending on the thickness of size of your slices) Using a thin spatula, carefully pick up the rows of vegetables and transfer them to a small sous vide pouch (quart/0.9 liter). Vacuum seal the bag, canceling the vacuum and sealing the bag as soon as you see liquid start to move from the tomatoes up to the vacuum. Sous vide at 140°F/60°C for 20 minutes. Immediately remove the bag from the water oven, and let it sit while you sear the chops.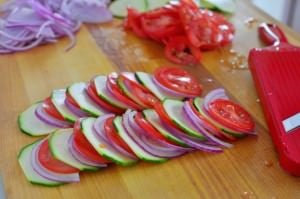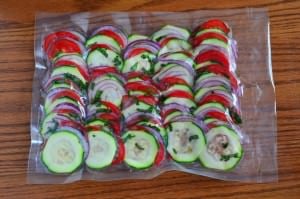 3. Set the grill for direct high heat
Set the grill up for cooking on direct high heat, and clean the grill grate. For my gas grill, I preheat with all the burners on high for 15 minutes, then brush the grate clean with my grill brush. If you have a sear burner or infrared burner, this is the time to use it - you want the grill as hot as possible.
4. Sear the lamb over direct high heat
Remove the lamb from the bags, remove the herbs and garlic from the lamb, and pat the lamb dry with paper towels. Put the lamb on the grill over direct high heat. Sear, flipping every minute, until the lamb is well browned on both sides, about 4 minutes total. Move the lamb to a platter.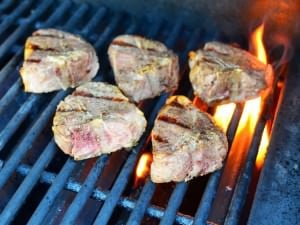 5. Serve
Lay the bags of vegetables on a cutting board, cut the sides away from the bags, and carefully lift off the top of the bag. Using a thin spatula, transfer each row of vegetables to a separate plate. Add two lamb chops to the plate, sprinkle the lamb and vegetables with a pinch of the coarse salt, then drizzle the lamb and vegetables with olive oil. Serve.
Notes
When buying the vegetables, try to get zucchini and tomatoes that are about the same thickness, so they stack properly. Get an onion that's a little less than twice as thick as the zucchini.
The easiest way to thin slice the vegetables is with a mandoline or v-slicer, but the blade has to be dangerously sharp to cut tomatoes. I use a hand-held mandoline with a ceramic blade.
Transferring the stacks of vegetables into the sous vide bag is the tricky part. I used my spatula to get the first row as far back in the bag as I could, then used it to push the row against the back of the bag. Then I did the same thing with the next row, pushing it up against the first row; I repeated this process with the other two rows.
The other tricky part? Vacuum sealing the bags of vegetables. There is a lot of liquid in tomatoes, so as soon as the liquid starts to move towards the vacuum sealer, cancel the vacuum and hit the sealing button.
If you don't feel like carefully stacking the vegetables, toss all the Tian ingredients together in a bowl. Split the vegetables between the two sous vide bags and arrange the vegetables into a flat layer. Or, at least a flattish layer. Then vacuum seal the bags.
I think two lamb chops is reasonable serving size for an adult - unless I'm hungry. Then I want three, or maybe four. Scale up the lamb as much as you want.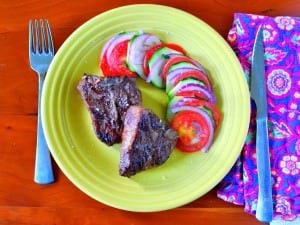 What do you think? Questions? Other ideas? Leave them in the comments section below.
Related Posts:
Sous Vide Grilled New York Strip Steaks with HerbsSous Vide Grilled Chicken Breasts with Japanese Glaze and Dipping SauceClick here for my other sous vide recipes.
*Enjoyed this post? Want to help out DadCooksDinner? Subscribe to DadCooksDinner using the RSS or Email options on the right, recommend DadCooksDinner to your friends, buy something from Amazon.com
through the links on this site, or donate through my tip jar. Thank you.