The Sous Vide Supreme folks asked me to be part of their Sous Vide BBQ recipe contest. My thoughts were:
There's no way I'll win. My recipes are too basic for a cooking competition.
Wait, they'll loan me a SousVide Supreme and a vacuum sealer for a month? Yes! I'm in!
I'll be shamelessly asking for your vote on June 25th. You're all willing to stuff the ballot box for me, right? Um…right? Anyone? Mom?
I enjoy my Bubba Sous Vide experiments, but a beer cooler full of water is a hassle, and doesn't have the precise temperature control of a true sous vide water bath. And there are so many Sous Vide recipes I want to try:
UPS (aka The Big Brown Truck of Joy) dropped off the SousVide Supreme Demi last night.
It's 24 hours later. I'm sous vide obsessed.
I've sous vided eggs (soft boiled, breakfast), a New York strip (with thyme and parsley, grilled to sear, lunch), and chicken breast (Grilled to sear, painted with Japanese tare sauce, dinner). And I'm 2 hours into the 72 hour short ribs, to serve on Memorial Day. And, I'm testing out different times for short ribs. I have three separate vacuum bags: one will cook for 72 hours, one for 48 hours, and one for 24 hours.
The wife and kids are giving me the hairy eyeball. They're worried I'm going to start vacuum sealing random stuff around the house, just to see how it cooks in the water bath.
General impressions
Now, I've only had the Demi for a day. But…
Oh, man, is this so easy. Here's how I made lunch: season a steak, vacuum seal it, fill the cooker with hot water, and set the temperature. I read for an hour, then preheat the grill. Once the grill is ready, I pull the bag out of the cooker, and cut it open. The steaks are perfectly medium-rare - a quick sear on the grill and I'm ready to eat.
Eggs were even easier - they go directly in the water bath, in the shell, and cook for at least 45 minutes. Crack them open and out drops a perfect soft boiled egg.
At least, I thought it was perfect. The wife and kids thought it was too soupy. I was cooking 60°C eggs; I'll have to try 62°C next time. Supposedly that will give me a poached egg, with a set white and a runny yolk.
I'm having so much fun with the Demi. I have material for three or four posts about Sous Vide cooking already, and I'm only a day in. So, I'm apologizing in advance. Readers: I'm a gadget maniac, and I love playing with a new toy in the kitchen. If you want to follow along, and you don't have a sous vide water bath, check out my Bubba Sous Vide posts for the cheap, improvised version; if you like the results, I highly recommend looking into a SousVide Supreme.
To start off, here is a recipe for:
Recipe: Sous Vide Grilled New York Strip Steaks with Herbs

Adapted From: Kenji Alt Sous Vide 101 - How to Sous Vide Steak [SeriousEats.com]
Cooking time: 1 hour 4 minutes
Equipment
Ingredients
2 (1 ¼ inch thick) New York Strip steaks
1 teaspoon kosher salt
½ teaspoon fresh ground peppercorn blend (or black pepper)
4 sprigs thyme
2 sprigs parsley
Pinch of coarse sea salt (optional)
Directions
1. Sous Vide the steaks
Sprinkle the steaks evenly with the salt and pepper. Put the steaks in a small (quart) vacuum pouch, and top each steak with 2 sprigs of thyme and 1 sprig of parsley. Vacuum seal the bag and sous vide at 130°F/54.5°C for at least 1 hour, up to 6 hours.
2. Set the grill for direct high heat
Set the grill up for cooking on direct high heat, and clean the grill grate. For my gas grill, I preheat with all the burners on high for 15 minutes, then brush the grate clean with my grill brush.
3. Sear the steaks over direct high heat
Remove the steaks from the bag. Pick the herbs off of the steaks and discard. Pat the steaks dry with paper towels, then put the steaks on the grill over direct high heat. Sear, flipping every minute or two, until the steaks are well browned on both sides, about 4 minutes total.
5. Serve
Sprinkle the steaks with a pinch of coarse salt and serve.
Notes
Again, the hotter you can get the grill, the better. I put the steaks on the back right corner of my grill, because I know that's the hottest spot in there. If you have a sear burner or infrared burner, this is the time to use it - you want the grill as hot as possible.
The vacuum sealed thyme and parsley transfer a lot of flavor to the beef. It tastes like an herb paste was used…even though I discard the herbs before grilling.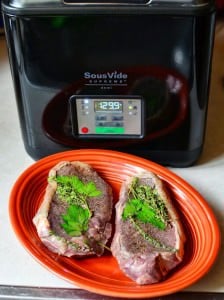 Cooked to medium-rare; need to remove herbs before grilling.
What do you think? Questions? Other ideas? Leave them in the comments section below.
Related Posts:
Sous Vide Grilled Chicken Breast with Japanese Glaze and Dipping Sauce
Beer Cooler Sous Vide Grilled New York Strip Steaks
Beer Cooler Sous Vide Grilled Salmon with Fennel Salad
*Enjoyed this post? Want to help out DadCooksDinner? Subscribe to DadCooksDinner using the RSS or Email options on the right, recommend DadCooksDinner to your friends, buy something from Amazon.com
through the links on this site, or donate through my tip jar. Thank you.