Sous Vide Flat Iron Steak with Baby Kale Salad. Flat iron steak, tenderized by a 24 hour sous vide cook.
---
FCC Notice: PolyScience Culinary gave me a Sous Vide immersion circulator to use in my blog posts; this is one of the recipes I used to test it for my review.
---
Earlier this year, I had a geeky food talk with David Pietranczyk, PolyScience Culinary's chef. He was manning the PolyScience booth at the IACP Food conference in Chicago, and I had a bunch of questions for him. After a demo a chamber vacuum sealer and a taste test of a chocolate pop from the anti-griddle, I picked his brain about sous vide. Chef David knows more about sous vide than anyone else I've talked to, and after twenty minutes. I left with my brain overflowing with information.
One of the things he mentioned that stuck with me wasn't all that scientific - it was how chef David tailgates for his hometown Chicago Bears. 24 hours before the game, he starts skirt steaks at home with his sous vide circulator. Early the next morning, he transfers them from the sous vide circulator to a beer cooler full of hot water, and leaves for Soldier Field. The tailgate gets going in the parking lot, and he waits for his crew to get hungry. Then he pulls the vacuum packs out of the beer cooler, cuts them open, and sears the steaks for two minutes a side on the grill. What better way to ward off the cold Lake Michigan wind than with a steak?
So, why sous vide a steak overnight? Because it tenderizes tougher cuts of meat. It's like cooking a pot roast, or a low-and-slow barbecue - the extra time at low heat breaks down the collagen in the meat, turning it into gelatin. The result turns tough cuts of meat into meltingly tender steaks - they're still solid enough to grill, but they're as tender as a pot roast.
I wanted to test this out with a skirt steak, like chef David recommends, but they're tough to find in my local grocery store. So, I used flat iron steak, my favorite cheap steak. Flat iron steak is cut from the chuck blade roast - the shoulder of the cow. That's right, this is a piece of a chuck roast. It grills well on its own, but after a day tenderizing in the sous vide, it cuts like filet mignon.
I'm going to use this recipe again for tailgating later this year - go Browns! - but today it was a weeknight dinner, sliced and served on top of a baby kale salad. If you can plan ahead enough to throw a steak in the sous vide the night before dinner, I highly recommend this technique with a flat iron steak.
Recipe: Sous Vide Flat Iron Steak with Baby Kale Salad
Adapted from: Sous Vide Skirt Steak, PolyScienceCulinary.com
Print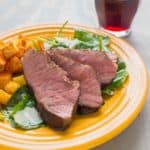 Sous Vide Flat Iron Steak with Baby Kale Salad
---
Author:

Mike Vrobel

Total Time:

24 hours 10 minutes

Yield:

4

servings

1

x
Description
Sous Vide Flat Iron Steak with Baby Kale Salad. Flat iron steak, tenderized by a 24 hour sous vide cook.
---
1½

pound flat iron steak

1 teaspoon

kosher salt

½ teaspoon

fresh ground black pepper

1 teaspoon

vegetable oil (for searing)
Baby kale salad
Pinch of salt

½ teaspoon

fresh ground black pepper

1 tablespoon

sherry vinegar

¼ cup

olive oil

3 ounces

baby kale

1 ounce

shaved Parmesan
---
Instructions
Sous Vide the steaks: The day before you want to eat: Sprinkle the steak evenly with the salt and pepper. Put the steak in a large (gallon) vacuum pouch, and vacuum seal the bag. (At this point, the steaks can be refrigerated for up to 3 days, or frozen for months.) Set the sous vide to 136°F/58°C for medium. (125°F/51.5°C for rare, 131°F/55°C for medium-rare, 141°F/60.5°C for medium well.) Drop the steaks in the sous vide and cook for at least 16 hours, and up to 48 hours. (I go with roughly 24 hours.)
Toss the salad: Right before searing the steak, toss the salad. Whisk the salt, pepper, sherry vinegar, and olive oil in a large bowl, then toss with the baby kale, massaging the dressing into the kale. (Kale is tough, and needs a firm rub with the oil.) Sprinkle with the shaved parmesan, toss again, and set aside.
Sear the steaks: Remove the steak from the vacuum bag and pat dry with paper towels. Heat the fry pan over medium-high heat until it is ripping hot. Swirl in the vegetable oil, then add the steaks. Don't move the steak until it has a browned crust on the bottom, about two minutes, then flip and brown the other side, about two more minutes.
Slice and serve: Transfer the steak to cutting board, and slice against the grain, on the bias, into ½ inch thick slices. To serve, put a handful of salad on a plate and top with slices of steak. Enjoy!
Notes
Don't want to start the day before? An hour in the Sous Vide water bath is enough to cook the steak to medium. It won't be as tender as the 24 hour version, but flat iron makes a good, inexpensive steak even without the long cooking time.
My local grocery store, Acme, stocks Certified Angus Beef flat iron steaks in cryovac packaging, so I can grab one of these whenever I need them. If you can't find flat iron steaks, ask your butcher for chuck blade steaks; it's the same cut, but they're sliced crosswise instead of along the grain.
This technique works great with skirt steak, as chef David recommends; it's also good with flank steak, flap steak, or other slightly tough steaks that you cut against the grain to make tender. I wouldn't use it with loin steaks - New York strip, ribeye, tenderloin - because they don't have much connective tissue, and would dry out in the long cooking time. For loin steaks, go with a 1 to 4 hour max cooking time in the sous vide.
The cubes you see in the picture are Spanish style fried potatoes. I'm a sucker for a steak and potato dinner, especially if I can convince myself it's healthy by serving a kale salad.
Tools
Sous vide water bath (I used a PolyScience immersion circulator with their polycarbonate tank and custom cut lid.)
Large, heavy frypan (I used my 12 inch All-Clad; cast iron is also good for this.)
Prep Time:

10 minutes

Cook Time:

24 hours

Category:

Sunday Dinner

Method:

Sous Vide

Cuisine:

American
Keywords: Sous Vide Flat Iron Steak, Sous Vide 24 hour Flat Iron Steak
---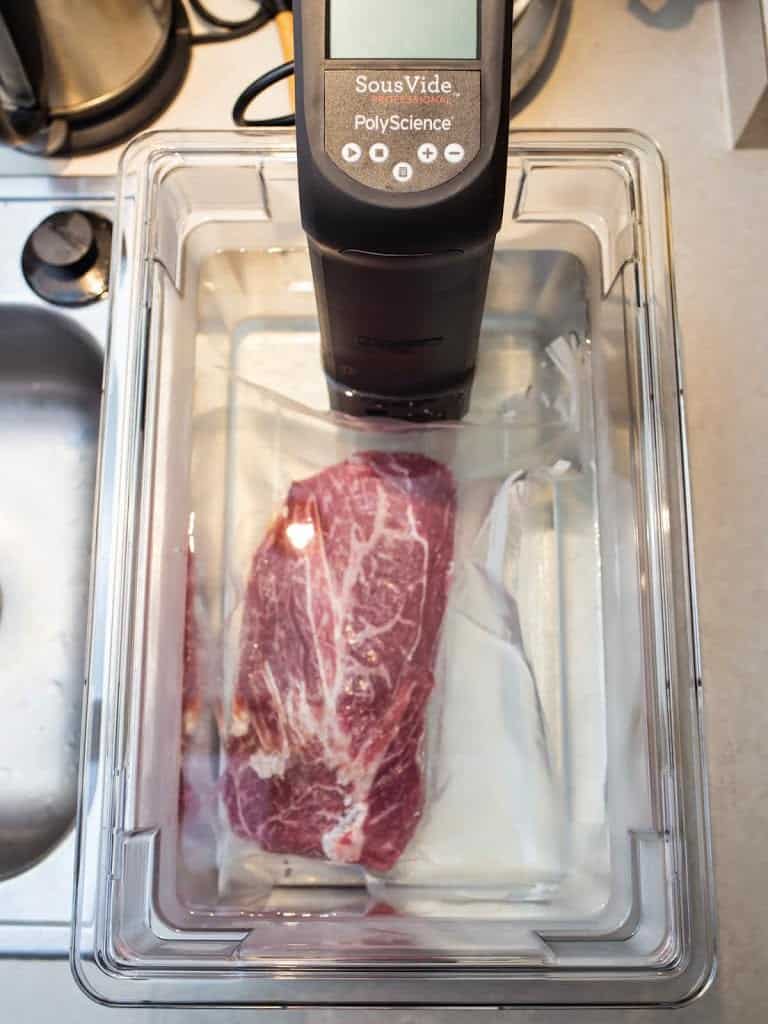 What do you think?
Questions? Other ideas? Leave them in the comments section below.
Related Posts
Sous Vide Strip Steaks with Maitre d'Hotel Butter
Sous Vide Grilled Chicken Breasts with Japanese Glaze and Dipping Sauce
Sous Vide New York Strip Roast with Bourbon Cream Pan Sauce
Enjoyed this post? Want to help out DadCooksDinner? Subscribe to DadCooksDinner via eMail or RSS reader, recommend DadCooksDinner to your friends, and buy something from Amazon.com through the links on this site. Thank you.