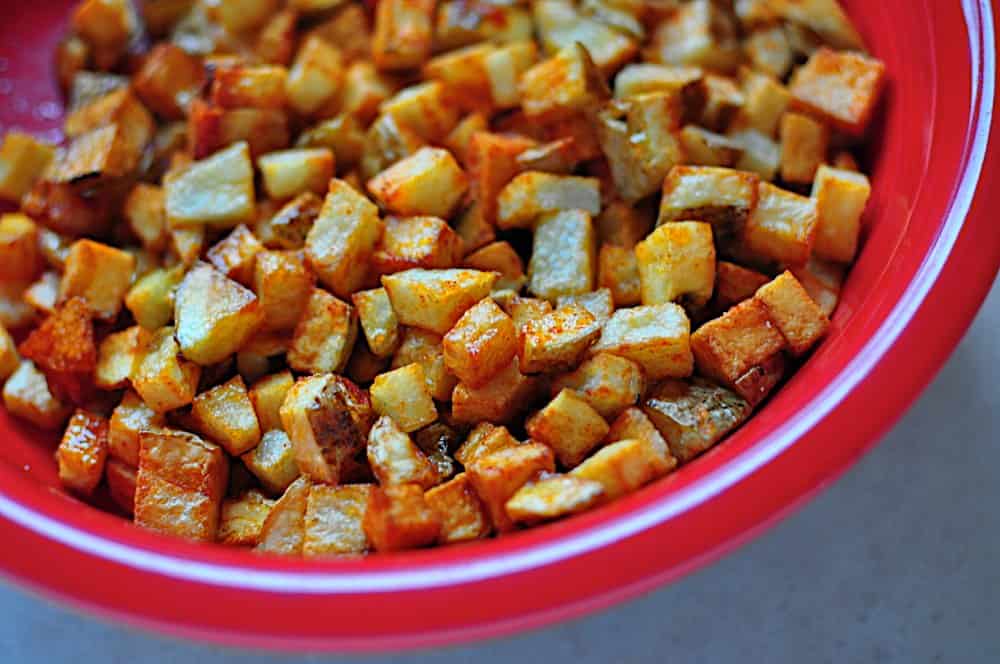 My kids have a new favorite side dish.
*My six year old has taken ownership of this recipe. He keeps asking "Dad, are you making MY potatoes tonight?"
I had never heard of Patatas bravas. Then, a few months ago...bang! A wave of recipes popped up all over the Internet. The recipe is simple. Diced potatoes are fried and sprinkled with salt and smoked paprika, then served with aioli*, mayonnaise loaded with garlic.
*Or maybe it is called allioi. I see it spelled both ways. I'm used to the Provencal spelling, aioli, so that's what I'm going with.
There are two major variations in the recipe. Version one has larger chunks of potato, which are par-boiled before frying. Version two has smaller chunks of potato which go into the frying oil raw. I've tried both versions, and they're both delicious. The second version, with a smaller dice of potatoes, is the one I use.
When I cook on a weeknight, I want to eliminate the extra step of par-boiling. And, more important, the extra pot I would have to clean.
While I'm simplifying things, I also shortcut the aioli. Sure, I could make my own mayonnaise in the food processor. If I'm being fancy for my friends, that's what I'll do. But on a weeknight, I cheat. I doctor pre-made mayonnaise with olive oil, lemon juice, and garlic for a sorta aioli.
*The kids won't touch the aioli anyhow. They just give me a look that says: "Mayonnaise? On French fries? Seriously?" That's why I've made the aioli optional.
Recipe: Patatas Bravas (Spanish style fried potatoes)

Adapted From: Sharon Anderson, Mayo, you win [ThreeManyCooks.com]
Cook time: 15 minutes
Equipment:
12 inch fry pan
paper towels and a large plate
Ingredients:
1 ½ pounds russet potatoes, cut into ½" dice
½ cup olive oil
½ cup vegetable oil
1 teaspoon Kosher salt
1 teaspoon smoked Spanish paprika (Pimenton de la vera)
Quick Aioli (optional)
½ cup mayonnaise
¼ cup olive oil
juice of ½ lemon
2 cloves garlic, minced or pressed through a garlic press
Directions:
1. Prep work: Dice the potatoes, whisk the aioli ingredients together, put a couple of layers of paper towels on the serving plate, and heat the olive and vegetable oil in the fry pan over medium-high heat.
2. Cook the potatoes: Wait for the oil to start shimmering (350*F), then carefully add the potatoes in a single layer. Cook for 10 to 15 minutes, stirring and flipping occasionally, until the potatoes are crispy and brown. Use a slotted spoon to move the potatoes to the paper towel lined plate, and blot as much oil off as you can with some more paper towels. Immediately sprinkle the potatoes with the salt and smoked paprika, and toss to coat. Serve with the aioli on the side.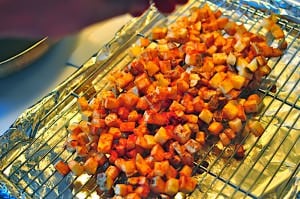 Variations:
*Larger Patatas Bravas: Cut the potatoes into 1 inch cubes. Cover with salted water in a saucepan, bring to a boil, and cook for 5 minutes, until just tender. Drain the potatoes, pat dry, then continue with frying in step 2 above.
*Peeled potatoes: You could peel the potatoes before dicing them. I like potato skin, so I leave it on.
Notes:
*In my pictures, I'm cooking two pounds of potatoes. I used my 13 inch fry pan and 1.5 total cups of cooking oil (1 cup vegetable oil plus ½ cup olive oil).
*The key to this recipe is the smoked Spanish paprika. Really, these potatoes are just home fries...until you add the smoked paprika.
*Make sure you have enough paper towels to pat the potatoes dry, or you'll have to improvise a drip pan, maybe with a sheet pan and a rack. Not that I would let such a thing happen to me...
What do you think? Questions? Other ideas? Leave them in the comments section below.
Adapted from:
Sharon Anderson, Mayo, you win [ThreeManyCooks.com]
*Enjoyed this post? Want to help out DadCooksDinner? Subscribe using your RSS reader or by Email, recommend DadCooksDinner to your friends, or buy something from Amazon.com through the links on this site. Thank you!