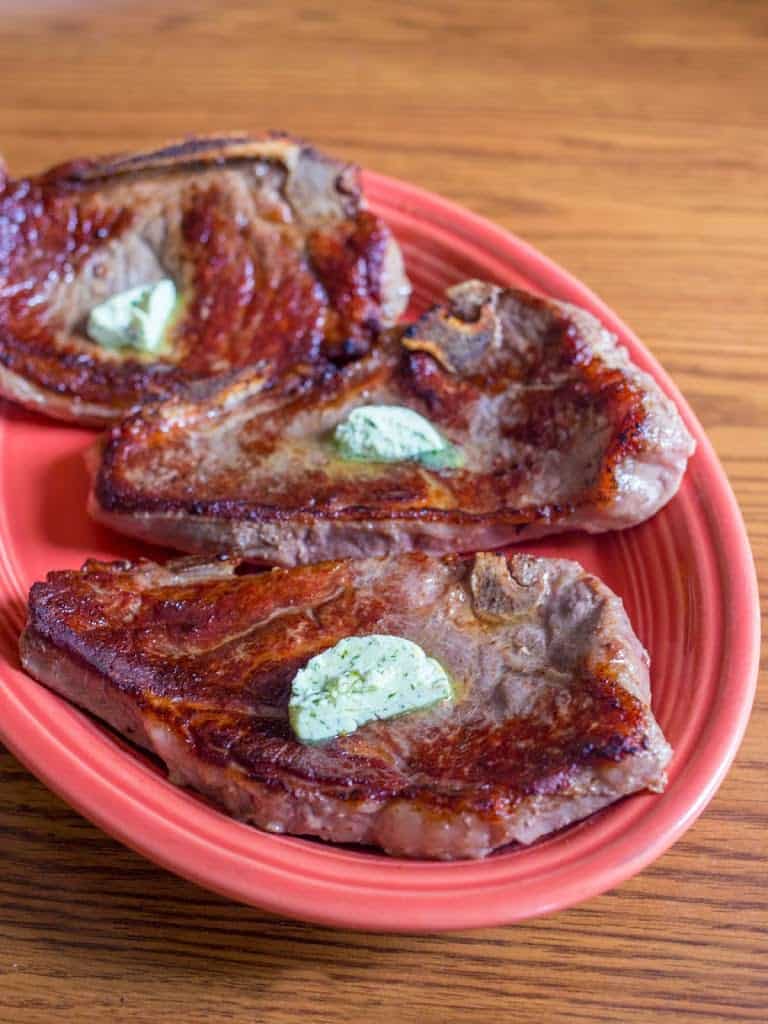 Did you make a roll of Maitre d'Hotel butter from my recipe earlier this week? Great! Now, I'm sure you're asking yourself "What do I use it with?"
You didn't make it? Oh. Um...that's OK, it's easy. Head back to the compound butter post. I'll wait here for you.
…
Got your butter made? Great, let's move on.
So, what do we do with the butter? I love to use it to finish a steak. That's right - a little bit of butter on top, melting onto the steak, giving it a last minute glaze of flavor.
Full disclosure - I'm not the one who thought up this trick. French bistros have thrived for over a hundred years serving Steak Frites, a rump steak topped with butter, and served with fries. I'm borrowing the idea, but skipping the fries.
I have a few of vacuum packed semi-boneless strip steaks in my freezer - regular cut, about an inch thick. Sous Vide makes this an easy weeknight meal. When I walk through the door, I fill my water bath, set the temperature to 131°F, and drop the steaks in. I go about my business - directing traffic as kids come home, enjoying a tasty beverage as I unwind from work. When it is time to serve, I get a pan ripping hot, then sear these thin steaks on one side to get a good, brown crust.
That's right, 1 inch thick is too thin, at least when it comes to sous vide. I don't want to lose that perfectly cooked interior by overcooking the steak.
The steaks come off the pan, and I immediately top them with a quarter sized pat of Maitre d'Hotel butter. While I toss a salad, the butter melts into the steaks; five minutes later, with about fifteen minutes of active work, dinner is ready.
Recipe: Sous Vide Strip Steaks with Maitre d'Hotel Butter

Prep Time: 5 minutes
Cook Time: 60 minutes
Equipment
Sous Vide setup (I love my SousVide Supreme)
Heavy 12 inch fry pan (I used my All-Clad; cast iron is also good for this)
Ingredients
3 (1 inch thick) New York strip steaks
1 ½ teaspoons kosher salt
1 teaspoon fresh ground black pepper
1 teaspoon vegetable oil
3 quarter sized pats Maitre d'Hotel butter
Directions
1. Sous Vide the steaks
Sprinkle the steaks evenly with the salt and pepper. Put each steak in a small (quart) vacuum pouch, and vacuum seal the bag. (At this point, the steaks can be refrigerated for three days, or frozen for months.) When you are ready to cook, set the sous vide to 131°F/55°C for medium-rare. (125°F/51.5°C for rare, 136°F/58°C for medium-rare, 141°F/60.5°C for medium well.) Drop the steaks in the sous vide, and cook for at least 1 hour (1 ½ hours for frozen), up to 4 hours.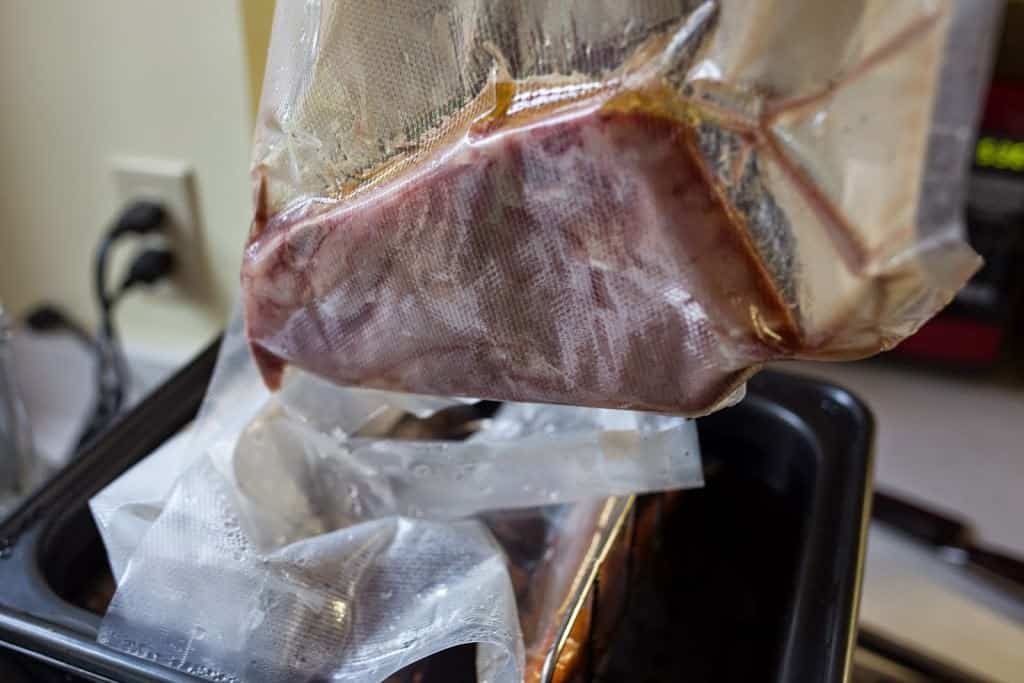 2. Sear the steaks
Heat the fry pan over medium-high heat until it is ripping hot. Swirl in the vegetable oil, then add the steaks. Don't move the steaks until they have a thick, browned crust on the bottom, about three minutes. Remove the steaks to a platter large enough to hold them in a single layer.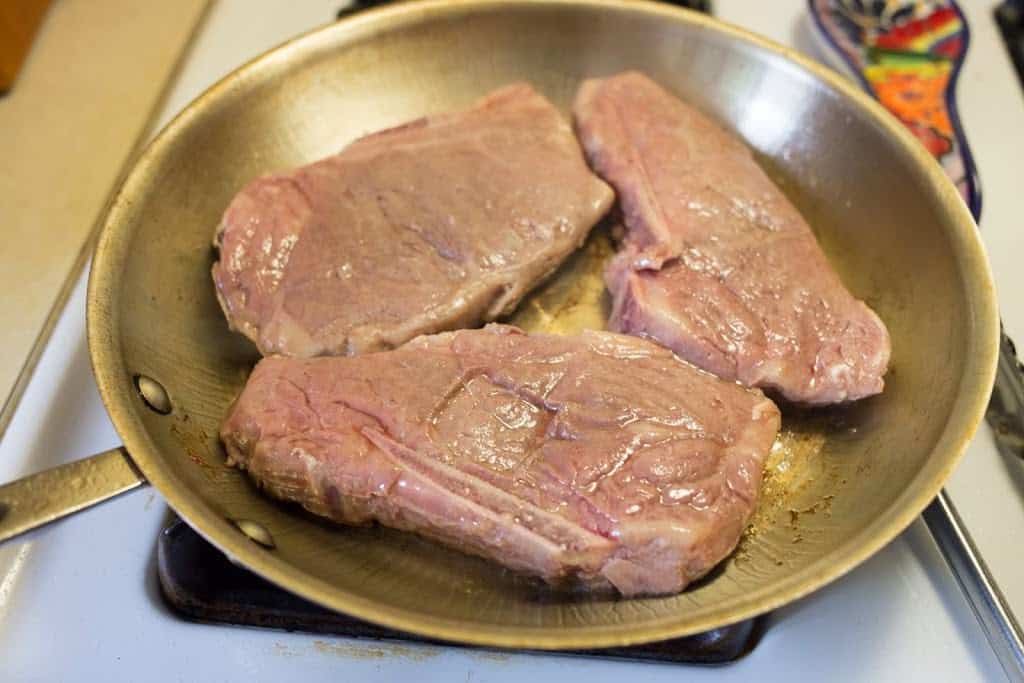 3. Top with butter, rest, and serve
Immediately top each steak with a pat of butter. Rest the steaks for five minutes, until the butter melts, and serve, topping each steak with a couple of spoonfuls of the juices and butter at the bottom of the platter.
Notes
Don't use a nonstick pan for searing the steaks - it isn't safe to heat nonstick to searing temperatures. (High heat is when nonstick starts to give off fumes.) Also, nonstick acts as a insulator, so the pan can't really get hot enough. Stick to cast iron, clad steel, or anodized aluminum.
If your diners can eat an entire steak on their own, put each steak on an individual plate instead of a platter. That means they get all the buttery steak juices that accumulate on the bottom of the plate. I use a platter because my wife and kids can't eat an entire steak on their own.
No Maitre d'Hotel butter made? It's quick to whip up a batch...but I can tell, you're in a hurry. Put a thin slice of butter on the steak, and don't worry about the other seasonings. But, promise me you'll try it with the compound butter when you have more time?
Photobomb
What do you think?
Questions? Other ideas? Leave them in the comments section below.
Related Posts
Grilled Sous Vide Filet Mignon with Gremolata
Sous Vide Grilled Chicken Breasts with Japanese Glaze
Sous Vide Pork Shoulder Steaks with Purple Cabbage Slaw
Enjoyed this post? Want to help out DadCooksDinner? Subscribe to DadCooksDinner via eMail or RSS reader, recommend DadCooksDinner to your friends, and buy something from Amazon.com through the links on this site. Thank you.