Sous Vide New York Strip Roast with Bourbon Cream Pan Sauce. A whole beef roast cooked sous vide, with a creamy bourbon pan sauce.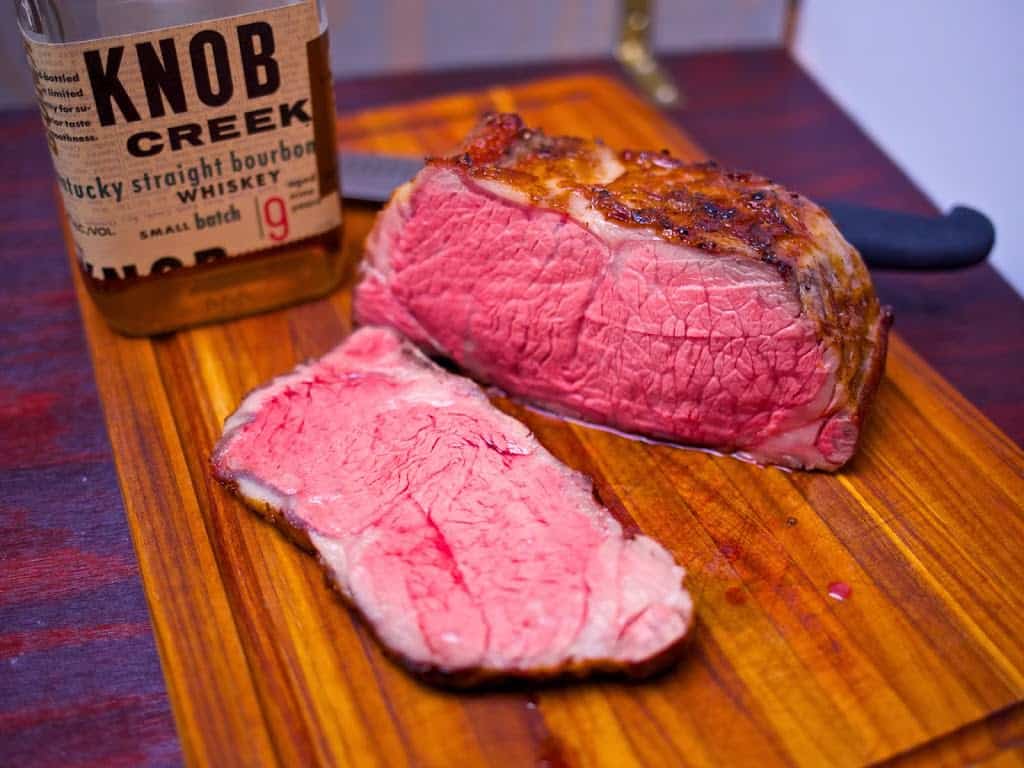 After my experiments with reverse searing, I thought - what if I tried to sous vide an entire beef roast?
And then my local grocery store had a sale on New York Strip Roasts. Kismet!
I found conflicting evidence on how long to sous vide a roast. The most thorough answer came from Douglas Baldwin's Practical Guide to Sous Vide. His guide says it will take between 2 ¼ hours and 5 ½ hours for a roast as thick as mine…depending on the actual shape of the meat. I went with the middle of this range - 4 hours - and my roast came out evenly cooked.
It was 128°F from edge to edge in a 130°F water bath. I guess the Moderinst Cuisine guys were right when they suggested your temperature 1°F high.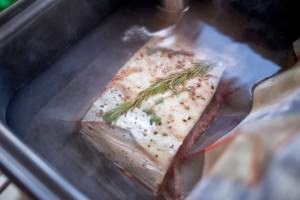 As for seasoning the roast, I followed my usual strategy for making a pan sauce - open the fridge and hope for the best. It went something like this:
Hey, look, leftover heavy cream - time for beef roast au poivre, with a cognac cream sauce!
No, I don't like au poivre style - the layer of peppercorns is way too hot, and blows out the taste of the beef. I'll cut back to a heavy sprinkling of cracked black pepper.
Wait - I don't have any cognac for the cream sauce. That's OK, the Knob Creek folks left me well stocked. Bourbon cream sauce it is!
Let's use the beef juices from the sous vide bag in the sauce. Oh…there's only a quarter cup of juices at most. Top that off with some chicken stock…and we're ready!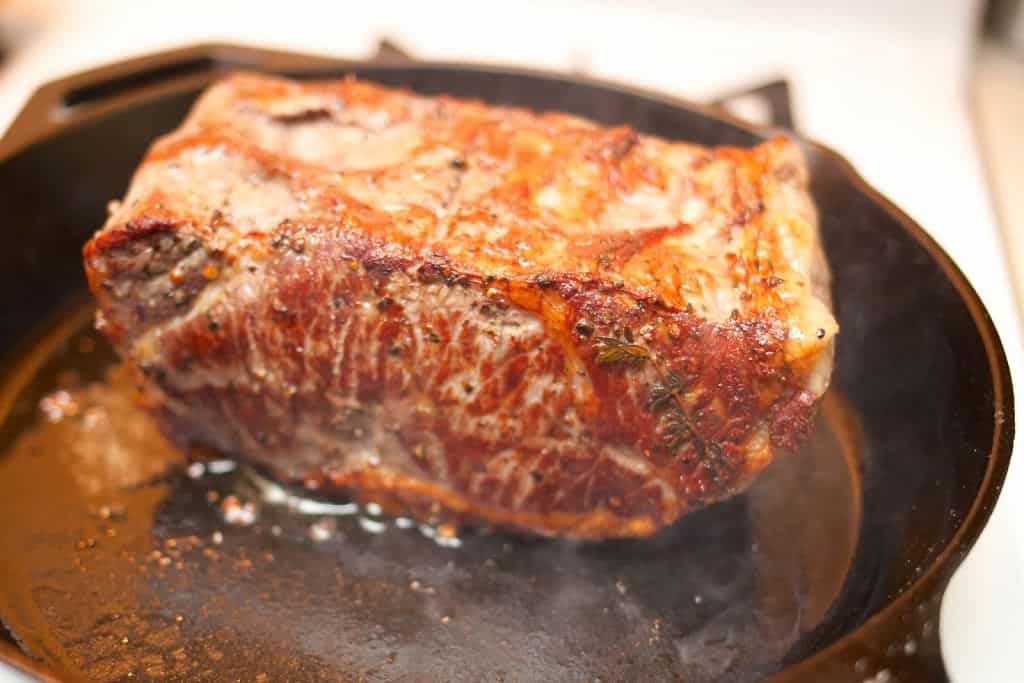 The roast itself? Oh, my. I've rarely cooked beef so perfectly.
Rarely - get it? I'll be here all week, and don't forget to tip your waitress.
I always forget how flawlessly pink sous vide beef is until I try it again. And I will try this again. Now…can I fit a ribeye roast in a gallon vacuum bag?
Recipe: Sous Vide New York Strip Roast with Bourbon Cream Pan Sauce
Adapted from: Douglas Baldwin's Practical Guide to Sous Vide
Print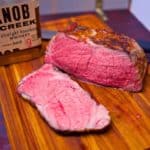 Sous Vide New York Strip Roast with Bourbon Cream Pan Sauce
---
Author:

Mike Vrobel

Total Time:

4 hours 25 minutes

Yield:

6

-8

1

x
Description
Sous Vide New York strip roast recipe - perfect medium-rare, edge to edge, with a bourbon cream pan sauce.
---
3

-pound New York strip roast

2 teaspoons

kosher salt

2 teaspoons

coarsely ground mixed peppercorns

2

sprigs rosemary

2

sprigs thyme
Bourbon cream pan sauce
Juices from the sous vide bag, strained through a fine mesh strainer, plus enough chicken stock to come up to ½ cup

¼ cup

bourbon

½ cup

heavy cream
---
Instructions
Prep the sous vide water bath: Preheat the sous vide water bath for 130°F/54.5°C for medium-rare. (For medium, set it to 140°F/60°C; for rare, set it to 120°F/49°C).
Season and vacuum seal the roast: Season the roast with the salt and peppercorns, then put it in a gallon/3.8L vacuum bag. Stuff a sprig of rosemary and a sprig of thyme on each side of the roast, then vacuum seal the bag.
Sous Vide the roast: Put the bagged roast in the sous vide water bath, and sous vide for at least 4 hours, or up to hours. Remove the roast from the vacuum bag, discard the herb sprigs, and strain the bag juices through a fine mesh strainer.
Sear the roast: Preheat a large frypan over medium high heat until it is ripping hot. Sear the roast for 1 minute a side, starting with the fat side of the roast, until it is browned on all sides. (My roast had 6 sides - the 4 wide sides, plus the two edges.)
Make a pan sauce with the strained drippings: Turn the heat in the pan down to medium, pour in the bag juices and chicken stock, and scrape any browned bits loose from the pan. Add the bourbon and bring to a simmer, then add the cream and simmer until the sauce thickens, about 5 minutes. Taste the sauce, and add salt and pepper as needed - you want the sauce to be highly seasoned.
Slice and serve: Slice the roast into ½ inch thick slices and serve, passing the pan sauce at the table.
Notes
4 to 8 hours? Why is the cooking time so wide? 4 hours is how long it takes to cook the roast to doneness; that is how long it takes to heat the roast all the way though. At that point, sous vide will keep it "done" indefinitely, but after about 4 hours, the roast will start to get a little mushy on the edges. More details about Sous Vide here: Sous Vide Cooking Times for a Boneless Roast.
The key to a roast is good marbling. I check all the roasts in the case, looking at the edges for little streaks of intramuscular fat, and pick the most marbled one.
I tried to use a tip from StefanGourmet.com, and pour the liquid in the sous vide bag through a coffee filter to filter out the coagulated proteins…except there wasn't much liquid in the bag to begin with; maybe ¼ cup at most. All it did was get the coffee filter wet - the liquid didn't actually pass through the filter. I wound up pouring the liquid out of the filter and through a fine mesh strainer, then adding chicken stock to get the amount of juices I wanted for the sauce. Next time I'm going to try this tip from FoodNearsVille and wet the coffee filter before straining - it should help the liquid flow. (Or maybe I should have used StefanGourmet's suggestion of paper towels. I'll let you know how it turns out.)
Prep Time:

10 minutes

Cook Time:

4 hours 15 minutes

Category:

Sous Vide

Cuisine:

American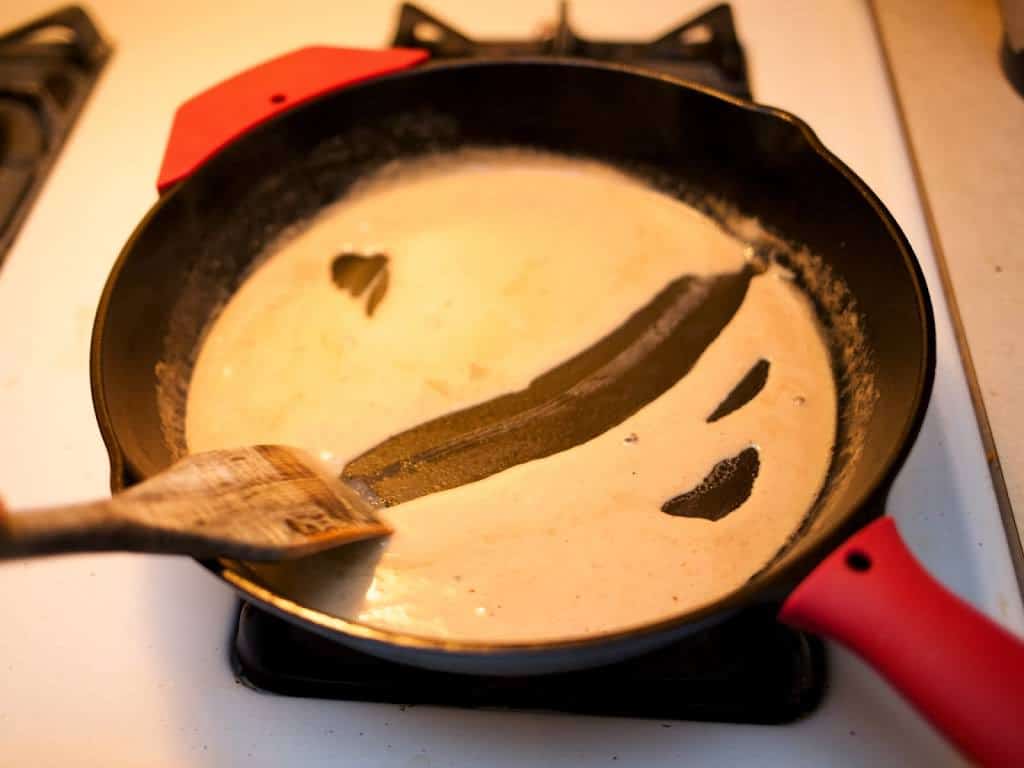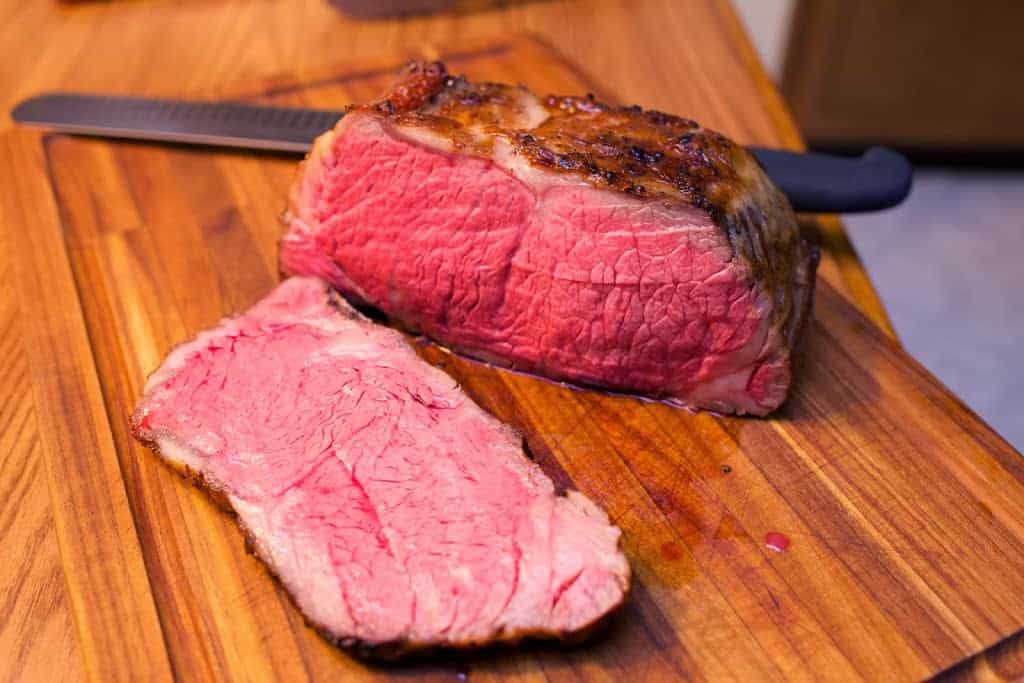 What do you think?
Questions? Other ideas? Leave them in the comments section below.
Related Posts:
Sous Vide Grilled Filet Mignon with Sous Vide Egg and a Fresh Herb Salad
Sous Vide Grilled Lamb T-Bones with Provencal Tian
Sous vide Grilled Chicken Breasts with Japanese Glaze and Dipping Sauce
Sous Vide Flat Iron Steak
Click here for my other sous vide recipes.
*Enjoyed this post? Want to help out DadCooksDinner? Subscribe to DadCooksDinner using the RSS or Email options on the right, recommend DadCooksDinner to your friends, buy something from Amazon.com
through the links on this site, or donate through my tip jar. Thank you.