Quick Baked Potatoes. An easy baked potatoes recipe for crisp, delicious baked potatoes. They take a half an hour to bake thanks to a jump start in the microwave.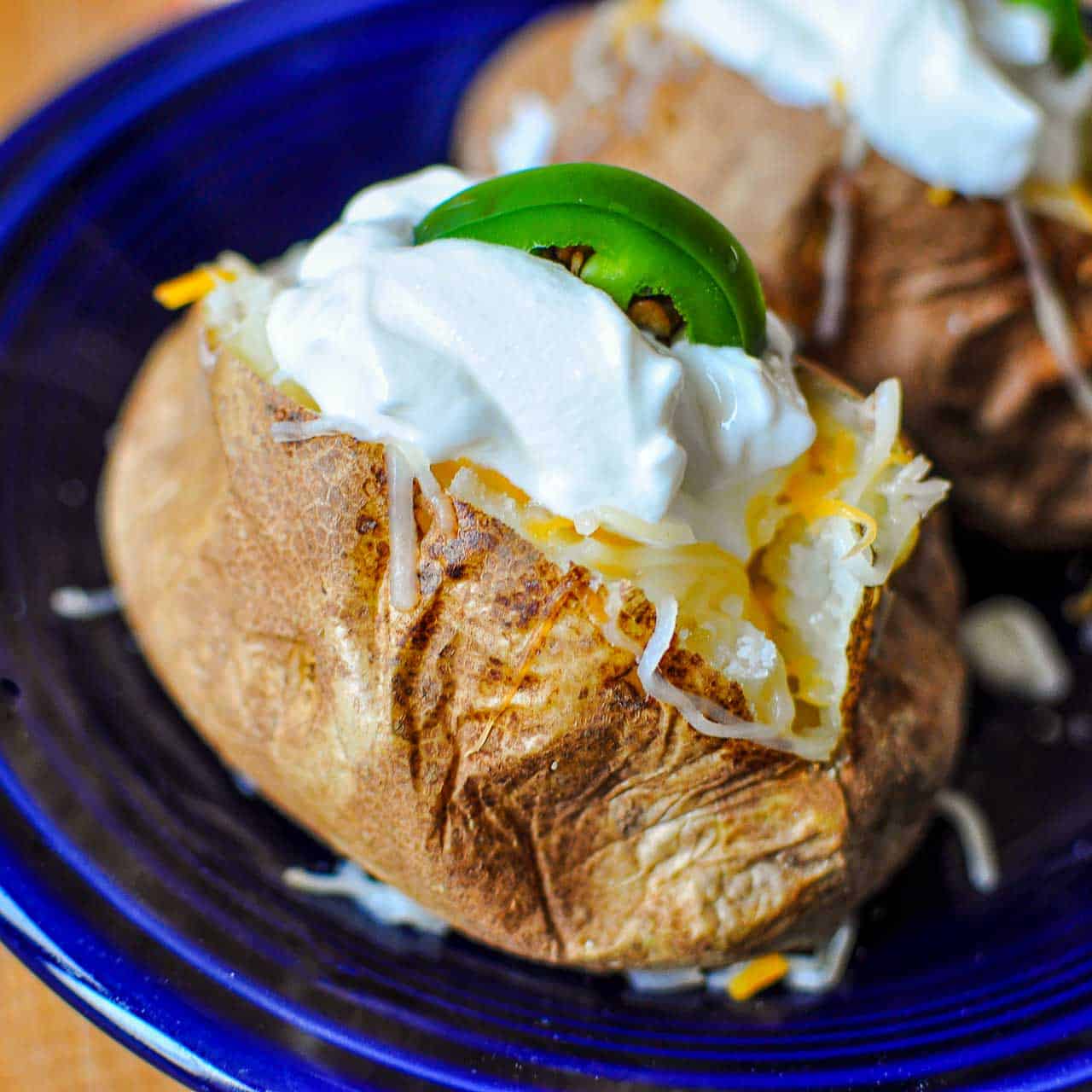 Jump to:
Thank you Jacqes Pepin
I love baked potatoes, but they take so long to cook. Oven baked potatoes need an hour (or more) to be tender in the middle with a crisp, crackling skin. Weeknight baked potatoes? Out of the question.
recipe
crisp
delicious
I love baked potatoes, but they take so long to cook. Potatoes need an hour (or more) to be tender in the middle with crisp, crackling potato skins. Weeknight baked potatoes? Out of the question.
Then I heard Jacques Pepin was on the radio, chatting about his new cookbook. He gave a tip that nearly ran me off the road. His baked potatoes are done in thirty minutes or less. Thirty minutes? How?
He microwaves the potatoes while his oven pre-heats, giving them a head start. The result is perfect baked potatoes in half the time they normally take. I have used the microwave technique ever since.
Now, I'm almost ashamed to share this; it's barely a recipe. One ingredient, two steps. And I'm stretching to make it two steps. But I'll get over my shame. This is too useful a technique not to share.
Why Russets Make the Best Baked Potatoes
Russet potatoes make the best oven baked potato, with crisp skin and a fluffy interior. Now, I love red, white, and Yukon gold potatoes, but not for baking. Their thin skins and waxy interior don't work right as a baked potato. (Now, cut them up and toss them with olive oil and salt, and they make great crispy roasted potatoes - but that's a different recipe.)
How Big Should the Potatoes Be?
This technique uses small russet potatoes, 6-8 ounces each. Larger potatoes work with this technique, but they take longer to cook. The goal of this recipe is baked potatoes in half an hour, so I stick with small potatoes.
That said, the technique will still work with larger potatoes:
Medium (10-ounce) potatoes: microwave for 8 minutes, and bake for 30 minutes.
Large (12-ounce) potatoes: microwave for 10 minutes, and bake for 40 minutes.
How to Make Quick Baked Potatoes
Start heating the oven to 425°F
Wash the potatoes, poke them with a fork a few times, then microwave on high for 6 minutes.
When the oven is heated, move the potatoes from the microwave to the oven and bake for 20 minutes.
Remove the potatoes from the oven, and immediately cut the potatoes to let the steam escape. Serve with your favorite toppings and enjoy!
How to Clean Your Potatoes
Potatoes are tricky to clean - dirt clings to them like glue. I scrub my potatoes with a vegetable brush. I give each potato a quick brush while rinsing them with cold running water.
How Long Should I Bake My Potatoes?
With a quick start from the microwave, you only need to bake the potatoes for 20 minutes. They should be ready in 30 minutes, from start to finish, including pre-heating the oven while the potatoes get their microwave head start.
What to Serve with Microwave Baked Potatoes
There's a reason "meat and potatoes" is shorthand for a straightforward meal. These quick baked potatoes are a fantastic weeknight side dish, especially if the main course has a pan sauce or gravy.
Or serve them on their own, with your favorite baked potato toppings. As you can see in the picture, I like to split the potato, sprinkle it with salt and pepper, then add shredded cheddar cheese, sour cream, and a jalapeno for some kick.
How to Store and Reheat
If you have leftover baked potatoes, they can be refrigerated for a few days, then reheated in a 350° degree oven for 20 minutes or until they're heated through. (The FDA recommends reheating to an internal temperature of 165°F, measured with an instant-read thermometer.)
Adapted From: Jacques Pepin, Fast Food My Way
Print
Quick Baked Potatoes
---
Description
Cook these Quick Baked Potatoes in your microwave for soft, delicious  potatoes with crispy skins  in less than a half an hour.
---
6

small russet potatoes (

6

-

8

ounces each)
---
Instructions
Start potatoes in Microwave: Turn oven to 425ºF. Wash the potatoes, then poke each one three times with a fork. Microwave the potatoes on high for 6 minutes.
Finish potatoes in oven: Transfer the potatoes to the oven. (I put them right on the oven rack). Bake for 20 minutes, or until the skin feels crisp when a potato is squeezed. Remove from the oven and immediately slice the top of the potato to let the steam escape. Squeeze from the ends to fluff up the inside a bit, and serve.
Prep Time:

1 minute

Cook Time:

30 minutes

Category:

Side Dish

Cuisine:

American
Notes
Salt and pepper the potatoes once they are split open. Garnish with one or more of: shredded cheese, sour cream, chives, bacon bits, jalapenos. Or a pat of butter. Or, my favorite, a pan sauce from sauteed pork chops.
Find good, clean potatoes for this recipe. Baked potatoes work best when they're whole. The skin traps the steam inside, making the inside fluffy and tender. If you have to remove bruises or eyes, then the steam will escape, and the potatoes won't bake as well.
If you want to cook the potatoes on a baking sheet, put it in the oven when you start preheating. I don't bother, I put the potatoes straight on the oven rack.
What do you think? Questions? Other ideas? Leave them in the comments section below.
Related Posts
Basic White Rice
Orzo Pilaf
Instant Pot Rainbow Baby Potatoes with Rosemary and Garlic
Simple Instant Pot Potato Soup Recipe (With and Without Bacon)
Adapted from:
Jacques Pepin, Fast Food My Way

*Enjoyed this post? Want to help out DadCooksDinner? Subscribe using your RSS reader or by Email, recommend DadCooksDinner to your friends, or buy something from Amazon.com through the links on this site. Thank you!