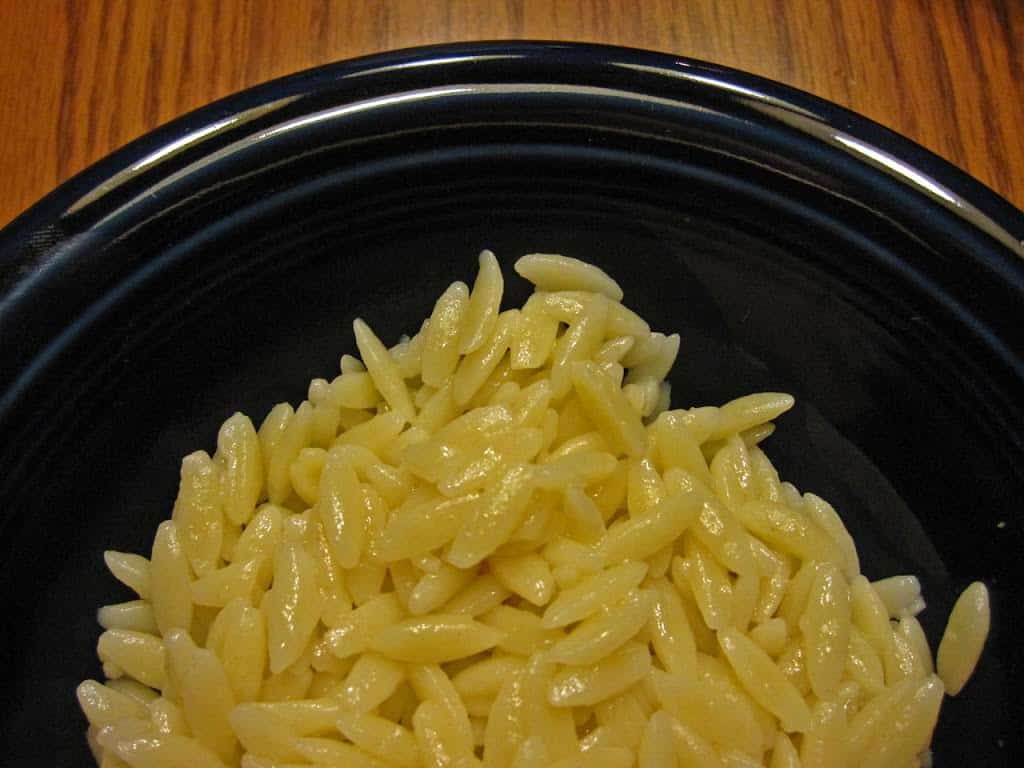 I just realized that I don't have many starchy side dishes on the blog.
*Also, I didn't want to miss a chance to annoy the Atkins people. If there are any left…
Orzo Pilaf is one of my Pantry Emergency favorites – what do I do when I didn't actually plan out a starch for our side dish, and I need one right away? This is it. It's quick and easy. Twenty minutes, start to finish, with minimal effort while it's cooking, so you can concentrate on the rest of the meal.
The trick is to cook the orzo like you would cook rice. You use just enough water that the pasta absorbs it all by the time it's done cooking – 2 1/2 cups of water for 8 ounces of orzo. That way, you don't have to wait long for the water to come to a boil, and you don't have to drain the orzo when you're done.
Cook time: 13 minutes
Ingredients:
2 1/2 cups water
1 tsp salt
8 oz Orzo (half of a box)
1 tbsp butter (optional, but delicious)
Directions:
1. Boil the Water: Bring the water and salt to a boil in a saucepan over high heat.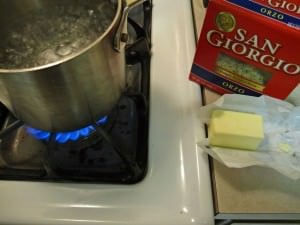 2. Cook the Orzo: Turn the heat to medium-high. Add the orzo to the saucepan and cook for 8 minutes, stirring occasionally to make sure the orzo doesn't stick to the bottom of the pan. Turn off the heat, stir the orzo, add the butter, cover the pan, and let rest for 5 minutes. Stir the melted butter into the orzo, and serve.
*The orzo should still be a little damp when you turn off the heat; it will absorb the rest of the water by the end of the five minute rest.
Variations:
*Parmesan Orzo Pilaf: Stir in an ounce of parmesan cheese after the resting period, or sprinkle it on top before serving.
*Lemon Orzo Pilaf: Stir in 1 tablespoon of lemon zest after the resting period.
*Herbed Orzo Pilaf: Stir in 1 teaspoon of chopped fresh herbs. The "song
" herbs are my favorites with it; parsley, sage, rosemary and thyme.
*Basil is good, but I can't use the song joke with that one.
*Rich Orzo Pilaf: Substitute chicken or turkey stock for half (or more) of the water.
Notes:
*This is another of my "two out of three kids will eat this" side dishes. It's very kid friendly – a plain starch with a little butter.
*My oldest, Ben, still won't eat pasta. Not even spaghetti. Although, he's loosening up on the spaghetti. I got him to try a noodle the last time I made it, and he said it "wasn't bad." He turned down a second noodle, though.
*Orzo pilaf is not just for weeknights. It makes a good side dish for stews, especially Italian style stews. An Italian style pot roast with a side of of orzo pilaf to help soak up the juices is a wonderful pairing.
What do you think? Questions? Other ideas? Leave them in the comments section below.
Related Posts:
Basic White Rice
Quick Couscous
Inspired by:
Cuisine at Home magazine [cuisineathome.com]
*Enjoyed this post? Want to help out DadCooksDinner? Subscribe using the RSS or Email options on the right, recommend DadCooksDinner to your friends, or buy something from Amazon.com
through the links on this site. Thank you!