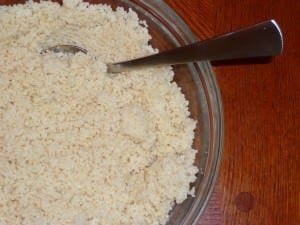 Here's another quick weeknight recipe. Couscous will give you a starchy side dish in almost no time at all, especially if you have an eletcric kettle
to boil your water in. Also, because it's fairly bland, the kids will eat it!
OK, two out of three of my kids. I can't get THAT lucky.
Recipe: Quick Couscous

Ingredients:
1.5 cups instant couscous
1 tablespoon butter (optional)
2 teaspoon kosher salt (or 1 teaspoon table salt)
2 cups boiling water
Directions:
1. Cooking: Combine the couscous, butter and salt in a medium bowl. Pour the boiling water into the bowl, stir to combine, and cover. (I use a dinner plate). Let sit 5 minutes, then fluff with a fork, and serve.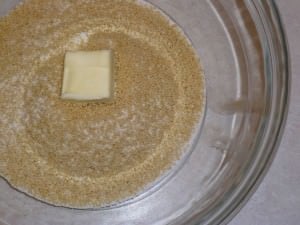 Ready for the boiling water

Variations:
Replace the butter with olive oil
Replace the boiling water with boiling chicken stock for some extra flavor.
*Add ¼ cup raisins (or even better, the tiny raisins called Currants
) with the other ingredients before adding the boiling water
*Sprinkle some chopped parsley over the top as a garnish. (I can't do this - the kids won't eat it if it's touched something green.)
Notes:
*This is a good side dish for any middle-eastern themed meal. It's bland, but that's good - if you have a bunch of flavorful dishes, this makes a nice, plain counterpoint. I think of it as I would mashed potatoes, pasta, or plain white rice. It's a side dish to go with something that has a sauce or juices that the couscous can absorb. A Tagine is the traditional recipe with this, but it goes well with any stew-like dish. Oh, and lentils and couscous are another wonderful combination.
*Stews aside, what I usually eat with couscous is grilled food. It's particularly good with shish kebab, which is its traditional accompaniment. Just remove everything from the skewer right onto a bed of couscous, and let the juices from the grilled foods mix with the couscous.
*It's also a good side dish if you're really in a hurry. It's done in 15 minutes, end to end, and you don't need a pot on the stove to cook it in!
*
Couscous is actually a pasta
even though it looks like some kind of grain. It's what happens if you take pasta flour, moisten it, then rub it between your fingers until it makes little grains.
Inspired by:
The Take Out Menu Cookbook - Carla Synder and Meredith Deeds

The Rustic Table: Constance Snow