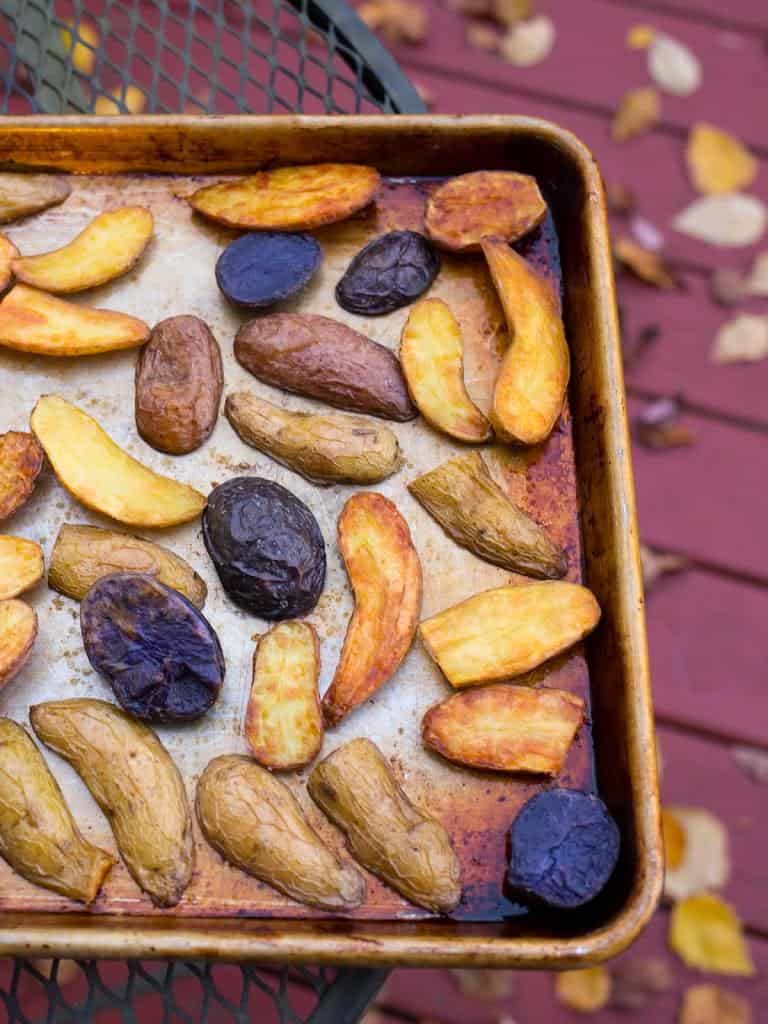 This is an ode to half sheet pans.
Half sheet pans are the utility infielders of my kitchen. They're not expensive, fancy, or flashy. They just get the job done, particularly when the job is roasting. They're the key piece of equipment in this simple side dish - roast fingerling potatoes.
When I'm planning meals, I go with the traditional set of meat, two veg, and a starch. This isn't a recipe, per se; it's a technique to finish the starch with a minimum of effort. Halve the potatoes, sprinkle them with salt, toss them with olive oil, and spread them out face down on the half sheet pan. Pop them in a 400°F oven for 45 minutes or so. The heavy aluminum pan crisps up the bottom of the potatoes while they cook through in the heat of the oven. And there you have it; a crispy, crunchy, starchy side dish with a minimum of effort.
No half sheet pan? Any rimmed baking sheet or shallow roasting pan will work. I've done these potatoes in everything, from inexpensive Pyrex baking dishes to fancy All-Clad roasters, but they work best in humble half sheet pans.
Recipe: Oven Roasted Crispy Fingerling Potatoes

Prep Time: 5 minutes
Cook Time: 45 minutes
Equipment
Ingredients
1 ½ pounds fingerling potatoes
1 teaspoon kosher salt
2 tablespoons olive oil
Directions
1. Season the potatoes
Set the oven to 400°F. While the oven is heating sprinkle the potatoes with salt, then toss with olive oil. Spread into a single layer, cut side down, on the half sheet pan.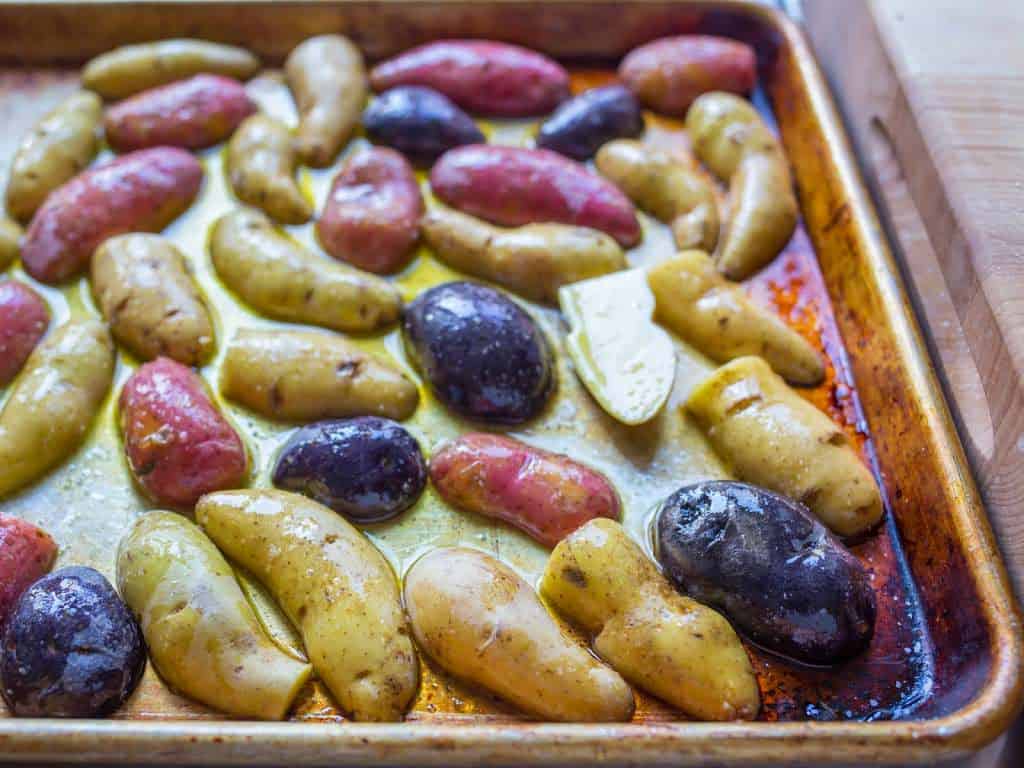 2. Roast the potatoes
Put the pan in the oven. Roast until the potatoes are nicely browned on the bottom and easily pierced with a paring knife, about 45 minutes. Take the pan out of the oven and move the potatoes to a serving platter, using a spatula to work them loose from the pan if they are sticking.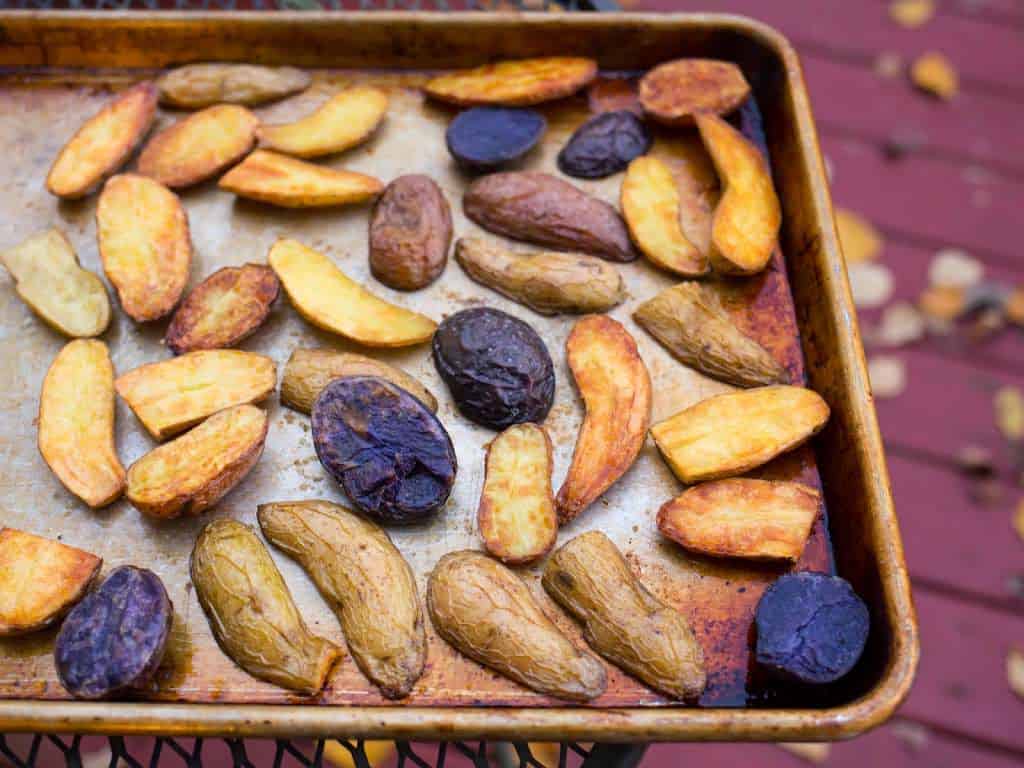 Notes
This recipe halves or doubles easily; just make sure you can fit all the potatoes, cut side down, on your pan.
You can make cleanup easier by lining the sheet pan with parchment paper or aluminum foil…but the potatoes don't wind up as crisp if you do that.
If you want crisper potatoes, and you have the time, halve the fingerling potatoes, then soak them in hot tap water for an hour. Pat them dry with paper towels, then continue with salting and tossing with oil. This is a trick I learned from Cooks Illustrated - it removes some of the surface starch, helping the potatoes crisp up. But…this usually winds up as one step too many for me. I go to this recipe when I need an easy side dish; soaking and drying gets in the way.
You don't have to use fancy, multicolored potatoes, like I am in the pictures. Red, yellow, or purple fingerling potatoes are fine on their own.
What do you think?
Questions? Other ideas? Leave them in the comments section below.
Related Posts
Patatas Bravas - Spanish style fried potatoes
Oven Roasted New Potatoes
Quick Baked Potatoes
Enjoyed this post? Want to help out DadCooksDinner? Subscribe to DadCooksDinner via eMail or RSS reader, recommend DadCooksDinner to your friends, and buy something from Amazon.com through the links on this site. Thank you.