Crisp skinned roast duck with duck fat potatoes. Doesn't that sound decadent? Oh, it is. This is a great recipe to show off your rotisserie grilling skills.
I tried a slightly different approach to my duck. Instead of poking the skin all over with a knife, I went with the slashed skin that I use when I'm searing individual duck breasts. Why? Two reasons. First, I hoped more duck fat would escape through the larger slashes. Second, diamond patterns look prettier in photos.
*Yes, I use some cooking techniques because they look good in pictures. I'm…I'm…food styling. I feel like I should be ashamed. But then I see the duck and potatoes picture, and I get over it.
Did slashing the skin help? Yes, but not as much as I expected. There was a slight improvement over poked-skin duck, a little less fat under the crispy skin. And the diamond pattern sure looks nice in the pictures. (Whoops, there I go again.) I'm going to use the slashed skin approach in the future, but if you are more comfortable poking your duck, keep doing it. Frankly, I think dry brining for 24 hours in the refrigerator crisps the skin more than slashing vs poking.
Special thanks to Jeff and Melanie at Brunty Farms for the wonderful duck I used for this recipe.
Recipe: Rotisserie Duck with Honey Glaze and Drip Pan New Potatoes
Equipment
Print
Notes:
One duck will feed 4 people, with the potatoes and another side dish. I slice the duck breast and the thighs, and serve the drumsticks and wings as crunchy snacks. If you have hearty eaters, assume they'll want half a duck - a breast and a leg. I think I can squeeze two ducks on the spit for my jumbo Weber Summit grill. What I'm trying to say is: this is a recipe for an intimate gathering, not for a crowd.
If you like your duck breast cooked pink - medium rare to medium - this is not the recipe for you. To cook the legs through and render enough fat to crisp the skin, you have to cook the breast to well done. I like well done duck breast; the crisp skin and fat keep it juicy. But if you really want medium-rare duck breast, it needs to cook separately from the rest of the duck.
What do you think? Questions? Other ideas? Leave them in the comments section below.
Related Posts:
Rotisserie Duck Peking Style
Rotisserie Duck with Pomegranate Glaze
Basic Rotisserie Duck
Click here for my other rotisserie recipes.
---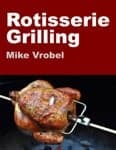 Check out my cookbook, Rotisserie Grilling.

 

Everything you could ask about the rotisserie,
plus 50 (mostly) new recipes to get you cooking.

It's available as a Kindle e-book, so you can download it and start reading immediately!
---
*Enjoyed this post? Want to help out DadCooksDinner? Subscribe to DadCooksDinner using the RSS or Email options on the right, link to this post from your blog, recommend DadCooksDinner to your friends, or buy something from Amazon.com through the links on this site. (Like my Rotisserie Grilling cookbook...)