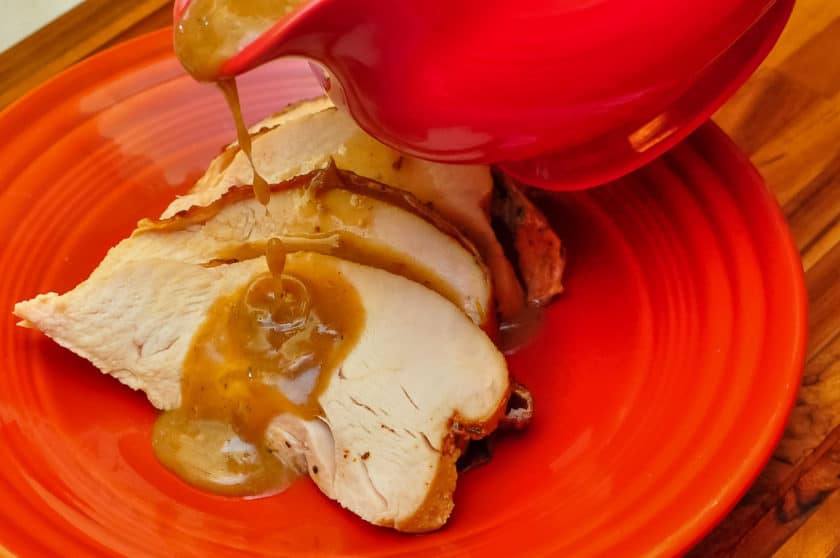 Pressure cooker giblet gravy solves Thanksgiving problems.
First: The Thanksgiving Time Crunch. Thanksgiving dinner is a logistical problem. Instead of a party of eight to ten people, I'm cooking for twenty to thirty. There is only so much space in the oven, so many burners available, and the clock is always ticking. Giblet gravy can be made days ahead, using the bits of turkey that are stuffed in the cavity. One less thing to worry about on T-Day.
Second: My two favorite Thanksgiving dishes are grilled turkey and mashed potatoes smothered in gravy. Grilled turkey and pan drippings don't go together; if I based my gravy on pan drippings alone, I might have a gravy-less Thanksgiving. That would be a disaster.
* I've lost pan drippings to charcoal ash, burning from the high heat of the grill, and flimsy aluminum foil pans I use under my turkey. Also, I'm addicted to drip pan sweet potatoes, and they soak up all the drippings. This recipe is my workaround for those missing drippings.
Why use the pressure cooker to make giblet gravy? It's not absolutely necessary, but I like the results; the PC seems to extract more flavor from the giblets. Also, it is fast - I can make gravy in an hour, end-to-end, with half that being hands-off time. Quick, delicious, make-ahead, using the bag of turkey pieces that I used to pull out of the cavity and throw away. What more could I want from a recipe?
*If you don't have a PC, you should still make giblet gravy. Check the notes section for instructions using standard cookware.
Recipe: Pressure Cooker Giblet Gravy
Inspired By: Giblet Pan Gravy, Cook's Illustrated [November/December 2000]
Print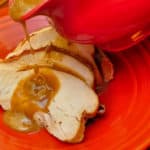 Pressure Cooker Giblet Gravy
---
Author:

Mike Vrobel

Total Time:

1 hour 35 minutes

Yield:

1

1

x
Description
Pressure Cooker Giblet Gravy - make your turkey stock and gravy with help from an Instant Pot or pressure cooker.
---
1 tablespoon

vegetable oil
Turkey neck, heart, gizzard, butt (Do not use the liver!)

1

medium onion, quartered

½ cup

dry vermouth or dry white wine

1 quart

water (or turkey or chicken broth)

2

sprigs thyme

1

bay leaf

4 tablespoons

butter

4 tablespoons

all purpose flour
Salt and fresh ground black pepper to taste
---
Instructions
Brown the turkey and aromatics: Heat the vegetable oil in the pressure cooker pot over medium-high heat until shimmering; add turkey pieces and onion and cook until browned, about 3 minutes. Flip and brown the other side, another 3 minutes. Add the vermouth and bring to a boil, then scrape any browned bits from the bottom of the pot. Add the water, thyme and bay leaf.
Pressure cook the broth: Lock the lid on the pressure cooker, bring to high pressure, and cook at high pressure for 30 minutes for a Stovetop PC or 36 minutes for an Electric PC. Let the pressure come down naturally, about 20 minutes. Strain the broth, reserving the turkey heart and gizzard. Once they have cooled enough to handle, remove the gristle from the gizzard and dice the heart and gizzard.
Make the roux: Melt the butter in a saucepan over medium heat. Whisk in the flour. Cook the flour, whisking constantly, until the flour is the color of peanut butter, about 3 minutes.
Make the gravy: Slowly pour in the strained broth while whisking vigorously. Increase heat to medium-high, bring to a boil, then decrease the heat and simmer, stirring occasionally, until thickened and reduced by a third, about 20 minutes. Stir in the diced heart and gizzard. Add salt and pepper to taste; the gravy will need both.
If making ahead: For make ahead gravy, let it cool to room temperature, then refrigerate in a sealed container for up to 4 days.
Serve: When it's time to use the gravy, boil for 1 minute. Stir in pan drippings from the turkey (if you have them) and serve.
Notes
No pressure cooker? No worries: Use a regular saucepan. Increase the vermouth/white wine to 1 cup, and the water to 6 cups. In step 2, instead of pressure cooking, bring the pot to a boil , decrease to a simmer, then simmer the broth for an hour and a half. Continue with the straining step
Giblet Gravy is three (or four) basic techniques strung together. First, make a stock using the giblets, neck, turkey butt, and some aromatics and herbs. Second, make a light brown roux to thicken the stock into gravy. Third, Season to taste - more on that in a minute. The final, optional step is deglazing the pan drippings and adding them to the gravy.
"Add salt and pepper to taste" is not optional. You need to add salt to the gravy, or it will taste bland and thin. Add salt and keep tasting; the change will surprise you. Once you have added enough salt, the gravy will taste sweet and gain a lot of body. I added about 2 teaspoons of Kosher salt and ½ teaspoon of fresh ground pepper.
I use two pots for this recipe because my pressure cooker is too large to make the roux. If you own a 4 quart or smaller pressure cooker, this can be a one-pot recipe, making cleanup easier. (Wipe the pot out with a damp paper towel before starting the roux.) On the other hand, using a second pot lets me make the roux while the broth is cooking in the pressure cooker. This cuts a few minutes from the total cooking time. Also, I like to make roux in a saucier style pot, with rounded sides - there is less chance of the flour burning in a corner.
Turkey butt isn't really the turkey's butt. It's the turkey tail, the thing the tail feathers are attached to. It's also called the pope's nose; the scientific name is the pygostyle. I still call it the butt. Why? So I can say: "Guess what? Turkey butt!" I may get old, but I'm not maturing.
Tools
Prep Time:

5 minutes

Cook Time:

1 hour 30 minutes

Category:

Pressure Cooker

Cuisine:

American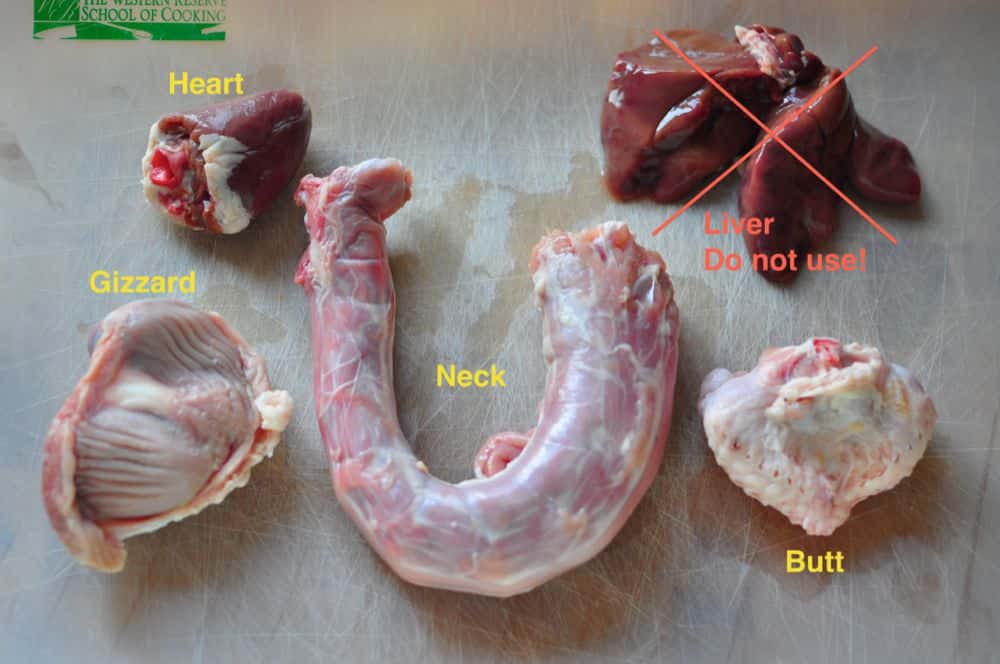 Know Your Giblets
Brown the turkey and aromatics:
Pressure cook the broth:
Make the roux:
Make the gravy:
What do you think? Questions? Other ideas? Leave them in the comments section below.
Related Posts:
Pressure Cooker Turkey Stock Revisited
Click here for my other pressure cooker recipes.
*Enjoyed this post? Want to help out DadCooksDinner? Subscribe using your RSS reader or by Email, recommend DadCooksDinner to your friends, or buy something from Amazon.com through the links on this site. Thank you!