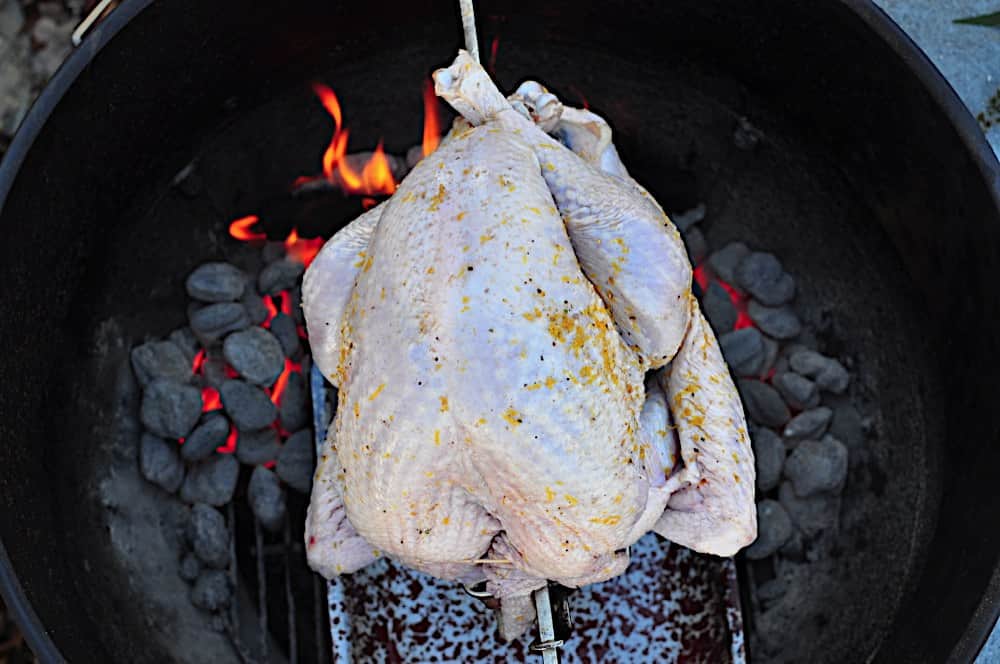 Every year, I grill my Thanksgiving turkey. This year I'll be grilling two of them.
Rotisserie grilling, of course - the picture is from the recipe coming later this week.
Family and friends watch me out in the cold, wrestling with a 12 pound bird, while they sit inside watching the football game. Someone always asks - why do you do this? Why grill your turkey? Why not cook it in the oven?
With an implied "like normal people do."
Well, I'm here to tell ya...
Top Five Reasons to grill the Thanksgiving turkey:
1. Taste: Why grill anything at all? Because it just tastes better. And, I hate to say it, but Turkey needs the help, particularly turkey breast. Turkey is very lean, which means...bland. Needs gravy. And stuffing.
That is, unless the turkey is grilled. Grilling gives the turkey browned, extra crisp skin from the dry heat of the grill, and adds a hint of smoky flavor to the bird. The turkey, especially the white meat, will have the flavor to stand on its own, instead of just being a slab of protein to cover with gravy.
Now, if you brine the bird first, and add a little smoking wood, that can only help the flavor. Oh, and go for the dark meat - I make sure I get a drumstick every Thanksgiving.
2. Space:Trying to fit the bird, stuffing, squash, green bean casserole, sweet potatoes, and dinner rolls in the oven? Ever wish you had a second oven, just for Thanksgiving? Guess what - you do, right outside on the patio. I'm serving about twenty people this Thanksgiving, and I'll be cooking two turkeys - one on my Weber kettle, the other on my Weber gas grill. I'll have plenty of room in the oven for my stuffing and side dishes.
3. Cleanup: No huge roasting pan to scrub out after dinner - crumble up the foil pan in the grill, once it has cooled down, and toss it in to the trash. Done!
4. Gets you out of the kitchen: This has two parts, the practical, and the psychological. The practical part: you don't have to elbow through all the people in the kitchen to get to the bird - it's out in the back yard, where there is plenty of space. The psychological part: you get to go outside! If you're lucky, it's a beautiful fall day, and you can take a few minutes while checking on the bird to get away from the crush of people, the heat of the kitchen. Take a deep breath of crisp fall air, sip a lovely beverage, and watch the grill for a few minutes.
I live in Northeastern Ohio, so sometimes my "beautiful fall day" is 37F with a rain/sleet mixture. I still like to get out for a few minutes. Yes, I'm an introvert- does it show?
5. Impresses the guests: I always want the Norman Rockwell picture. In my head, I'll be standing there with a beautiful turkey on a platter, surrounded by a table full of appreciative guests. Grilling the turkey adds to that "wow factor." Bringing a beautifully grilled bird in from the back yard stops everything. Conversation pauses for a second, someone lets out a low whistle, then everyone tells you how gorgeous the bird is.
Hey, I've been working on dinner all afternoon - of course I want my ego stroked a little.
Looking for a recipe?
Grilled Turkey, Dry Brined (Grilling Basics) - My basic grilled turkey recipe
Rotisserie Turkey, Dry Brined with Orange and Spices - My favorite recipe, the one I use every year
What do you think? Have I talked you into grilling the Turkey? Questions? Other ideas? Leave them in the comments section below.
Inspired by:
Weber.com - Weber has been promoting grilled Thanksgiving turkey for years. Check out their Barbecued Turkey [pdf at bottom of page].
[Update 11/2011 - Weber.com moves their links often, which breaks my link to the PDF. If that link doesn't work, go to Weber.com and search for "Barbecued Turkey"]
*Enjoyed this post?  Want to help out DadCooksDinner?  Subscribe using your RSS reader or by Email, recommend DadCooksDinner to your friends, or buy something from Amazon.com through the links on this site.  Thank you!