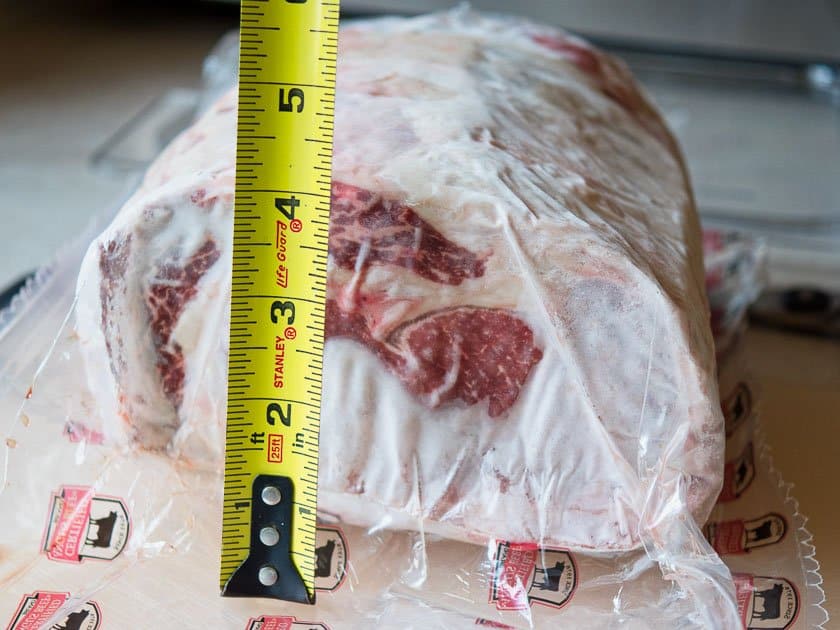 I have an 8-pound Ribeye roast - how long will it take to sous vide?
Weight doesn't matter…at least for sous vide.
My Sous Vide Boneless Ribeye Roast recipe is getting a lot of traffic in the run-up to Christmas. And...I made a mistake. Not that anything is wrong with the recipe - it works fine.1
My mistake was saying "6-pound boneless ribeye roast" in the ingredients list. That's not good recipe writing. I left out the most important piece of information, and I'm getting a lot of questions because of it:
"What if my ribeye roast is 8 pounds? What if I'm cooking three 6 pound roasts at once? What if it weighs 2.2kg?" In other words, how does changing the weight change the cooking time?
How long do I sous vide a boneless ribeye roast?
6 to 10 hours at 133°F/55°C. The thickness of the roast determines the cooking time, not the weight. A normal ribeye roast is 4 to 5 inches thick, and it takes at least 6 hours for heat to reach all the way into the middle of the roast.
After that, we have a window of about 4 hours where the roast is cooked and ready to serve, for a total cooking time between 6 and 10 hours of cooking. After 10 hours, the beef will start to overcook and get too tender. (It doesn't happen immediately - you can cook the roast for 11 hours, and it will still be OK - but 10 hours is where it starts to get a little too tender.)
Recipe here: Sous Vide Boneless Ribeye Roast
What? Why doesn't weight matter?
Because science! (Specifically, the physics of heat transfer.) The hot water bath surrounds the roast, and heat transfers into the roast at the same rate from all directions. A ribeye roast is roughly box-shaped, longer and wider than it is high, so cooking time is determined by how long it takes the heat to diffuse through the high side at its thickest point - no matter how long it gets. (To use butcher terms, once you get past a 2-bone ribeye roast, the cooking time stays the same. And, smaller than that I would call a cowboy steak, not a roast.)
So, the answer to those questions: 2.2kg, 8 pounds, three roasts at once, or 6 pounds, like my roast? As long as the roasts are 4 to 5 inches thick, cook them for 6 hours. And...4 to 5 inches is the normal range for a ribeye roast. My friends at Certified Angus Beef® Brand use the width of the ribeye in their grading standards. If it's too big or too small, it doesn't qualify as Certified Angus Beef®.
(FCC note: Certified Angus Beef® Brand is a regular sponsor of mine, but they are not sponsoring this post. I'm on my own for this one. They do have a lot of useful information about beef that I read while working on this post and the original recipe.)
But…what if I got a really thin ribeye? Or a really thick one?
2 inches thick…is a thick steak - 3 hours sous vide
3 inches thick - 4 hours sous vide
4 to 5 inches thick - 6 hours sous vide
6 inches thick - 8 hours sous vide
(Yes, the time increases - a lot - as you get thicker.)
What about cooking a frozen ribeye roast?
This is a big advantage to sous vide - you do not have to thaw before you start cooking. I add 2 hours to the cooking time for a 4 to 5-inch thick roast, for a total cooking time of 8 to 12 hours.
Can I sous vide a Ribeye roast the day before, chill it, and reheat it for serving?
Another question was about cooking ahead of time and reheating. Yes, you can cook it ahead of time and reheat. But I don't think you should. This big of a roast is going to take a long time to reheat - 6 hours for the heat to reach the middle of the roast. (Sound familiar?) My opinion is: sous vide it the day you're cooking - it won't take much more time than reheating.
What do you think?
Questions? Comments? References to scientific literature about heat transfer in food? Leave them in the comments below.
Resources
Almost everything I know about the science of Sous Vide comes from Douglas Baldwin:
Related Posts
Sous Vide Boneless Ribeye Roast
My other Sous Vide Recipes
Enjoyed this post? Want to help out DadCooksDinner? Subscribe to DadCooksDinner via eMail and share this post with your friends. Want to contribute directly? Donate to my Tip Jar, or buy something from Amazon.com through the links on this site. Thank you.
More than fine, if medium-rare beef is your goal. I'd go so far as to say "great", especially since I'm thinking of using it on Christmas Day, to make my Christmas Morning less hectic. ↩