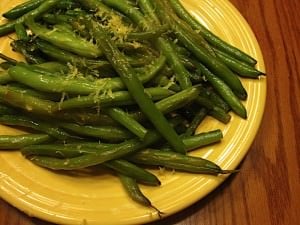 We have a strange relationship with green beans in my family.  I like them; my wife loves them.
*Diane loves green beans so much that I have to make them at least every other week.  If I don't, she starts poking around in the kitchen while I'm cooking dinner, asking if we're going to have them any time soon.
The kids won't touch them; they're green.  It's just not happening.  My dad picked beans for a summer job when he was a boy, and they're his favorite vegetable.  My two brothers can't stand them.  I was talking with Pat last weekend, and he said:
"I finally subscribed to your blog by email, and what's the first one I get?  Green beans!  Why did I bother?"
Trust me when I say this is a good recipe.  As I said above, I've made it every two weeks for the last eight years.  It uses a steam/saute technique I learned from Pam Anderson's How to Cook without a Book.  In fact, Pam put this exact technique on her blog a couple of weeks ago, right after I took the pictures for this post. You can check out the original recipe here: Simple Steam-Sauteed Green Beans.
Recipe: Steam-Sauteed Green Beans

Equipment:
Wide saucepan or fry pan with a lid
Ingredients:
1 pound green beans, stem ends trimmed
2 cloves garlic, minced or pressed through a garlic press
½ cup water
½ teaspoon kosher salt
½ teaspoon ground pepper
1 tablespoon butter (optional, but pretty plain without it)
1 lemon, zested then halved (optional)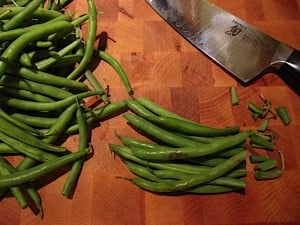 Trimmed beans
1. Steam the Green Beans: Put the beans in the pan. Add the garlic, ½ cup water, ½ teaspoon kosher salt, ½ teaspoon ground pepper, and 1 tablespoon butter. Cover the pan, and put over medium-high heat. Wait for the water to come to a boil, then cook, covered, for 8 minutes.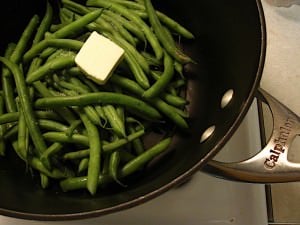 Everything in the pot
2. Saute the Green Beans: Remove the lid, and cook, stirring the beans occasionally. Keep cooking until all the remaining water boils off and the beans are tender, and just starting to brown, another 2-3 minutes.
*You should be left with just the butter in the pan, and you'll know you're there when you hear the beans start to sizzle. I test for doneness by biting into a bean; it should have just a hint of crunch to it.
Almost all the water is evaporated...
3. Season the beans: Squeeze the lemon over the beans and stir to combine. Pour the beans, butter and lemon juice onto a serving platter. Sprinkle with the lemon zest and serve.
Variations:
*I'm in a real hurry: Skip the garlic and lemon - just use beans, salt, pepper and butter.
*I want to be really healthy: Cut the butter back to 1 teaspoon.  I wouldn't eliminate it entirely.  Even a little butter adds a big hit of flavor to the beans.
*Olive Oil: Substitute olive oil (or any other vegetable oil) for the butter, or do half butter, half oil.
*Asian: Add 2 cloves of minced garlic with the green beans, substitute ¼ cup soy sauce for half the water, and substitute 2 teaspoon vegetable oil and 1 teaspoon toasted sesame oil for the butter.
*Orange beans: Substitute half an orange and its zest for the lemon.
Notes:
*Trimming green beans: I grab a handful, line them all up with the stem side facing in the same direction, then push the bunch of beans up against my knife to get the stems in a line.  This makes it easy for me to  chop the stems off a lot of beans in one slice.
*Part of why I'm showing you this recipe just before Christmas is: I'm making a big batch of beans for Christmas dinner.  I double the recipe, and steam-saute them in my dutch oven, then follow the make-ahead instructions, below.
*To Make ahead: Only add the beans, water and salt, and finish through step 1.  Drain the beans and refrigerate them up to two days. (I put them in a ziploc bag in the refrigerator).  15 minutes before you're ready to serve them, heat the tablespoon of butter in a fry pan over medium high heat until the butter stops foaming.  Add the beans, and saute for a couple of minutes, stirring often, until the beans are heated through and starting to brown.  Add the garlic and cook for a minute or two, or until you just start to smell the garlic. Add pepper, taste to see if you need to add a little more salt, squeeze the juice of half a lemon over them, and serve.
What do you think? Questions? Other ideas? Leave them in the comments section below.
Related Posts:
Sauteed Swiss Chard
Guest Post on Black Iron Dude: Grilled Green Beans
Barbecued Frozen Corn
Grilled Green Beans Recipe
Inspired by:
Simple Steam-Sauteed Green Beans [threemanycooks.com]
Pam Anderson: How to Cook Without a Book




*Enjoyed this post?  Want to help out DadCooksDinner?  Subscribe using your RSS reader or by Email, recommend DadCooksDinner to your friends, or buy something from Amazon.com through the links on this site.  Thank you!