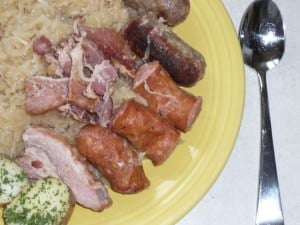 Choucroute Garnie is a specialty of the Alsace region of France. It's a collection of different types of pork - smoked, cured, sausage...but Choucroute Garnie is really all about the sauerkraut. You see all that wonderful pork, and think that it's the important part. But it's not. Now, don't get me wrong, the pork is good. Really good. But it's real purpose is to give the sauerkraut its wonderful flavor.
I learned that at
Brasserie Flo
; this was the best meal I had in Paris. And that's saying something! They bring a platter with a huge pile of choucroute, and various types of pork to your table, along with a selection of mustards to dip with*. I started with the different cuts of pork, but by the time I was finished I was ignoring the pork, and trying to figure out how to fit a little more of the sauerkraut into my poor, stuffed stomach.
*And with a carafe of dry Alsatian Riesling...I have to go back to Paris, if just for this meal!
I've been a fan of sauerkraut since I was in high school, buying Polish Boys from the hot dog carts in downtown Cleveland - knockwurst loaded up with onions and sauerkraut. Heaven in a bun! But this, this is sauerkraut perfection.
Diane's memory of sauerkraut is a little different*.
*She calls my beloved Polish Boys "smelly dogs". And she's part Polish!
Her family's tradition is to have pork and sauerkraut on New Year's day*, because it will bring good luck for the new year. Diane is still scarred from this experience - she tells stories about her siblings forcing down their one strand of sauerkraut a year, just to make grandma happy. She gives this recipe her highest praise for something with sauerkraut in it - she'll eat it, willingly.
*Of course, I made the mistake of saying "New Year's eve" when I was talking with the salesperson at Sur La Table about this meal, and I got a lecture about how it works. Pork and sauerkraut has to be eaten on New Year's DAY, not New Year's Eve, or it doesn't count. No good luck for you!
Ingredients:
Meat:
2 tablespoon lard (Yes, lard. You can use use vegetable oil, but lard is better.)
¼ lb Thick sliced bacon
1 lb Cured Pork Side, rind removed
1 19oz package Johnsonville uncooked Bratwurst, each link cut in half
2 lb kielbasa, cut into 3" pieces (or other fully cooked, garlicy sausage)
Aromatics:
2 large onions, chopped
1 teaspoon juniper berries
1 teaspoon black peppercorns (whole)
5 whole cloves
3 bay leaves
1 sprig fresh thyme
Sauerkraut:
2 lbs fresh sauerkraut, rinsed & drained
1 cup dry Riesling (or other, non-oaky white wine)
1 cup homemade chicken stock, or water
Sides for serving:
Assorted mustards (Maille Dijon, and Maille horseradish Dijon are particularly good)
Prepared white horseradish
Cornichons, French style gherkin pickles.
Equipment:
Large (6 qt or larger) heavy dutch oven, with a lid (enameled cast iron
is perfect).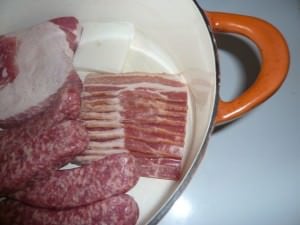 Directions:
1. Preheat oven to 350*F.
2. Heat lard in heavy dutch oven over medium heat, until melted, then add bacon, pork side, and bratwurst. Saute, turning occasionally, until bacon is crisp and brats are browned, about 8 minutes. Remove meat to a plate, leaving as much fat as possible.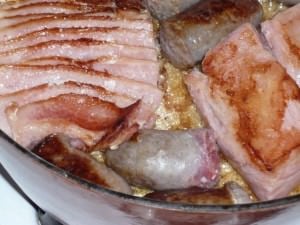 The pork is browning nicely...
3. Reduce heat to medium, and add onions, juniper, peppercorns, cloves, bay leaves, and thyme. Saute until onions are softened and semi-translucent, and just starting to brown, about 6 minutes.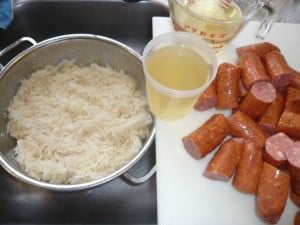 4. Stir the sauerkraut into the onion mixture, then add the browned meats, and the kielbasa, pushing into the sauerkraut to submerge. Add the wine and chicken stock, then add water to just cover the rest of the ingredients. Raise the heat to high, and bring to a boil.
5. Cover the pot, and transfer to the oven. Bake for 1 ½ hours. The liquid should have been mostly absorbed by the sauerkraut, and everything on the top of the pot should be starting to brown just a little. See the picture below for what it should look like.
6. Remove pot from oven, and let it rest for up to ½ an hour to cool.
7. Pile the sauerkraut in the middle of a platter, and arrange the meats around it. Serve with the mustards, horseradish and cornichons on the side.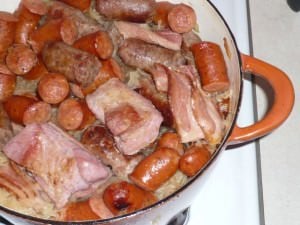 Notes:
*For a little sweetness, or to make the recipe a little more German, peel and core 3 apples, cut them into 1" pieces, and add them after the onions have been sauteing for a few minutes.
*The meats are variable - you want some that are smoky, and some that are garlicy. I usually try to make sure I use the bacon and the bratwurst; I've skipped the cured pork side, and/or replaced it with a ham steak or piece of smoked pork loin. For the kielbasa, I've substituted smoked sausage and hungarian sausage, and in some cases I've just skipped it and added more brats.
*If that's too much meat for you, I've stripped this down to the bacon and the brats, with a lot of sauerkraut. It's still great.
*This is a one-pot meal for us, unless it's a holiday like New Year's. Then, I'll make the traditional side dish of boiled new potatoes with parsley.
*This meal goes over well with the kids...if I don't let them see the brats touching the sauerkraut. That would be yucky. So, before I take it to the table, I put some of the brats in hot dog buns just for them.
*Oh, and as I said - make sure you have some dry Riesling to go with it. Preferably from Alsace, of course. But any good, dry riesling will do.
Inspired by:
*
The Man Who Ate Everything
: JeffreySteingarten for his "TrueChoucroute" article. Now there's a man who makes my food obsessions look normal.*Epicurious.com recipe for
Choucroute Garnie
.
*Brasserie Flo. I will return!