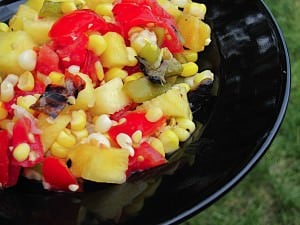 Madison, Ohio, is corn country. My family's cottage is right on lake Erie; travel just a mile to the south and you are in one of Ohio's big farm areas. I grew up spending summers eating corn from those farms. Now that I'm a grown-up*, I worry about things like "why did we buy two dozen ears of corn for six adults? What do we do with all this extra grilled corn?"
*Alleged grown-up. Chronologically, I am aging. But I don't seem to get any more mature. My inner thirteen year old keeps breaking out.
I'm going to make grilled corn salsa, that's what I'm going to do with the extra corn. I refrigerate the corn in zip-top bags, pull it out a few days later, and make this salsa.
*Or at least a variation of this salsa - I always wing it. See the "notes" section for variations.
Corn and pineapple are a good combination. The sweet, crunchy corn goes well with the sweet, acidic, juicy pineapple, and the kick of onion and hot peppers gives it a tongue-tingling finish. This salsa was a hit - my dad and brother kept coming back for seconds.
*That's dad doing the taste test in the picture below.
Recipe: Grilled Corn and Pineapple Salsa

Ingredients:
4 ears corn
2 poblano peppers
1 pineapple
2 large tomatoes
½ small red onion
juice of 2 limes
kosher salt to taste
Directions:
1. Grill the corn and pepper: Husk the corn. Stem and seed the poblano peppers, then cut them in half. Grill the corn and peppers over medium, direct heat for 8 to 10 minutes, until cooked through and a little charred. For details, see my grilled corn recipe and my grilled pepper recipe. (This step can be done a day or two ahead of time; refrigerate the corn and peppers until it is time to make the salsa.)
2. Prep the ingredients: Strip the kernels of corn from the corn cobs. Dice the pepper into ½" pieces. Trim the leaves and skin from the pineapple, remove the core, and cut into ½" chunks. Core the tomatoes, and cut into ½" pieces. Dice the red onion. Juice the limes.
3. Prepare the salsa: Put the corn, peppers, pineapple, onion, and tomato in a large bowl, and toss to mix. Pour the lime juice into the bowl, and toss again to coat. Sprinkle with kosher salt to taste, tossing to mix the salt evenly. Serve.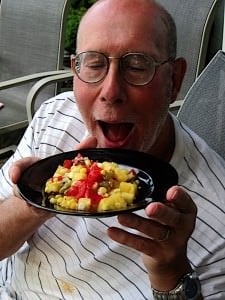 Variations:
*As I said in the opening, this recipe started as a way to use up leftover corn. You don't need to make corn just for this recipe. Leftover boiled or grilled corn will both work; I happened to have grilled corn when I was making this.
*I like the contrast of grilled corn and fresh pineapple in this recipe, but if I had leftover grilled pineapple, I wouldn't hesitate to use it
*A fresh, green herb would go well in this salsa - say a couple of tablespoons of fresh thyme or oregano, or a quarter cup of minced cilantro or parsley.
*Another common substitution I make is diced, grilled green onions for the red onion.
*To kick up the heat, use jalapeno or serrano peppers instead of the poblanos. And, if you have leftover corn but not peppers, go ahead and toss them into the salsa raw. I had my grill fired up when I was making this salsa, so grilling the peppers was easy to do. I wouldn't fire the grill up just for the peppers.
Notes:
*Serve with tortilla chips as an appetizer, or as a side dish with fish, chicken or pork.
*As you can probably tell from the variations, this is a refrigerator velcro salsa - I used what is on hand. For example, I completely forgot the cilantro, which we had in the refrigerator. Doh! The keys are the corn, pineapple, and hot pepper. They give the salsa a sweet (corn), acidic (pineapple), hot (pepper) taste profile. I added the onions and tomatoes because it doesn't feel like a salsa to me without them, and I had them on hand. Like I said - refrigerator velcro.
What do you think? Questions? Other ideas? Leave them in the comments section below.
Related Posts:
Grilled Corn
Grilled Peppers and Onions
*Enjoyed this post? Want to help out DadCooksDinner? Subscribe using your RSS reader or by Email, recommend DadCooksDinner to your friends, or buy something from Amazon.com through the links on this site. Thank you!