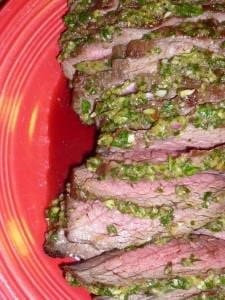 This is one of my favorite weeknight recipes; it's a grilled steak with a herb paste with some garlic kick. But before we get to that, I need to give you a little backstory.
I am a steak purist. One of the defining moments in my conversion from "guy who liked to eat" to "gourmet/gourmand/foodie" was catching an episode of David Rosengarten's TV show, "Taste". He was cooking steak, three ways. I'm a big fan of steak, but other than grilling it, I hadn't had much luck with cooking it the way I liked, so I stopped channel surfing and settled in to watch the show.
*As I recall, he pan-seared a steak in a cast iron pan, and sauteed another one in oil, and broiled the third one. I agree with the first two, but unless you have a broiler much better than mine, you really should just go to your grill.
He finished cooking his steaks, sat down to a table with a white tablecloth, his gorgeous looking steak, and...a small collection of steak sauce bottles. "A1 sauce...yuck" I thought. He was doing so well! Why did he have to mess it up?
David looked directly at the camera and said something like "You could put steak sauce on your meat...if you wanted to ruin it." Then, with a dismissive swipe, he knocked all the sauces off the table, grabbed his knife and fork, and dug into the steak.
That was it; I was hooked on the Food Network.* A few weeks later, I tuned in early, and a show called "Good Eats" happened to be on, with Alton Brown talking about shrimp. Alton's show started an education that I continue to chase after even today.
*It's sad to see what the Food Network has become, nowadays; I only watch it for Alton Brown.
So...where was I going with this? Oh, right, steak sauce. I hate it. Especially if it comes in a bottle from your grocery store. Why ruin your meat? But then I learned about Argentina, their love affair with beef, and the chimichurri sauce that is the only seasoning they use. This is the recipe that changed my mind about steak sauce.
*And then came pan reduction sauces, and flavored butters. I'm not the purist I used to be. But I still think the first option for steak is salted, peppered, and grilled.

Most importantly, this is a really quick recipe to put together - I consider it a quick weeknight option; if you use a food processor to do your mincing, you can go from "turn the grill on, take the meat out of the fridge" to "done" in less than a half an hour.
*In other words, it took me longer to get to the recipe than it will take you to cook it. Sorry about that, I was on a roll.
Recipe: Grilled Flank Steak with Chimichurri

Cook time: 10 minutes
Equipment: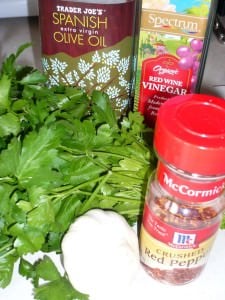 Ingredients:
1 Flank steak (1.5 to 2 lbs)
1 teaspoon kosher salt
½ teaspoon freshly ground black pepper
Chimichurri
¼ cup extra virgin olive oil
2 tablespoon red wine vinegar
pinch salt (¼ teaspoon or so)
pinch hot red pepper flakes
½ cup minced fresh parsley leaves
¼ cup minced red onion
3 cloves minced garilc
zest of ½ of a lemon
Directions:
1. Preheat the grill: Set your grill up for direct cooking at high heat. For my Weber Summit, this means turning all the burners to high and preheating (lid closed) for 10-15 minutes.
2. Prepare the steak: Salt and pepper the flank steak, and let sit at room temperature until the grill is ready. (Ideally, you would do this one to two hours ahead of time, to let the salt dry brine the steak, but don't worry about that if you're in a hurry.)

3. Prepare the chimichurri: Mince all the herbs. Whisk the salt, pepper flakes, and lemon zest into the vinegar, then the oil in a thin stream, then all the minced herbs.
OR: Do it in the food processor. Instructions:
Don't pre-mince the herbs. Drop the garlic in the running processor, and leave running until completely minced. Add the parsley, and run until completely minced. Add the lemon zest, salt, pepper, pepper flakes, and the onion, and pulse with 1 second pulses until finely minced. Add the vinegar, then turn on the processor and add the olive oil in a slow stream. Scrape down the sides, and you're ready.
*This is really just a herb-heavy vinaigrette - see my basic vinaigrette instructions for the technique.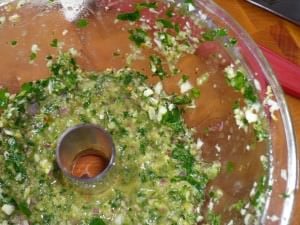 4. Clean the grill: After preheating, right before cooking the steak, clean your grill grate by brushing it with your grill brush, and wiping it with a paper towel dipped in vegetable oil. (I usually use canola oil.)
5. Cook the steak:Put the steak on the grill, and grill for 5 minutes per side. This will give you a medium-rare steak. I expect to have an internal temperature of about 115-125*F when I pull the steak from the grill, because it will continue to cook in the next step. (If I got a 1.5lbs steak, five minutes a side works perfectly on my grill; try it with the thermometer a few times to get the timing down for your grill.)
*To get fancy, rotate the steak 90 degrees after 2.5 minutes. That is, 2.5 min, rotate, 2.5 min, flip, 2.5 min, rotate, 2.5 min, done. This gives you what Alton Brown calls the "Oh, look, it's grilled food!" diamond pattern on the meat.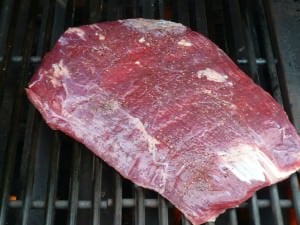 Start pointing "northwest", cook for 2.5 minutes...
then rotate 90*, pointing "southwest", and cook for another 2.5 minutes...
Voila! Diamond grill marks.

6. Coat steak with chimichurri and rest: Put the steak in a baking dish*, coat with the chimichurri, and cover with plastic wrap. Let rest for 5-10 minutes, covered.
*I use my Pyrex 9x13 baking dish
for this.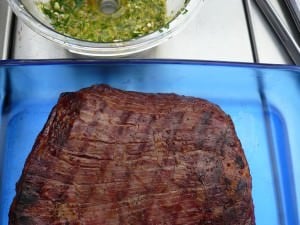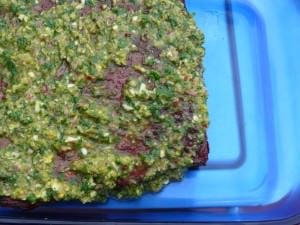 7. Slice thin and serve:Slice the steak crosswise, ¼" or thinner, and serve.
*Again, if you want to get fancy, cut at a 45 degree angle to the cutting board; the angle gives you wider pieces of meat.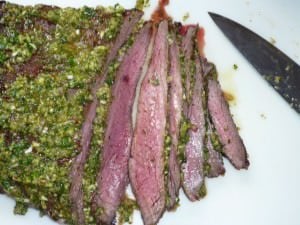 Variations:
*Italian style: Substitute balsamic vinegar for the red wine vinegar. (Or, just call it "italian style". I won't tell anyone...)
*Italian gremolata style: Skip the oil and vinegar, and you have gremolata, not chimichurri.
*Pick a different steak. I like flank steak because it's cheap and has a big beefy flavor, but any good steak cut would work. Try it with a ribeye, or maybe a sirloin.
Notes:
*Flank steak has a lot of flavor, but it can be very chewy if you don't follow the slicing instructions. It has long muscle fibers running the length of the steak. You tenderize the steak by cutting across the steak - that cuts the fibers into short pieces, perfect for chewing.
*When I first started using this recipe (it's based on a recipe in the first issue of Cook's Country magazine), I assumed it was an Italian style recipe; they call it a "garlic-parsley" sauce, and it has that kind of flavor profile. It took a few years before it dawned on me that this was really a variation on an Argentinean chimichurri.
*Leftovers make great steak sandwiches - a loaf of french bread, some mayo, a little lettuce or cilantro...
*The pictures show a monster of a flank steak that I got at my local health food market
, Mustard Seed Market
. It was just shy of 3 lbs. I had to cook it for about five extra minutes; if you're really cooking under a deadline, try to get the 1.5lbs steak, to keep the cooking time down.
*I like to mention the guys in the meat department at Mustard Seed - they're surrounded by vegans, and deserve all the good thoughts they can get.
Questions? Comments? Other ideas? Leave them in the comments section, below.
Inspired by:
Cook's Country Best Grilling Recipes

*Enjoyed this post? Want to help out DadCooksDinner? Subscribe to DadCooksDinner using the RSS or Email options on the right, link to this post from your blog, recommend DadCooksDinner to your friends, or buy something from Amazon.com
through the links on this site. Thank you!