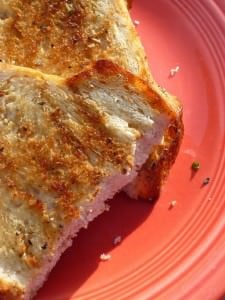 This recipe answers two questions that have when I'm charcoal grilling:
What can I serve as a side dish, without having to cook in the kitchen?
I've got this big pile of coals, and they're still hot. What can I do so they don't go to waste?
*It also answers "What do I do with this extra bread we've got lying around, before it goes stale", but that's a different question.
I'm always looking for a side dish you can grill, and grilled garlic bread is one of my go-to answers for that.
This version is a side dish for my Grilled Ribeye Steak with Herb Butter recipe. It uses leftover herb butter and the herb basting brush you'll have when you're done with the steaks. If you're not cooking the steaks, don't worry. This is a very flexible side dish that you can adapt it to almost anything you're making.
Recipe: Grilled Garlic Bread
Equipment:
Ingredients:
Thick slices of good bread (I used a "French Peasant Boule" from my local bread shop, and cut it 2" thick)
Mediterranean Herb Butter (Again, I used the leftover butter and herb brush from
my steak recipe
)
2 tablespoon unsalted butter
1 cloves garlic, minced or pressed through a garlic press
1 teaspoon fresh thyme leaves, minced
½ teaspoon fresh rosemary leaves, minced
pinch kosher salt
pinch fresh ground black pepper
1. Prepare the bread: Slice the bread thick - 1.5" to 2" thick
2. Prepare the grill: Prepare your grill for cooking with direct, low heat, then clean with your grill brush.
*I always make this as a side dish, so I just cook the main part of the meal, then use the coals that are left over. Or, with my gas grill, I turn a burner or two down to low. If I was making it from scratch I would do the following.
For my
Weber kettle
, light a chimney starter* half full of charcoal, wait for it to be covered with ash, then spread it in a loose single layer over one side of the grill grate. This gives me half the grill on the heat, and half off the heat.
*I highly recommend the Weber Chimney Starter
, because it is larger than most chimney starters. It holds 5 quarts of charcoal, which is how I sized the "half full" for this recipe.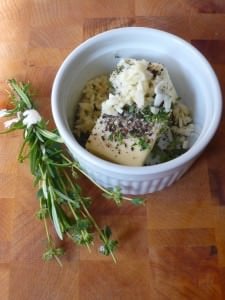 3. Prepare the Mediterranean Herb Butter Baste, and herb brush: Meanwhile, put the Mediterranean herb butter baste ingredients in a small bowl or ramekin. Microwave on high until the butter has just melted, and the garlic is starting to sizzle, then stir to combine. (From now on, we'll just call this the "herb butter"). Make a herb brush using the bunch of thyme and rosemary sprigs - tie them together at the base of the stem, making a brush you'll use to apply the herb butter.
4. Grill the bread: Brush one side of the bread with the herb butter, then put it, butter side down, over the lit part of the grill. Brush the other side (that's now facing up) with the butter. Cook for 2-4 minutes checking often, until the bread is turning golden brown. Flip the bread, and cook the other side another 2-4 minutes, again until golden brown.
*Note: Bread goes from brown to burnt in a heartbeat. Check it often! A little bit of black on the bread is OK, but if you get a large burnt section make sure you scrape it off like you would burnt toast, and brush with a little more of the herb butter afterwards.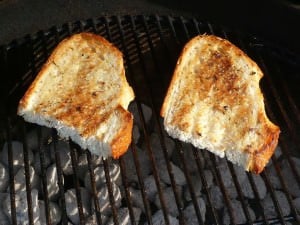 5. Serve: Remove the bread to a plate, brush once more with the herb butter, and serve.
Variations:
*Bread: Any good bread will do; I've done this with slices of French Baguette, "Italian" bread, and five grain bread from my local health food store; they all come out great. "No Knead Bread" from Mark Bittman, or one of its many variations is also a good choice for this recipe.
*Cheese: For a little extra flavor, sprinkle some grated parmesan, pecorino romano, or other grating cheese on the bread after flipping it; it will melt onto the top while you grill the bottom.
*Crostini: For a more authentic italian version, substitute olive oil for the butter in the herb butter. Make sure you microwave it until the garlic is just sizzling; heat helps release the garlic flavor into the oil.
*Crostini, try 2: For a REALLY authentic version, skip the herb butter, grill the dry bread, then rub one side with a half of a garlic clove and drizzle with olive oil.
*Pan Con Tomate (Spanish tomato toast): After grilling, rub the bread once with half of a sliced tomato. (For a more authentic version, use the "Crostini" or "Crostini try 2" variation.)
*Grilled Texas Toast: Skip the herbs in the herb butter, and add an extra clove of minced garlic.
*Cheesy grilled Texas Toast: Use the Grilled Texas Toast and Cheese variations, but use a southwestern cheese blend (cheddar, monterrey jack, or Shredded Mexican Blend from your local megamart).*
*My kids live on Shredded Mexican Blend from the megamart, so I always have it available.
Notes:
*As I mentioned in the recipe, watch the bread like a hawk - bread goes from uncooked to burnt in a heartbeat.
*The variations on this recipe are endless; I listed some of my favorites, above, but the idea of "grilled bread" crosses almost every cuisine. Use your imagination, and come up with your own favorites.
*Grilled garlic bread with some creamy goat cheese is a match made in heaven.
Questions? Comments? Other ideas? Leave them in the comments section below.
Related Posts:
Here's my recipe for Grilled Ribeye Steaks with Mediterranean Herb Butter.
Here's my recipe for Grilled Asparagus.
Inspired by:
Steven Raichlen's "Barbecue U"