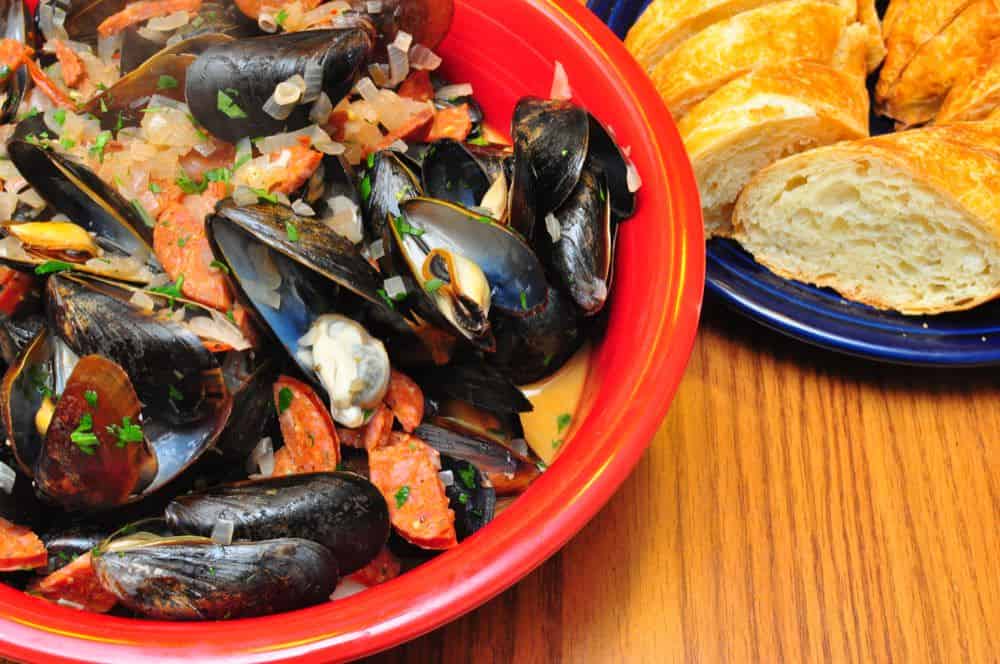 Mussels are cheap, sustainably farmed*, quick and easy to cook, and delicious.
*Because they are filter feeders, mussels actually improve the water quality wherever they are farmed.
I love the the classic French mussels recipe, Moules Mariniere, where the mussels give up their juices into a broth of white wine, shallots, and parsley.
*My branch of heaven will include daily servings of broth from a batch of Moules, accompanied by a good baguette for dipping.
When it comes to cooking, I tend to be a traditionalist. I thought that Moules Mariniere were perfect, something that couldn't be improved...until I read the Moules a la Portuguese recipe in Anthony Bourdain's Les Halles Cookbook
. Spanish chorizo? Added to mussels? Yes, please! Chorizo is a particular favorite of mine, so the moment I saw the recipe I had to try it.
*Technically, I think he is suggesting a Portuguese chorizo; the recipe is titled Moules a la Portugese, after all. Which leads to my second favorite quote from the book, the entire headnote for this recipe: "I had to include this. My boss is Portugese."
**My favorite quote? "I'll take you by the hand and walk you through the process in much the same way - and in the same caring, sensitive, diplomatic tone - as I would a new recruit in my restaurant kitchen."
Tony knows his mussels - chorizo is a brilliant addition. Spicy sausage permeates the mussels and broth, improving on perfection. How often can you say that?
*The only problem with the recipe? I can't get the kids to try it. Some of them will eat shrimp; some of them will even eat clams. But there's something about mussels...maybe the black shells, maybe the suspicious looking meat...whatever it is, they won't give them an honest try. They have been declared "yucky" before they even take a taste. All they'll eat is the bread. So, this recipe gets reserved for when Diane and I have a night alone. Someday they'll get over this picky eater thing, right?
Recipe: Mussels with Spanish Chorizo

Adapted From: Anthony Bourdain Les Halles Cookbook
Equipment:
Ingredients:
2 tablespoons olive oil
8 oz Spanish Chorizo, halved then thin-sliced (Dry-cured chorizo, not the uncooked version; or substitute another smoked sausage)
1 medium onion, diced
2 cloves garlic, crushed
½ teaspoon Kosher salt
1 cup dry rose wine (or dry white wine)
2 pounds mussels (roughly one mesh bag), scrubbed and debearded, any cracked or open mussels discarded
2 tablespoons minced parsley
2 tablespoons minced cilantro (optional)
Directions:
1. Saute the aromatics: Heat the olive oil in the dutch oven over medium-high heat until shimmering, then add the chorizo, onions, and garlic. Sprinkle with the ½ teaspoon salt, then saute until the onions are starting to brown on their edges, about 5 minutes.
2. Cook the mussels: Add the wine to the pot and bring to a boil, about 1 minute. Add the mussels, stir, and cover with the lid. Cook for 4 minutes, shaking occasionally, until all the mussels have just opened up. Sprinkle the minced parsley and cilantro on top, then stir to mix.
3. Serve: Divide the mussels into serving bowls, then ladle all of the broth and chorizo out of the pot and over the mussels. Serve with a lot of slices of crusty bread for mopping up the sauce.
Variations:
*For traditional French mussels, skip the chorizo, replace the onion with a large shallot, use white wine instead of rose, and skip the cilantro. It's a simpler recipe, but almost as good.
Notes:
*Mussel buying: I live in Ohio, and every fresh mussel I can buy seems to come from Prince Edward Island in Canada. PEI is the east coast center of mussel farming, and I've never been disappointed with the results. That is, if I buy and store them with care. When you buy them, ask to smell the mussels. They should smell faintly like the ocean; if they smell bad, or have a strong smell, ask if there are any better bags of mussels in the back. Mussels need to be alive when you cook them, and they need air to breathe. Don't smother the mussels! Never buy mussels that have been shrink-wrapped, unless a lot of holes have been poked in the wrap. Make sure they don't smother while in your care; make sure the bag they are in is not closed. Once they are home, the mussels keep them in the refrigerator for a day of two if I keep them on a bed of ice. After that, the odds of bad mussels goes up dramatically.
*Mussel cleaning: Scrubbing and debearding is only really necessary if you don't buy farm-raised mussels. (Again, all of the mussels I can find come from PEI farms, so I don't really worry about cleaning or debearding.)
*Mussel sorting: A bad mussel will ruin the entire batch. Inspect every mussel. If it has a cracked shell, discard it. If it is gaping open, and doesn't close after a few seconds when squeezed, discard it. Trust your nose when sorting mussels - if it smells funky, it probably is - discard it. The mussel motto is: when in doubt, throw it out. Better to lose one than ruin the whole batch of broth.
*I went with a dry rose wine instead of the usual white wine. I love dry rose, so I always have some on hand. White wine is a perfectly acceptable substitute.
What do you think? Questions? Other ideas? Leave them in the comments section below.
Related Posts:
Grilled Paella Mixta
Sustainable Seafood
Adapted from:
Anthony Bourdain Anthony Bourdain's Les Halles Cookbook: Strategies, Recipes, and Techniques of Classic Bistro Cooking
*Enjoyed this post? Want to help out DadCooksDinner? Subscribe using your RSS reader or by Email, recommend DadCooksDinner to your friends, or buy something from Amazon.com through the links on this site. Thank you!