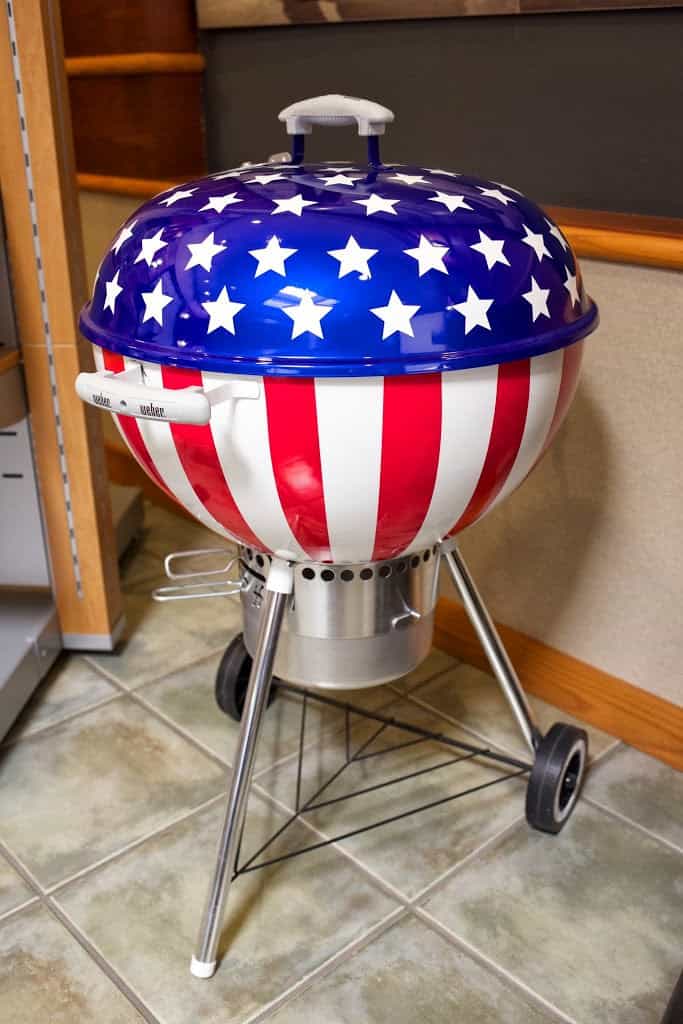 July 4th kettle
(Painted for display, not for cooking)
I'm a Weber fanatic.
I've always loved to eat, but cooking came to me later in life. When we bought our house, I had to have a grill for the back yard, and I asked my Dad to get me a Weber kettle as a housewarming gift. That's when I dove head first into the world of food. My Weber collection currently stands at 5: a Performer (love the side table) as my primary charcoal grill, with a 26.75" One-touch gold for entertaining and larger groups. I have a massive Weber Summit 650 for the convenience of gas and for cold weather grilling, and a Weber Q for tailgating and picnics at the park. And my original kettle is in my garage, disassembled and stacked in a neat pile. It goes on road trips a couple of times a year, to our family cottage and my parent's house for Thanksgiving.
Why am I telling you all this? Because, thanks to a connection with the people at Weber (hi, Heather!), I was able to tour the factory in Palatine, IL, about an hour northwest of Chicago.
[Me] Is this heaven?

[Voice] It's Illinois.

[Me] I could have sworn this was heaven.
Apologies to Field of Dreams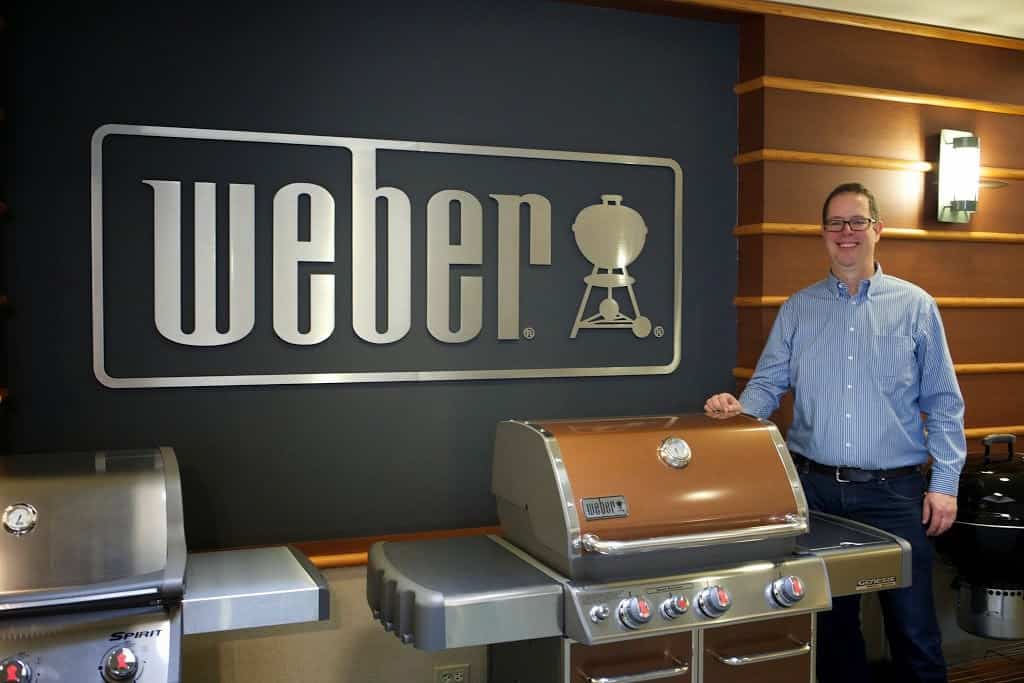 The factory at Palatine builds their Summit and Genesis grills; charcoal grills are built in Huntley, about 30 minutes away.
[David, our guide] I can't give you exact numbers, but when we're really cranking...

[Grills roll by as I watch the assembly line workers fly through their tasks]

[Me] This isn't cranking?

[David] Oh, no. This is a slow day.
I got to see them building Summit 400 series grills, the "little" brother of my massive Summit 650. We followed the grill the whole way through assembly - and I mean the whole way. It started as a roll of steel. Huge presses stamped, giant computer-driven rollers bent and shaped, and pieces I know so well started to form. Hey, that's the side of the cart! That's the shelf, and they're cutting the tuck-away rotisserie door.
We peeked through a tiny glass window into the 1700°F furnace, melting powdered glass into porcelain enamel grill coating. There were some wild colors - lime green, beige - that I'm not used to seeing; apparently the European market is interested in colors that don't sell in the US. And, more than anything else, there were row after row of flavorizer bars trundling through the furnace.
Robots cut holes in precise locations, drove screws where necessary, and then a swarming line of workers started building. As it passed each worker's station, those parts were assembled into the grill I know and love.
The Westerner - made in 1958
Weber can't say "made in USA" because they source some of the smaller parts (their plastic handles, for example) from overseas. But the vast majority of the grill, including the steel, is American made. Weber locally sources materials from companies all over the Midwest. (That's right - my grill is a locavore.) The grills themselves are fabricated and assembled in their factories outside of Chicago, and David, our guide, was proud of how much work is done in the US.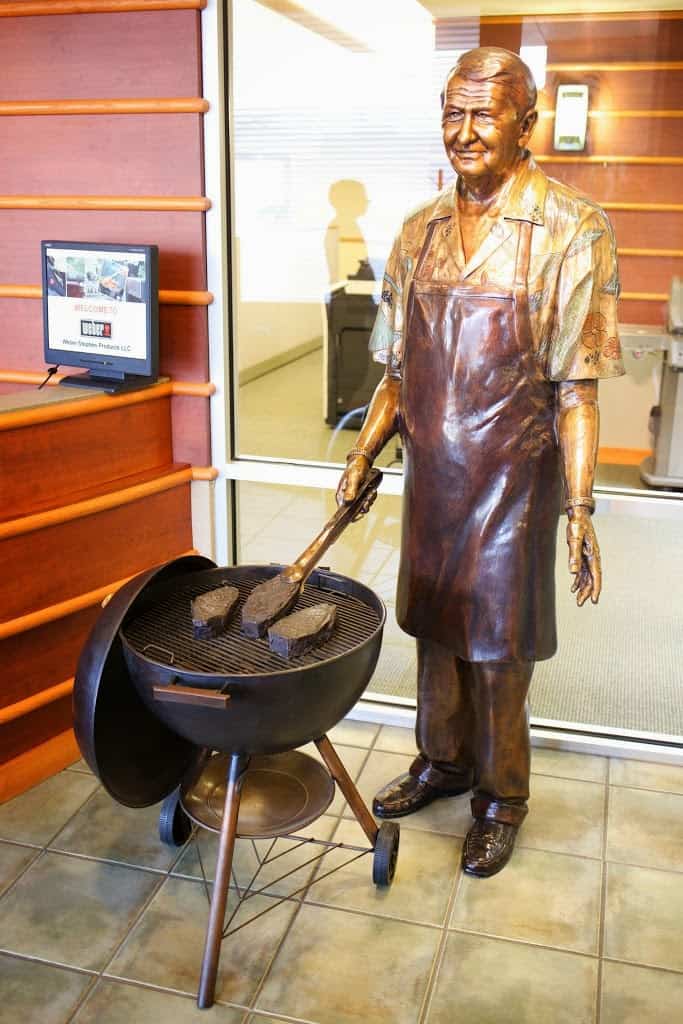 George Stephen statue in the lobby
[George Stephen to his grandson] Your crazy uncles talked me into buying this building. We'll never use all this space.
George was a grilling visionary, but he was wrong about space. Weber keeps running out of room. They moved to Palatine in the early 80's; over the years they bought all the adjacent land in Palatine, and had to move charcoal kettle production and their warehouses to nearby Huntley. Even now, the factory floor in Palatine keeps expanding, pushing into adjoining rooms, and forcing them to re-organize the offices. (Palatine isn't just a factory; it's Weber's home office and their R&D center as well. All the classic grills you see were in the lobby or the office. I wish *I* had a Westerner Kettle sitting outside my cube.)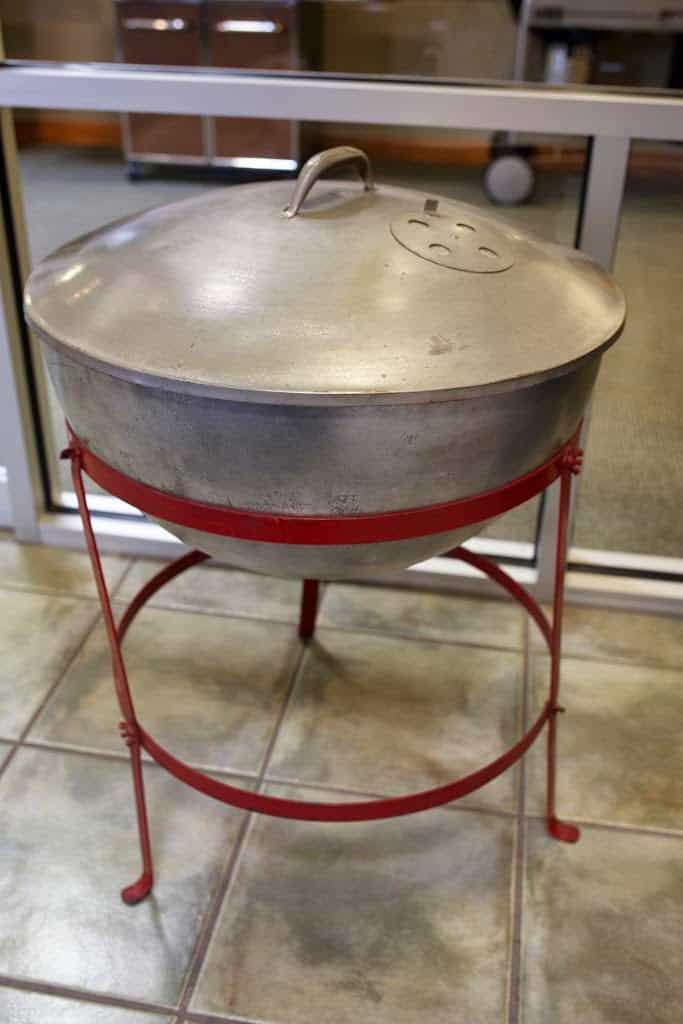 The original Kettle
(I had to caress the handle.)
I'm a professional. You can't try this at home.
Unfortunately, this tour was a special opportunity. Weber does not have tours open to the public. And…after touring the facility, I can see why. This is a working factory floor, not set up for tours, and tight on space. We had to stay out of the way of zipping forklifts and focused workers. But, If you want a taste of what I saw, you can watch Weber's video factory tours:
http://www.weber.com/about/factory-tours
The videos show you what I saw on the tour. But the videos can't show the quite get the massive scale of the process. Multiple buildings, pounding presses, constant stream of parts on the line, and the bustle of all the people - it was awe inspiring to see it in person.
Now, if you're in the area, and a Weber fan, there is a reason to stop by Palatine. The Weber Parts Store is open to the public. (200 E Daniels Rd, Palatine, IL 60067). They have every Weber accessory, and I mean EVERY Weber accessory. They also carry Weber themed clothes and accessories that are only available at the Parts Store - t-shirts, sweatshirts, and polo shirts. If you're a fanatic like me, a stop at the parts store is worth the trip.
Thank you to David for the tour, and to Heather for the chance to visit Weber!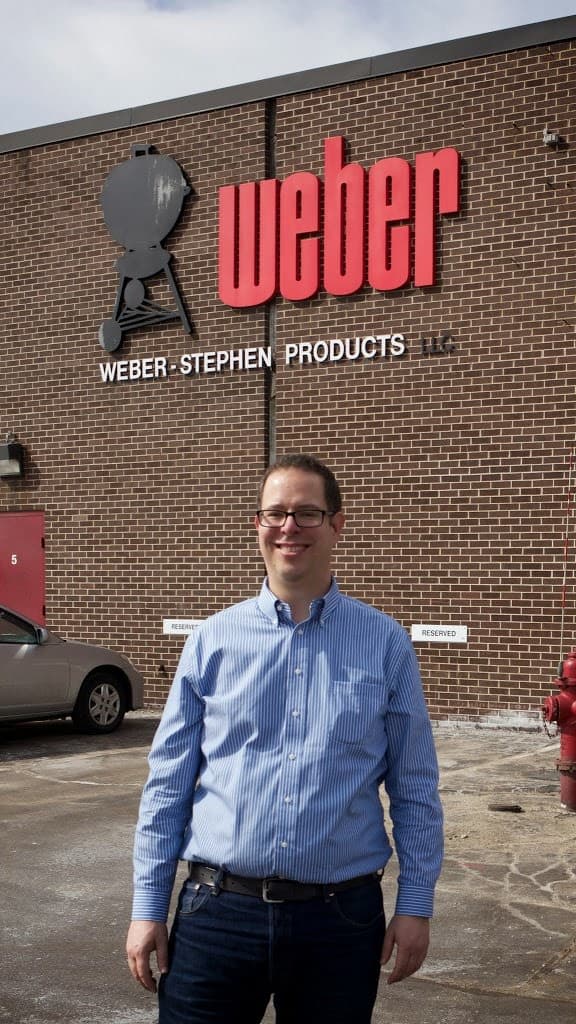 Resources
The Weber Story - a history of Weber [via Weber.com]
Weber Grill Timeline - every Weber grill from 1952 through 2000 [PDF, via WeberGrillRestaurant.com]
Enjoyed this post? Want to help out DadCooksDinner? Subscribe to DadCooksDinner via eMail or RSS reader, recommend DadCooksDinner to your friends, buy something from Amazon.com through the links on this site, or donate through my tip jar. Thank you.