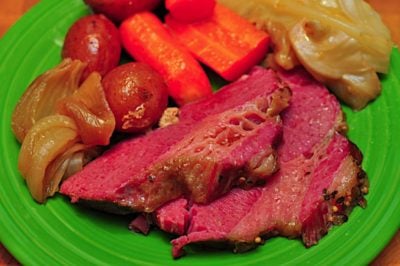 Slow cooker corned beef and cabbage is my St. Patrick's day tradition.
*At least, that's what we've always called it, "corned beef and cabbage". It is really a mix of vegetables - cabbage, carrots, onions and potatoes.
When I started cooking this meal myself, I'd buy the biggest corned beef I could find and squeeze it into the pot. Now that I'm older (and...wiser?), I buy a small corned beef. Somewhere along the line I realized: even though I love corned beef, the best part is the vegetables. The corned beef flavors everything else in the pot, giving the vegetables its wonderful pickled, meaty flavor.
Now, this is not an authentic Irish meal. The Irish original is bacon and cabbage. When the waves of Irish migration to the United States happened, they couldn't find bacon like they had in the old country.  But their Jewish neighbors had something that was very similar - corned beef. In other words, this is Irish-American cooking, just like spaghetti and meatballs is Italian-American, and burritos are Tex-Mex. That doesn't mean it isn't a delicious combination, and it defines "St. Patrick's Day" for me.

Looking to speed things up? Try my pressure cooker corned beef and cabbage recipe instead.
Equipment
Print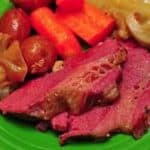 Slow Cooker Corned Beef and Cabbage
---
Author:

Mike Vrobel

Total Time:

10 hours 5 minutes

Yield:

6

-8

1

x
Description
Slow Cooker Corned Beef and Cabbage recipe. Perfect for St. Patrick's Day.
---
2

-

3

pound corned beef roast (with seasoning packet)

1

lb new potatoes

½ cup

beer (Guinness is most "authentic". Or you can substitute water.)

1

lb carrots, peeled, trimmed and cut into

2

inch pieces

1

large onion, peeled and cut into

8

wedges

1

medium sized cabbage, cored and cut into

8

wedges

¼ tsp

+

¼ tsp

kosher salt

½ tsp

ground mustard
---
Instructions
Layer ingredients in the slow cooker: Put the corned beef on the bottom of the slow cooker, and fit the new potatoes in around it, then pour the beer over the corned beef. Sprinkle with the seasoning packet. Add the onions and carrots, then sprinkle with ¼ teaspoon of kosher salt. Add the cabbage on top, and sprinkle with another ¼ teaspoon of salt and the ground mustard. (Make sure the lid can close on the slow cooker. Move the cabbage around or remove some to make sure the lid seals against the crock.)
Cook on low for 8-10 hours: Cover the slow cooker, and cook on low for 8-10 hours, or high for 4-5 hours.
Slice and serve: Remove the vegetables to a serving platter with a slotted spoon, and moisten with the juices in the slow cooker. Slice the corned beef crosswise into ½" thick slices, put on the platter with the vegetables, and moisten with more of the juices from the slow cooker. Serve.
Prep Time:

5 minutes

Cook Time:

10 hours

Category:

Slow Cooker

Cuisine:

Irish-American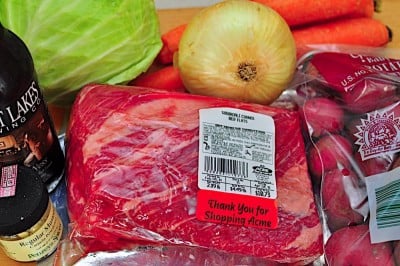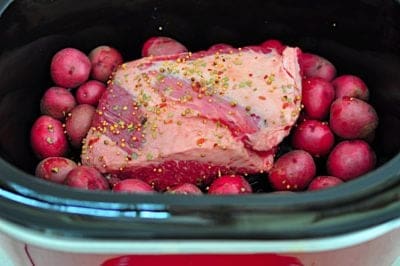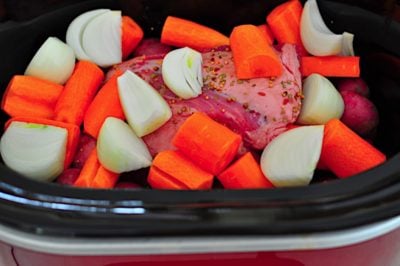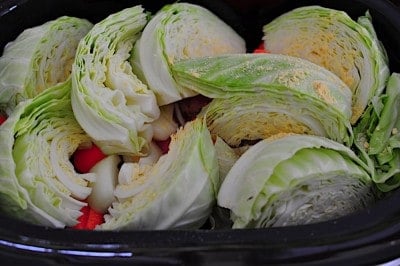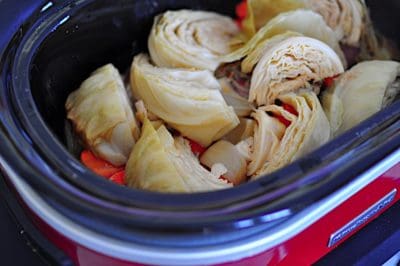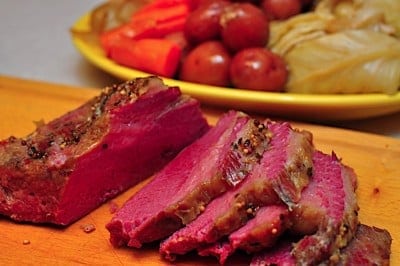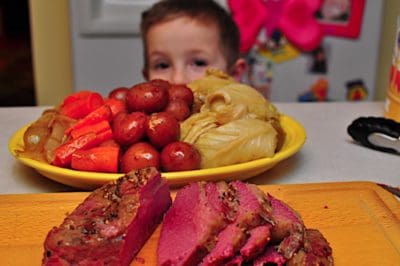 Variations
Simple version: Skip everything except the corned beef, cabbage, and ½ cup of water or beer.
Skip the potatoes: Potatoes are not slow cooker friendly - they either cook to mush, or don't cook enough and are rock hard in the middle. I include them in this dish because, well, it doesn't seem like it would be very Irish without potatoes. I use whole redskin new potatoes. I think the skin keeps them from overcooking, and the small size lets them cook all the way through. Sometimes I just leave them out, which leaves more room for the vegetables I really love, the cabbage and the carrots.
Other starchy root vegetables: Parsnips, turnips, rutabaga, sweet potatoes - they're not very Irish, but they all go well in the slow cooker. Cut into 2 inch chunks, and add to the cooker with the rest of the vegetables.
Notes
Serve with soda bread and mustard. Oh, and lots of Guinness. A little Bushmills or Jameson's for an after dinner drink would be a good idea as well.
Cue Michaleen Flynn in The Quiet Man - "Sorry, my mouth is like a dry crust, I can't continue this post...I don't suppose there's a drop of anything wet in this house?"
You don't really need to use beer in the crock; it tastes fine with plain water. But it just feels right to cook with beer on St. Patrick's day.
What do you think? Questions? Other ideas? Leave them in the comments section below.
Related Posts:
Slow Cooker Beef Barbacoa
Slow Cooker Pork Pot Roast
Enjoyed this post?  Want to help out DadCooksDinner?  Subscribe using your RSS reader or by Email, recommend DadCooksDinner to your friends, or buy something from Amazon.com through the links on this site.  Thank you!