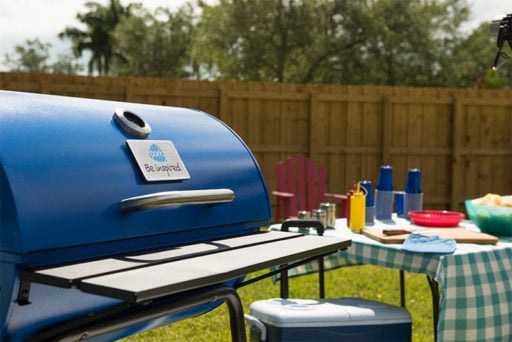 ---

The Grill - Grill For It!
This week, DadCooksDinner is sponsored by Grill For It and the National Pork Board. Follow The Grill at GrillForIt.com, at GrillForIt on Twitter (@GrillForIt), and at GrillForIt on Facebook (Facebook.com/GrillForIt) as he travels from coast to coast to get his grates on the country's best pork recipes.
---
This week's sponsor is my friends at the National Pork Board, where they're doing something a little bit different. They're encouraging people everywhere to give their grill a little thrill by sharing grilling season from the perspective of the most popular guy at the barbecue - The Grill.
I got to interview The Grill, to find out what lights his fire…ahem, sorry…and here's what he had to say:
My interview with The Grill
How did you get started as a grill? What are some of your first memories?
I think you mean, "How do I get started?" I usually get started with a charcoal chimney. It gets my coals burning really hot really quickly and makes it easy to spread the coals evenly on my grate. As for memories, my first ones are of brats; my dad thought sausages were a good starting point for me as a young grill. I remember sinking my grates into that juicy, tender, pork-alicious sausage. After that first sear, I was hooked. I couldn't get enough and have loved pork ever since.
What's the easiest Pork recipe you've seen?
Beer Grilled Chops. Three syllables, five ingredients, and they only take 20 minutes to whip up. Doesn't get much better than that.
What's the craziest Pork recipe you've seen?
The craziest pork recipe I've seen is this Cheesy Maple Bacon Cajun Pulled Pork Sandwich. Try and say that five times fast… The name might be a mouthful, but you'll crave a mouthful after you see this thing. It's one of the best, most crazy delicious sandwiches I've ever had.
Do you have any requests for your owner? Anything you wish they would do more often? Cover you, clean you more, use you more?
Clean the grill?!? What, do I have burnt-grease in between my grates? Nah, I'm just playing. I get cleaned plenty. And used plenty! I'm truly happy with the amount of cooking I do, especially this grilling season. But, between you and me… a grill could always be cooking more ;). So, my one request would be to cook up these Double Smoky Ribs. We whipped them up on Memorial Day and I've been craving them ever since.
What's your favorite time of the year? What's your least favorite time of the year?
My favorite time of the year is easily grilling season. It's when I thrive! My least favorite time of the year – oven season. I've got nothing against ovens; they make some of the most mouthwatering pork dishes around. To be honest, I just get jealous I'm not being used.
What's your favorite accessory or tool?
I mentioned it before, but my favorite tool is definitely the charcoal chimney. It gives off a literal smoke signal of future deliciousness because when that thing gets pulled out and used, it's a sign of good eats to come.
What's your best tip for beginning grillers?
My tip for beginning grillers is to be patient. I know it's tough. Everyone gets extremely excited when grilled food is on the menu, but you really need to wait for the coals to get burning hot to cook your food correctly. Trust me, delicious things come to those who wait.
What's your best tip for intermediate grillers looking to take it up a notch?
As for intermediate grillers, don't be afraid to try different techniques. For instance, you can throw a cast iron skillet on a grill and open a whole new world of flavorful goodness. It may seem counter-intuitive, but just like pork, I'm very versatile. So go ahead, use me like a stove.
I like to cook as much of the meal as possible on the grill - what's your favorite grilled side dish to go with pork?
Wow, a man after my own vent! For side dishes, I always grill some veggies to accompany my main entree. You can't go wrong with the classics: corn on the cob, asparagus and zucchini. And if you toss them all together with some pulled pork, you've basically got my favorite side dish, Pulled Pork Salad with Grilled Veggies.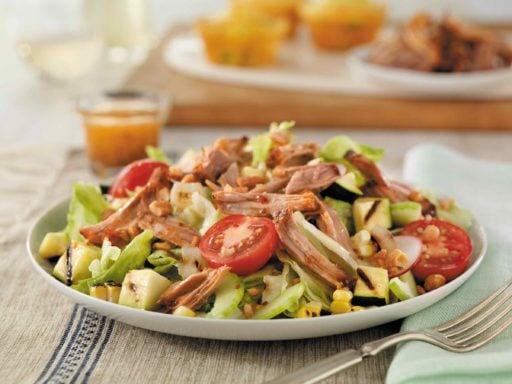 Recipe: Pulled Pork Salad with Grilled Vegetables
Recipe courtesy of the National Pork Board
Prep time: 25 minutes
Cook Time: 240 minutes
Serves: 8
Ingredients
1 boneless pork shoulder roast, about 3 ½ pounds
1 tablespoon chili powder
2 teaspoons garlic salt
1 teaspoon onion powder
1 teaspoon dry mustard
1 teaspoon black pepper
2 large handfuls hickory or apple wood chips, soaked in water for at least 30 minutes
Salad
1 ½ heads iceberg lettuce, torn into bite-sized pieces
1 pint grape tomatoes, or cherry tomatoes, halved
1 cucumber, peeled, halved lengthwise, seeded and thinly sliced
3 radishes, thinly sliced
½ cup honey roasted peanuts, coarsely crushed
Grilled vegetables
2 medium zucchini, halved lengthwise
1 sweet onion, cut in ½-inch rounds
Vegetable oil, for brushing
2 ears corn, husked
Honey mustard dressing
¾ cup vegetable oil
¼ cup cider vinegar
3 tablespoons coarse-grained mustard
3 tablespoons honey
1 tablespoon light brown sugar
1 clove garlic, crushed under a knife and peeled
½ teaspoon hot pepper sauce
¼ teaspoon kosher salt
Directions
To smoke pork: Mix chili powder, garlic salt, onion powder, dry mustard and pepper together and season pork with spice mixture. Let stand at room temperature for 30 minutes.
Prepare an outdoor grill for indirect cooking with medium heat, about 350 degrees F.
For a gas grill: Use a smoker box or create one using small, shallow aluminum foil pan. Remove cooking grates. Preheat grill on high. Turn one burner off. Place disposable aluminum foil pan over on burner, adding 1 handful of drained chips. Replace grates. After chips begin smoking, adjust heat to 350 degrees F.
For a charcoal grill: Place large disposable aluminum foil pan on one side of charcoal grate and fill with 1 quart water. Build fire on opposite side, and let burn until coals are coated with white ash. Spread coals in grill opposite pan and let burn 15–20 minutes (you should be able to hold your hand about 1 inch above the grate for about 3 seconds). Add 1 handful of drained chips to coals. Position cooking grate in grill.
Lightly oil grill grate. Grill pork with indirect heat, with the lid closed, for 45 minutes. Add remaining drained chips to box or coals and grill for 45 minutes more. Wrap pork in heavy-duty aluminum foil. Grill over indirect heat, with lid closed, about 1 ½ hours more. (On a charcoal grill, add more charcoal as needed to maintain temperature, leaving grill lid open for a few minutes to help charcoal ignite.) Unwrap pork and continue grilling until tender and spice coating is crusty, about 30 minutes.
Transfer to a carving board and let rest for 20 to 30 minutes. Using a knife and your fingers, pull the pork into shreds, discarding excess fat. Transfer to a bowl and let cool.
While pork is resting, make vegetables: Prepare grill for direct cooking over medium-high heat, about 450 degrees F. Brush grill grates clean. Lightly oil zucchini halves and onion slices (no need to oil corn). Place onion slices, zucchini and corn on grill and close grill lid. Grill onion slices, turning once, until seared with grid marks and crisp-tender, about 5 minutes; transfer to bowl. Grill zucchini, turning once, until just tender, 6 to 8 minutes; add to bowl. Grill corn, turning occasionally, until kernels are lightly browned in spots, 10 to 12 minutes; add to bowl. Let vegetables cool. Chop zucchini and onion into bite-sized pieces, cut kernels from corn, and return vegetables to bowl. Season with salt and pepper.
To make dressing: Process all ingredients in blender together until smooth and thickened.
If shredded pork has cooled, you may reheat it in large nonstick skillet over medium heat, stirring often, until warm, 3 to 5 minutes. Mix lettuce, cherry tomatoes, cucumber, radishes, zucchini mixture with corn and onions, and ⅔ cup of dressing in a large bowl. Divide salad among 6 salad bowls and top each with equal amounts of warm pork. Sprinkle with peanuts and serve with remaining dressing passed on the side.
---
Thanks again to my friends at the National Pork Board and Grill For It for sponsoring DadCooksDinner, and for the recipe and interview.
PS: Don't forget to follow Grill For It on Twitter (@GrillForIt) and on Facebook (Facebook.com/GrillForIt) for more grilling inspiration.
---
Enjoyed this post? Want to help out DadCooksDinner? Subscribe to DadCooksDinner via eMail or RSS reader, recommend DadCooksDinner to your friends, and buy something from Amazon.com through the links on this site. Thank you.