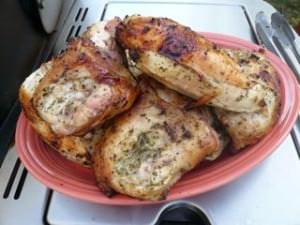 This is an example of how to use the basic technique of grill roasting chicken parts as the base for a more complex recipe. I love the combination of tastes in this recipe - The garlicy-herby chicken, with its crispy skin, together with the Thai dipping sauce. The dipping sauce seems simple, but it is the key to the recipe. It has a wonderful balance of the four key Thai flavors-Hot, Sour, Salty, Sweet
.*
*When I was writing this, I wanted to use...well, what's the equavlient of a trilogy, but for four things?
Recipe: Grill Roasted Chicken Breasts, Thai Style
Ingredients:
Chicken and brine:
4lbs chicken breasts, skin on and bone in
½ c table salt or fine sea salt
2 Quarts water
Thai wet rub:
12 medium cloves garlic , peeled
1 inch fresh ginger peeled
2 tablespoons ground black pepper
2 tablespoons ground coriander
Leaves from about ⅓ of a bunch of cilantro
juice from 2 limes
Thai dipping sauce:
1 teaspoon red pepper flakes
¼ cup distilled white vinegar
¼ cup lime juice from 2 to 3 limes
¼ cup granulated sugar
3 small cloves garlic , minced
1 tablespoon fish sauce
Instructions:
(Remember: check out the
base technique
for the overview of the method)
1. Brine the Chicken: 1 hour before cooking, brine the chicken: dissolve the salt in the water, then submerge the chicken.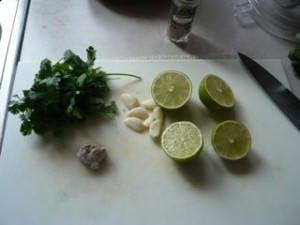 2. Preheat the grill, rub the chicken: 15 to 30 minutes before cooking, preheat your grill. While the grill is heating, prepare the wet rub. Combine all the ingredients in the bowl of a food processor except for the lime juice, and pulse until finely minced. Then, add the lime juice, and pulse to combine. Remove the chicken from the brine, pat it dry with paper towels, and rub the chicken all over with the wet rub. Make sure you get some under the skin on the breast - slide a finger carefully under the skin - don't tear it! - and get some of the rub under there. Let the chicken sit at room temperature until the grill is preheated.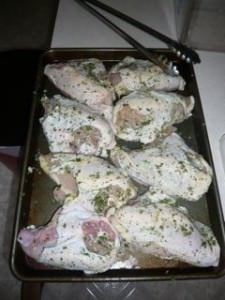 3. Grill your chicken: Cook the chicken over the unheated part of the grill, 40 to 50 minutes, or until 160* in the deepest part of the largest breast. Remove from the grill, and let rest 10 to 15 minutes before serving.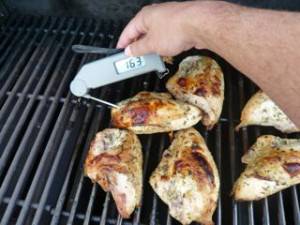 4. Make the dipping sauce: While the chicken is grilling, put all the ingredients in a bowl, and whisk until the sugar is dissolved. Divide the dipping sauce into individual bowls, one per person that you are serving. I usually use my ramekins for this.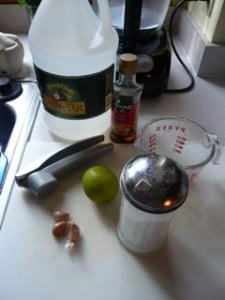 Notes:
*There is a LOT of garlic in this recipe. I'm good at peeling garlic cloves, but peeling 15 cloves tries even my patience. If your grocer store sells
fresh peeled garlic
(not the awful stuff in oil in jars -fresh pre-peeled garlic), either in a plastic canister, or vacuum wrapped, this is a great time to get it. Just make sure you inspect it carefully before you buy it. It goes bad very quickly. Check the expiration date, and watch out for water, brown spots, or (worst) mold.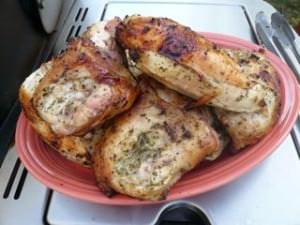 Adapted from a recipe from
Cooks Illustrated
. Inspired by Hot, Sour, Salty, Sweet.