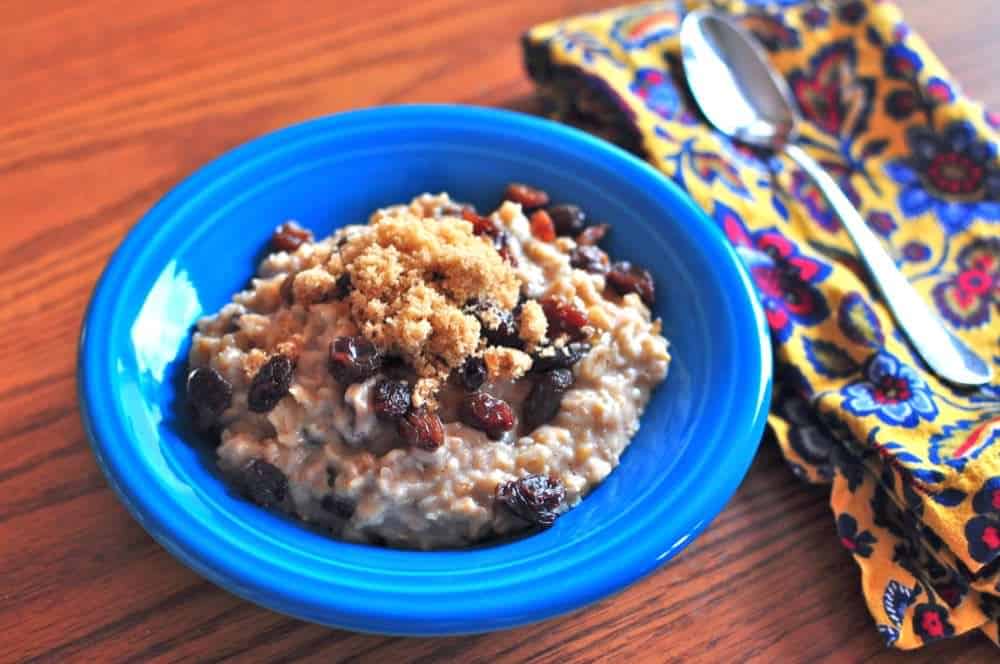 Thursday is oatmeal morning in our house. For years that meant packages of instant oatmeal.
*Dinosaur eggs with brown sugar were the favorite.
Last year, I read Mark Bittman's diatribe about instant oatmeal. I started to make it myself. Mr. Bittman is right; oatmeal is quick and easy. It takes maybe fifteen minutes to make a batch. The problem is, the kids fought the change tooth and nail. "It doesn't taste right" was the rallying cry.
*This means it's not full of sugar pellets in the shape of dinosaurs.
After a while, I got tired of fighting every Thursday morning, and went back to instant oatmeal. I gave up on making my own oatmeal, and went back to instant. When school started in the fall, I made a second push to making our own oatmeal. I was losing the battle against instant oatmeal…until I read Oatmeal Worth Waking Up For in Pam Anderson's How To Cook Without a Book: Meatless Meals.
Pam's oatmeal is a basic technique with all sorts of options. At the core, Pam's recipe is the same as Bittman's. (As are all oatmeal recipes - how tricky can you get with a 2:1 ratio of water to oats?) So, why did Pam's recipe help so much? In Pam's own words, the options for oatmeal "read like a dessert menu rather than breakfast". I should seen it sooner - the way to my kids' stomach was through their sweet tooth.
What follows is my favorite oatmeal. I'm a traditionalist; I want oatmeal with raisins. As a nod to the kids, I added Pam's warming spice blend of cinnamon, ginger, and cloves. "This tastes like pumpkin pie" was the review from two out of three kids. If you need a quick breakfast to warm everyone up on a cold morning, reach for the oatmeal.
*Now, if I could just find a book of really terrible dinosaur jokes. That's what I miss from the instant oatmeal packets.
Recipe: Weekday Oatmeal

Adapted From: Oatmeal Worth Waking Up For, Pam Anderson, How to Cook Without A Book: Meatless Meals
Cooking time: 15 minutes
Ingredients:
2 cups rolled oats ("old fashioned" oats)
2 cups water
2 cups milk
pinch of salt
⅔ cup raisins or other dried fruit
1 tablespoon brown sugar
1 teaspoon ground cinnamon
½ teaspoon ground ginger
⅛ teaspoon cloves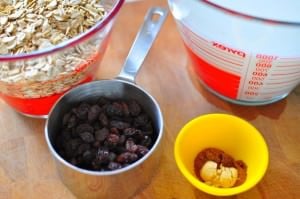 Directions:
1. Cook the oatmeal:
Mix all the ingredients in a large saucepan, then bring to a boil over medium-high heat. Decrease the heat to a simmer and cook, stirring occasionally, until the oatmeal thickens to your liking, about 5 minutes. Serve with more brown sugar and raisins to add at the table.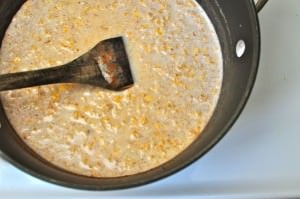 Variations:
*Easy: Oats, water, milk and salt. Pass brown sugar at the table. The rest of the ingredients are optional.
*Go Nuts: Crush some peanuts and sprinkle them on at the table.
*See Pam's book for an amazing variety of options, add ins, spices, and toppings.
Notes:
*I put the lid on the pot when I'm bringing it to a boil. This speeds up the boiling, but increases the chance of a boil-over. I use a large, nonstick pot with a glass lid, and keep an eye on it - the moment I see steam escaping from the side, I turn the heat down.
*Keeping an eye one it is not easy before I have my morning coffee.
*Why do I call this weekday oatmeal? Because I make longer cooking oatmeal with steel-cut oats on the weekend. I love that oatmeal, but it takes a half an hour, and the kids would much rather have this recipe. Sigh.
What do you think? Questions? Other ideas? Leave them in the comments section below.
Related Posts:
Review: Cook Without a Book: Meatless Meals by Pam Anderson
Adapted from:
Oatmeal Worth Waking Up For, Pam Anderson, How to Cook Without A Book: Meatless Meals

*Enjoyed this post? Want to help out DadCooksDinner? Subscribe using your RSS reader or by Email, recommend DadCooksDinner to your friends, or buy something from Amazon.com through the links on this site. Thank you!