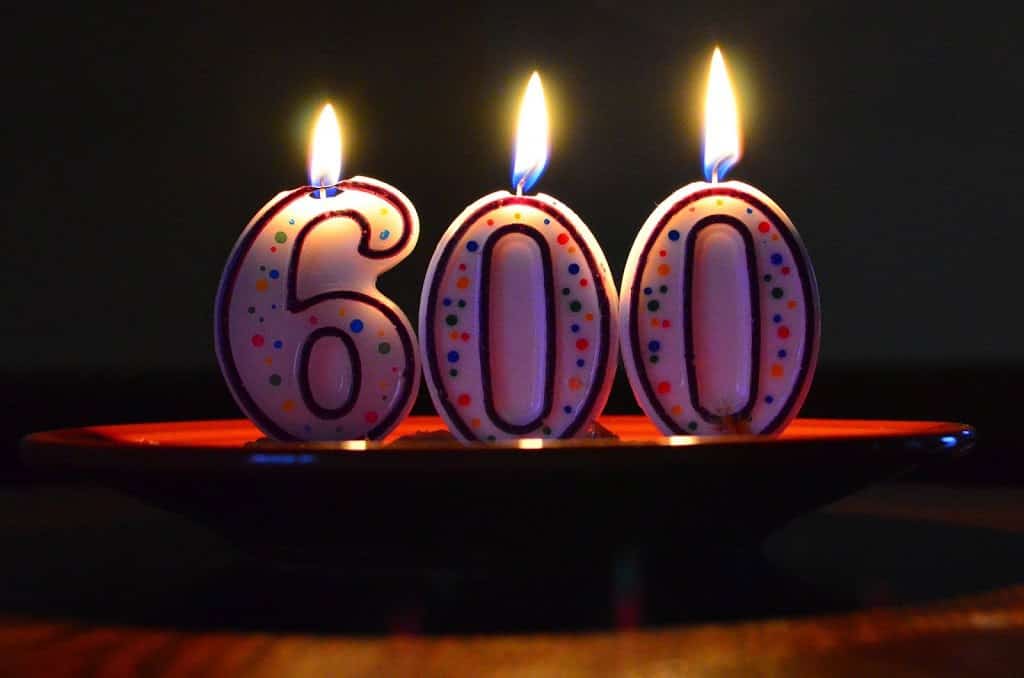 Today's post is a celebration of a big, round number. This is the 600th post on Dad Cooks Dinner. When I saw that number in the Blogger dashboard, I was shocked. 600 posts? How long have I been doing this?
I've been doing this since August of 2008. Not that anyone noticed. The first six months were the digital equivalent of crickets chirping in the distance…but even the crickets weren't paying attention. The only readers were family members, and they only read when I sent out emails begging them to visit.
*And I wasn't above begging back then. Or now, for that matter…
Then, in April of 2009, it happened - my post about Rotisserie Cornish Game hens was ranked by Google. I started to get a trickle of traffic. Since then, it's been a slow, steady climb; In 2012, I averaged more readers per month than I did for the entire year of 2009.
Thank you to everyone who's stuck with me through the years. And for those of you who have gone back and read most of what I wrote, I apologize for all the flip-flopping. I'm writing these posts almost real-time, and sharing what I figure out in the kitchen. It kills me when someone leaves a comment asking why I said one thing in 2010, then another in 2012. I'm sorry! My cooking is evolving right along with the blog. I promise to keep you up to date with what I'm learning.
That's the fun thing about writing this blog - I keep learning new things. Something else is always coming up, be it technology, photography, writing. Or, of course, cooking. And don't get me started about kitchen equipment. I know I'm gadget obsessed. I try to live up to Alton Brown's "Death to Unitaskers" standard, but there's always another shiny new gizmo I have to try.
What's that? A flat gravy whisk? Oooh! I have to have one!
So, what important life lessons have I learned in 600 posts?
Food is fun! Anyone who tells you otherwise is selling something. Probably a diet.
If you write with an open heart, readers will respond. There are a lot of good people out there, especially in the world of food. But...if the response is from a tone deaf Internet troll, it's a waste of effort arguing with them - block 'em and move on.
Write about what you care about. I didn't write about rotisserie grilling because I thought it would be popular; I wrote about it because I couldn't find information to help me out. Some of my favorite posts are ideas that kept pestering me until I let them out. Go where the motivation leads you.
Write what other people want to read. This is the flip side of the previous thought. You've heard of cooking with the seasons? Food writing doesn't follow seasons, it leads seasons. I celebrate every holiday twice. I cook a Thanksgiving turkey around Halloween, then again on Thanksgiving. There's a Super Bowl chili in early January, then again in February. There's an Easter ham…oh, crap, Easter is early this year! I'm behind schedule!
To be a better writer, write. I cringe when I look back at my earliest posts. But then, I cringe when I look back on what I wrote last month. I could always use yet another pass through for editing.
No matter how many times I proofread my own work, I always miss something. Until I post it and everyone can read it. Then the typo in the first paragraph jumps out at me. (A special thanks to readers who let me know about typos, missing ingredients, or instructions that don't make sense - I appreciate the help, and I can always use a second set of eyes.)
Persistence is everything. There are days I don't feel like writing, when it's an effort to start typing. Some days it's a slog; it doesn't get easier. Other days, the words start flowing. Suddenly, hours have passed, and I've got a lot of to share. The difference between those two days? Beats me. They both seem pretty miserable when I start. But if I put my butt in the chair and start writing, more often than not, good things happen.
Thank you for reading. I hope you're still here when I get to post 1000!
Update: Uh, oh…this is actually post 601. Darn it! I thought I had the count right, but my Sunday "pic of the week" threw me off. Sigh.

What do you think? Questions? Favorite posts from the past? Leave them in the comments section below.
*Enjoyed this post? Want to help out DadCooksDinner? Subscribe to DadCooksDinner using the RSS or Email options on the right, link to this post from your blog, recommend DadCooksDinner to your friends, or buy something from Amazon.com
through the links on this site. Thank you.