G.E. fans, I've decided to cut the half hour series at 249 eps. There will be 3 new 1 hour eps this year and that's it. But mourn not. New things brew on the horizon..."good" things.
@altonbrown, twitter
And with that, one of my food heroes moved on to new things. Good Eats is no more. People ask "who are your influences?" Alton Brown is a big one. Good Eats taught me that food isn't just food. Food is an essential part of our human experience. Learn about food, and you learn about science, technology, history, and anthropology. Alton's half hour exploration of food got a pebble rolling in my head, which started the avalanche that eventually became this blog.
*I was lucky enough to meet Alton when he taught a cooking at the Western Reserve School of Cooking. I was the guy sitting in the front row, shooting my hand in the air until he had to say "Do you mind if someone else asks a question?" I worry that I'm the one who drove him to remake "Misery", about an obsessive fan. (Episode 74, "This Spud's for You"). But then I remember: I may be that obsessive, but I can't be that memorable.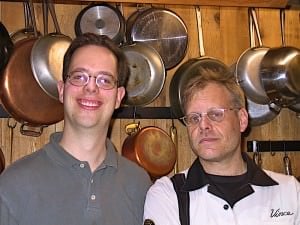 Me and Alton, 2002. OK, I do look obsessed.
I feel like I'm losing a friend. I've been watching Good Eats since I stumbled across Crustacean Nation (Episode 18) on the Food Network. To this day, Good Eats is - was - the only show on my Tivo that I watch religiously. Other shows I pick over, choosing the ones that look interesting. Not Good Eats. I watched every one of the 249 episodes. Most of them at least twice, to make sure I didn't miss anything.
*OK, except for episode 249. It sits on my TiVo, unwatched. I can't bring myself to start it...not yet.
Now, as Alton said in one of his follow up tweets: "Stop talking about me like I'm dying! It's not a tumor." I can't wait to see what else he has up his sleeve.
Alton, thank you for everything you've taught me. Best of luck, and come back soon!