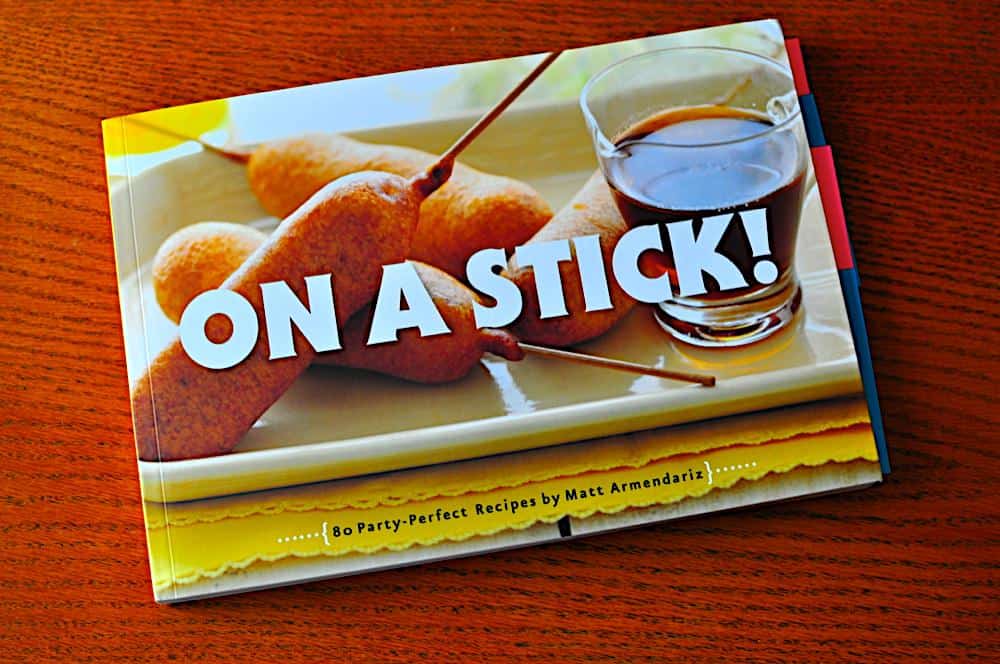 Review: On A Stick!
, by Matt Armendariz
Ask anyone...They'll all tell you the same thing: eating food on a stick is fun, festive, and just plain delicious.
Matt Armendariz, On A Stick
And with that, Matt (from MattBites.com) is off and running. He covers traditional kebabs, like Greek lamb souvlaki. There are inspired ideas, like caprese salad on a stick, perfect for a party nibble. He has lowbrow recipes (corn dogs!), highbrow recipes (Korean BBQ pork belly skewers), and wild recipes (spaghetti and meatballs on a stick...how in the world?)
*Can anything on a skewer really be considered highbrow? Discuss amongst yourselves.
Can you tell I love this cookbook? It is filled with imagination. I see Matt and his partner, Adam Pearson, brainstorming ideas and laughing while they say "That's a great idea! But how do we get it to stay on the stick?"
Thanks to Matt's photography and Adam's food styling, On a Stick is also a visual treat. I was wondering how they would take eighty different pictures of a stick with food on it, and make each of them interesting. Now I know - the pictures are as creative as the recipes.
*Well, almost as creative. Deep fried macaroni and cheese on a stick? The Frozen Elvis, bananas dipped in chocolate, then sprinkled with chopped peanuts and bacon? There's a fine line between genius and madness, and some of the recipes do gymnastics on that line.
This is a book for adventurous cooks, looking for new ideas to get their creative juices flowing. Want a show stopping nibble for your next party? This book is a great source of ideas. Highly recommended.
The Giveaway:
[Update 6/12/2011: the winner is entry #12, Rich. His favorite food on a stick is hot dogs cooked over a campfire, with marshmallows for dessert. Congratulations, Rich! Email me through the "email me" link on my blog to let me know your mailing information.]
Matt's publisher was kind enough to send me a copy of On A Stick, so we're having a giveaway!
To enter the giveaway, leave a comment in the giveaway post on my blog, telling us about your favorite food on a stick.
The Fine Print:One entry per person, and please make sure there is some way I can get in touch with you through the comment. (In other words...no anonymous comments, unless you identify yourself in the text of the comment.) The comment has to be in this post on DadCooksDinner.com; emails, entries on my Facebook page, and letters sent by pony express will not be considered for the drawing. Only entries from North America will be accepted (since I'm paying the shipping).
Entries will be closed at 9PM EST on Sunday, June 12th, 2011. I will randomly select the winner at that point. The winner will be announced Sunday. If I am unable to contact the winner by Wednesday the 15th, I will pick a new winner. Good luck!
[FCC Disclosure: I received a free copy of this book for my review and the giveaway.]
*Enjoyed this post? Want to help out DadCooksDinner? Subscribe using your RSS reader or by Email, recommend DadCooksDinner to your friends, or buy something from Amazon.com through the links on this site. Thank you!