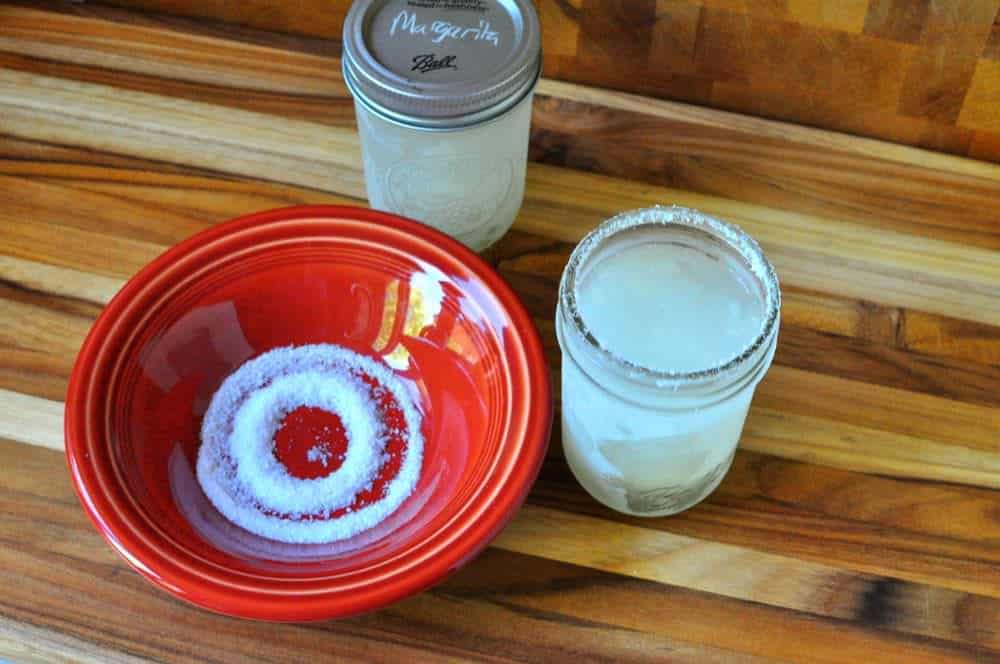 Forget making pickles - this is now my favorite use for canning jars.
They are a great idea, especially for entertaining. Why mess around crushing ice in a blender when you can mix everything up, toss it in the freezer, and pull out a flat of slushy margaritas whenver you need it? The alcohol keeps them from freezing solid; dip the rim in salt before it melts, poke it a few times with a fork, and they are ready to serve.
*The only problem with this recipe: it changed my definition of "whenever I need a margarita" to "it's five o'clock somewhere, right?"
I got the idea from pictures of the Big Summer Potluck. A few years back, Colleen of SouffleBombay.com brought them to the potluck, and the moment I saw the pictures, I knew I had to make them.
I use frozen concentrated limeaid in my frozen margaritas instead of fresh squeezed limes and simple syrup. (I picked up the trick from Robb Walsh's The Tex-Mex Cookbook.) Why go through the effort of squeezing all those limes when I'm just going to re-freeze everything?
*If you're going to give me a hard time about limeaid, don't make frozen margaritas. Make Mexican Martinis instead.
Canning Jar Margaritas


Adapted from:
Frozen Chambord Margaritas [SouffleBombay.com]
Robb Walsh, The Tex-Mex Cookbook
Mason Jar Margaritas [Stetted.com]
Cooking time: 5 minutes
Equipment:
12 half-pint canning jars (or 6 pint canning jars)
Ingredients:
36 ounces water
12 ounces limeade concentrate (1 jar)
25.4 ounces tequila (one 750ml bottle)
12 ounces orange liqueur (cointreau or triple sec)
Coarse salt (optional; I use kosher salt)
Directions:
1. Make the margaritas:
Stir the water, limeade, tequila and cointreau until the limeade dissolves. Pour into the canning jars, seal with the lids, then store in the freezer at least overnight.
2. Serve:
Take a jar out of the freezer, immediately remove the lid, and dip the rim in the coarse salt. Poke the margarita a few times with a fork to make it slushy, then drink up.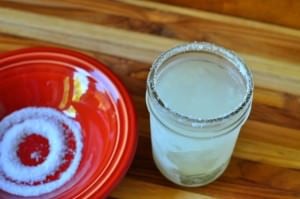 Notes:
For ease of storage, put the canning jars back in their box before freezing. That way, you can slide the whole box out of the freezer when you're ready to serve.
8 ounce jars were kind of small. We kept going back for seconds. From now on, I'm going to double the recipe and make a flat of pint jar margaritas.
The first time through the recipe, I had a problem with the math. I had a case of twelve - eight ounce canning jars. That should be 96 ounces worth of margarita, right? After filling the jars, I wound up with sixteen extra ounces of margarita. Turns out, canning jars are eight ounces if they are filled entirely to the rim. I stopped pouring at the bottom of the ring, to leave space for expansion in the freezer…and that only uses seven ounces per jar. It wasn't a complete loss - I used the excess to make a single pint jar margarita.
Whoops...
This isn't the time to bring out the good anjeo or reposado tequila. Save that for sipping. I use the cheapest 100% agave silver (blanco) tequila I can find. (By sticking to 100% agave, I avoid the horror of "gold" tequila. Or goldish, as Terry Pratchett would say.)
What do you think? Questions? Other ideas? Leave them in the comments section below.
Related Posts:
Adapted from:
Frozen Chambord Margaritas [SouffleBombay.com]
Robb Walsh, The Tex-Mex Cookbook
Mason Jar Margaritas [Stetted.com]

*Enjoyed this post? Want to help out DadCooksDinner? Subscribe to DadCooksDinner using the RSS or Email options on the right, link to this post from your blog, recommend DadCooksDinner to your friends, or buy something from Amazon.com
through the links on this site. Thank you.