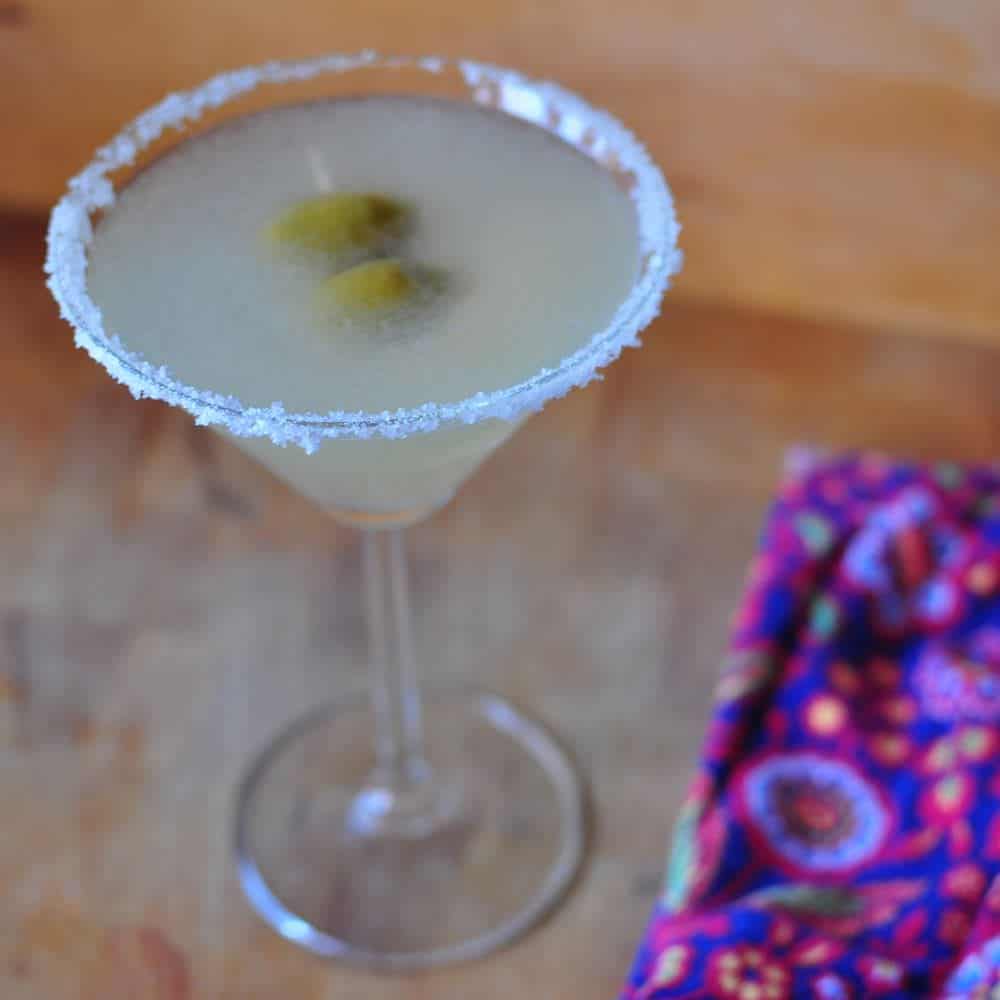 My day job took me to Austin a few times earlier this year. I spent as much time as I could sampling* the local cuisine - barbecue and Tex-Mex.
*Read: stuffing myself until I could barely move.
There are a lot of wonderful things to eat in Austin, but my favorite was the Mexican Martini. Or the Texas Martini - I saw both names used for what is essentially the same drink. Tequila, orange liqueur, simple syrup, and lime juice in a cocktail shaker full of ice, served in a martini glass with a salted rim. Drop in some olives stuffed with jalapenos, and the drink is ready to enjoy.
My favorite version was the spicy Texas martini served at Chuy's, where the tequila is infused with jalapenos, to give the drink a little extra kick. I came home determined to make it for myself.
A Mexican martini is a simple drink, with no place to hide low quality ingredients. Get 100% agave silver tequila. You don't want to infuse reposado or anejo tequila, and cover up all their subtleties with spicy jalapenos. Use orange liqueur, not a cheap triple-sec; I like Cointreau. Most important: you must use fresh lime juice and simple syrup. Please, for the love of all that is good and right, no sweet and sour mix!
*If you want a frozen margarita, then I'll let you use sweet and sour mix. But not in this drink. It needs fresh lime juice to make it work. And, actually, I buy frozen limeade for my frozen margaritas. I have no idea why anyone would voluntarily drink sweet and sour mix.
Yes, there are a lot of steps to this drink. Most of the work is done ahead of time; simple syrup keeps for weeks in the refrigerator, and the infused tequila lasts forever. Once the pre-work is done, you can serve Mexican martinis until your guests say "no mas".
Recipe: Fiery Mexican Martini
Makes 2 Mexican Martinis
Ingredients:
Jalapeno Infused Tequila:
1 (750ml) bottle 100% agave silver tequila
3 jalapeno or serrano peppers, stemmed and halved
Simple Syrup:
Martini Ingredients:
½ cup (4 ounces) Jalapeno-Infused Tequila
¼ cup (2 ounces) orange liqueur (Cointreau)
Juice of 2 limes (save the squeezed lime rinds for salting the rim)
2 tablespoons (1 ounce) simple syrup
Ice
4 jalapeno-stuffed olives
Kosher salt (or other coarse salt)
Directions:
1. Infuse the tequila:
Combine the tequila and jalapeno peppers in a quart container with a lid. Seal the container and steep the jalapenos in the tequila overnight, or up to 24 hours. Strain the jalapenos and any stray seeds out of the tequila, and pour the tequila back into the original bottle.
2. Make the simple syrup:
Heat 1 cup water in the microwave until boiling, about 2 minutes. Stir in 1 cup sugar, then stir occasionally until the sugar dissolves, about 5 minutes. (Simple syrup will keep up to a month in the refrigerator).
3. Prepare the glasses:
Spread kosher salt in a plate that is slightly larger than the diameter of a martini glass. Squeeze one of the limes, reserving the juice for later, and use the rind to wet the rims of two martini glasses. Twirl the glasses in the kosher salt. Skewer the olives on two toothpicks, and set in the glasses.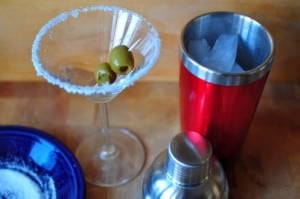 4. Make the martini:
Add the tequila, orange liqueur, simple syrup and lime juice to a cocktail shaker, then fill with ice. Cover and shake well. Pour into the prepared glasses and enjoy.
Variations:
*Not-so-fiery Mexican Martini: Skip the infusion step, and use 100% agave silver tequila.
Notes:
*I strongly suggest a good lime squeezer for this recipe.
*Why do I feel like I'm stepping into a holy war with this post? I expect a mob of angry Austinites*, carrying pitchforks and torches, to descend on my comments section.
*Austiners? Austinininans? I'm digging myself deeper, aren't I.
*So, If I've offended your culinary sensibilities, remember two things:
If you leave a comment saying how horribly wrong I am, you must include a recipe. How else will I know where I went wrong?
What do you think? Questions? Other ideas? Leave them in the comments section below.
Related Posts:
Quick Red Salsa
Tomatillo Salsa
*Enjoyed this post? Want to help out DadCooksDinner? Subscribe using your RSS reader or by Email, recommend DadCooksDinner to your friends, or buy something from Amazon.com through the links on this site. Thank you!