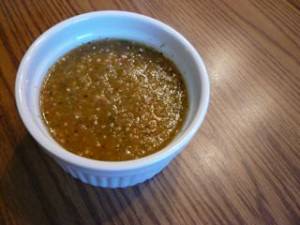 This recipe is overdue. The pictures for this recipe are left over from last summer - our CSA gave us 7 pounds of tomatoes or tomatillos, our choice. So, I picked out 4.5 pounds of tomatillos, and got to work!
*2009 Update - It's been a bad year for tomatoes. We're only getting 5.5 pounds a week. "Only" 5.5 pounds. The folks over at the Crown Point CSA are too good to us.
Recipe: Tomatillo Salsa

Equipment: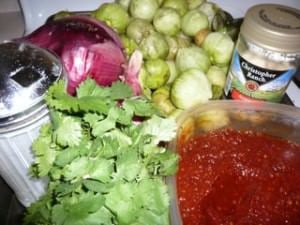 Ingredients:
2 pounds fresh tomatillos, husked and rinsed
3 cloves garlic, peeled
Leaves from ¼ bunch of fresh cilantro (Just grab a hunk of cilantro leaves, and rip them off the bunch)
1 tablespoon Chipotle en adobo paste (Or 3 jalapeno peppers, minced)
½ medium red onion, diced
Juice of 1 lime
1 teaspoon sugar (optional)
Salt to taste
Directions:
1. Cook the tomatillos: Husk and rinse the tomatillos. Place on a sheet pan (you need a lip to catch any juices) and broil them on high, about 6 inches from your broiler, until they turn olive green, and start to brown in spots (About 10 minutes total, for my broiler). Remove from the oven and let stand while you prep the rest of the salsa.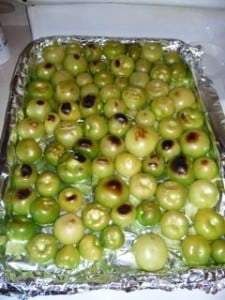 Tomatillos, browned on one side
2. Build the tomatillo salsa in your food processor:
Mince garlic by putting it in the food processor, and running it until it is completely chopped. Add the chipotle paste and cilantro leaves, and pulse again until chopped.* Add the red onion, and pulse a couple of times to combine. Pour the tomatillos and any juices on the sheet pan into the food processor, then process for about 30 seconds or until well blended.
*Do not inhale when you open the food processor, after you've pulsed the chipotle. Trust me on this one!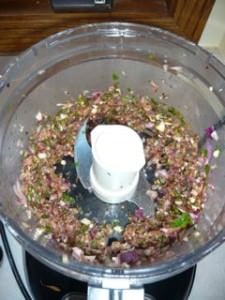 Chopped onions and peppers...or a chemical weapon?
3. Season to taste:
Add the lime juice, and pulse to stir. Then, taste for seasonings. I add salt at this point, and usually some sugar if the tomatillos are really tart. Pulse to stir.
4.5 lbs tomatillos yields 2 quarts of salsa
Variations:
*Make this recipe with fresh peppers instead of chipotle en adobo. While I like the smoky taste that the chipotle adds, if your CSA gave you hot peppers with your tomatillos, use them! Put them on the pan with the tomatillos so they get nice and browned, then trim the stems off and put them in the food processor when you would add the chipotle paste. Pulse until they're well chopped.
Notes:
*When I made this recipe, I doubled it to use up all the tomatillos. My food processor could only handle this batch size - I wound up making it in two batches.
*Really, trust me - do NOT take a deep breath right when you open the food processor full of chopped onions and chipotle. To quote Alton Brown (my hero): "You'll mace yourself! And that's not good eats!"
*You can substitute 32 ounces of canned whole tomatillos
for the fresh ones, and I usually do in the winter. Instead of step 1, just drain the tomatillos; they're ready to go straight from the can. This subsitution, and using the food processor to do most of the work, makes this recipe very fast to put together - 15 minutes end to end, maybe less.
*I like the smoky taste of chipotle peppers in this recipe, but you can substitute a fresh jalapeno or serrano chile instead. I'd brown it with the tomatillos, stem it, then mince it in the processor when you would have added the chipotle.
*Leftover salsa (or extra, if you've got 4.5 pounds of tomatillos) can be saved in the refrigerator for about 4 days, or frozen for a few months. I have one last quart bag in the freezer that I'm going to use this week.
*If you don't have a food processor, you can do all the mincing by hand, but the tomatillos are going to be a mess - they spread liquid everywhere.
*My favorite time to have this recipe is with Chorizo Y Papas, but it goes well with many different Mexican or Tex-Mex meals. It goes really well with pork; I use it when I make slow cooker shredded pork, with carnitas, and with roasted pork loin. Also, I love it with refried black beans. Darn, I just realized that I have a lot of recipes I need to put up here!
Questions? Comments? Better ideas? Add them in the comments, below.
Related posts:
Quick Red Salsa recipe
Pickled Chile Peppers recipe
Grilled Corn recipe
Inspired by:
Meredith Deeds -
The Take-out Menu Cookbook
and her cooking class at
WRSOC
Rick Bayless -
Salsas That Cook