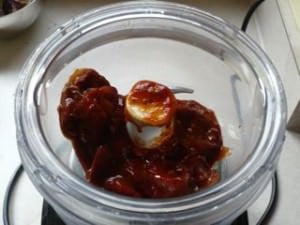 Chipotles en Adobo are canned chipotle peppers - smoke-dried jalapenos - in a thick vinegary, red sauce. When I started using them years ago, you had to go to mexican groceries, or specialty cooking shops. Now you can find them in any grocery store, in the "international" aisle.
They are a great ingredient if you need heat and some smoky flavor. I use them all the time in salsa and chili, and occasionally in a vinaigrette with fish or shrimp. Be careful though - they pack a punch!
This recipe is a quick tip I picked up from Bobby Flay. Instead of using "one chipotle pepper, choppped, with adobo sauce", puree the entire can ahead of time and store it in the refrigerator.
Chipotle Puree
Ingredients:
Directions
Open can, pour into food processor or blender. Process for 30 seconds, or until smooth. (Note: the mini-bowl that comes with a KitchenAid food processor is perfect size for this, and I don't have to clean up the processor afterward. Well, except for the lid.)

Scrape puree into a covered container. Store in the refrigerator.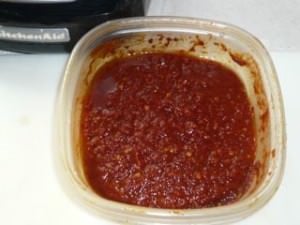 One heaping teaspoon of chipotle puree is equal to one chipotle en adobo with adobo sauce. Stored this way, they keep forever. I've kept them for up to three months. Normally, I use a batch in about two months, but one time I found a really large can at the local Mexican grocery...
Speaking of the Mexican grocery, Here's the brand I usually buy: La Costena Chipotle in Adobo
But I've bought lots of different brands, and they all seem to be about the same. The big advantage to buying them at the Mexican grocery is cost - they're a lot cheaper, and often available in larger cans. (Yes, I use a lot of chipotle.)