I never thought I'd be a baker…but pressure cooker cheesecake makes me look like one.
I freeze when I'm asked to bring dessert to a holiday party. Everyone assumes that, because I'm a good cook, I'm also a good baker. Um…not so much. Dad may cook dinner, but Mom's the baker in the family. I'm too seat-of-my-pants to be a baker. I can fumble my way through it, but the results are hit or miss. My wife (the Chemistry teacher) is a fantastic baker - she's precise and careful when she's cooking.
That said, pressure cooker cheesecake is resilient enough that even I can't screw it up too much. (And, even if it's not perfect, everyone wants to eat the results.)
I even planned my Christmas cheesecake ahead of time: Oreo cheesecake! I love Oreos, knew they'd make for a great filling, and…I thought I saw Oreo crumbs at my local grocery store, which would make an easy crust. Shopping the day before Christmas, I learned two things:
My grocery does not carry Oreo crumbs - they sell pre-made pie crusts made of ground up chocolate cookies - not going to work with my cheesecake.
I can make Oreo crumbs and work out post-shopping stress at the same time. "Bambambam…mutter, mutter…bambambam…blocking the aisle…bambambam….not looking where they're going… bambamBANG…oops." Pounding Oreos into powder is great therapy.
The trick to this recipe, if there is one, is the 7-inch diameter cheesecake pan. It's the perfect size to fit in a 6 quart electric pressure cooker, like my beloved Instant Pot, and sit just above the boiling water on the steaming rack.
If you've been following my blog, you'll notice a change to my pressure cooker cheesecake technique. I don't cover the pan with foil any more. It got in the way of the rising cheesecake, and the center of the cheesecake would not set sometimes.
Video: Pressure Cooker Oreo Cheesecake (3:25)
Pressure Cooker Oreo Cheesecake [YouTube.com]
Print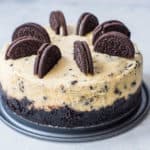 Pressure Cooker Oreo Cheesecake
---
Author:

Mike Vrobel

Total Time:

55 minutes

Yield:

8

slices

1

x
Description
Pressure Cooker Oreo Cheesecake - that's right, cheesecake from a pressure cooker. With Oreos!
---
Crust
about

¾ cup

Oreo cookie crumbs (

12

cookies, crushed fine)
Cheesecake
1

pound regular cream cheese, softened (

2

(8-ounce) packages)

⅔ cup

sugar

½ teaspoon

vanilla extract

¼ cup

sour cream

2

large eggs

5

Oreo cookies, rough chopped
Topping
4

Oreo cookies, cut in half
---
Instructions
Prepare the pan: Spray the 7-inch cheesecake pan with nonstick cooking spray. Crush the Oreos - I put them in a gallon zip-top bag and pound them with a rolling pin. Spread the Oreo crumbs evenly across the bottom of the pan and pack down, pushing the crumbs up the sides a little.
Make the cheesecake filling: Soften the cream cheese by leaving it out at room temperature for at least 1 hour. (Or soften the cream cheese in the microwave, 30 seconds to 1 minute). Beat the cream cheese in an electric mixer on medium speed until smooth, about 1 minute. Slowly add the sugar and beat on medium speed until the sugar is completely blended, about 3 minutes. Stop the mixer and scrape down the sides. Add the vanilla and sour cream and beat on low speed until completely blended, about 1 minute. Stop the mixer again and scrape down the sides. Add the eggs one at a time, beating each on low speed until just blended. (Don't over-beat the eggs.) Stir in the 5 rough-chopped Oreos by hand. Pour into the cheesecake pan.
Pressure cook the cheesecake for 20 minutes with a natural pressure release: Put 2 cups of water and the cooking rack in the pressure cooker pot. Make an aluminum foil sling to lift the cheesecake: fold a 2-foot long piece of aluminum foil over a few times, until it is a long strip about 4 inches wide. Center the cheesecake pan on the sling and carefully lower it into the pot, setting it on the rack. (Bend the edges of the foil sling over so they fit under the lid.) Lock the lid on the cooker and pressure cook on high for 20 minutes in an electric PC or 16 minutes in a stovetop PC, then let the pressure come down naturally, about 20 more minutes. (If you're in a hurry, you can quick release any pressure left in the pot after 15 minutes.)
Cool the cheesecake, then serve: Lift the cheesecake out of the pressure cooker. Loosen the cheesecake from the sides by running a paring knife around the edge of the pan. Cool the pan at room temperature for an hour, then refrigerate for at least 4 hours, preferably overnight. Just before serving, set the 8 half-cookies in a ring around the outside edge of the cheesecake, cut side down, pointing towards the center. (See the picture at the top of this post. This gives you one cookie per piece of cheesecake.) Slice the cheesecake into 8 pieces and serve.
Notes
Cutting Oreos in half for the rounds on top is not an exact science - they want to crumble, not cut. Use a long, sharp chef's knife, and have a few spares. Then, console yourself by eating the mistakes. The next time I make this recipe, I'm going to try chocolate dipped Oreos to see if they hold together better. (Not because I want them for the cook. Oh, no, not me.)
I get questions about changing this recipe for different sized cookers and pans; I haven't had time to test them yet. I've heard from readers that a 6-inch wide, 3-inch high cheesecake pan will work…but it might take a little extra cooking.
Using an 8 Quart pressure cooker? I use this recipe as-is, with my 7-inch cheesecake pan in my 8-quart pressure cooker. It works great. Will it work with a larger pan in the larger cooker? In theory, yes, it should work if you increase the cooking time under pressure. But I have not tried it, so I don't know how much longer it should take.
Tools
6 Quart Pressure Cooker (I love my Instant Pot electric pressure cooker)
7-inch Cheesecake Pan (I like this springform pan from Nordic Ware)
Pressure Cooker cooking rack. One came with your pressure cooker - check your junk drawer. Or, get this handy silicone steam rack with easy-to-grab handles, and you won't need the aluminum foil sling.
Aluminum foil to make a sling (if needed)
Prep Time:

20 minutes

Cook Time:

35 minutes

Category:

Appetizers and Drinks

Method:

Pressure Cooker

Cuisine:

American
What do you think?
Questions? Other ideas? Leave them in the comments section below.
Related Posts
Pressure Cooker New York Cheesecake
Pressure Cooker Pumpkin Cheesecake
Pressure Cooker Salted Caramel Cheesecake
My other Pressure Cooker Recipes
My other Pressure Cooker Time Lapse Videos
Enjoyed this post? Want to help out DadCooksDinner? Subscribe to DadCooksDinner via eMail and share this post with your friends. Want to contribute directly? Donate to my Tip Jar, or buy something from Amazon.com through the links on this site. Thank you.