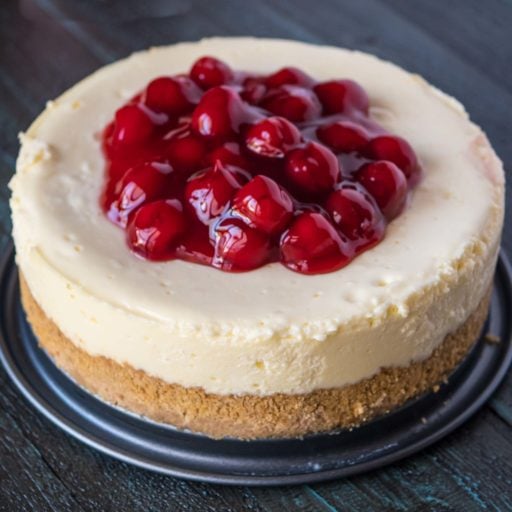 Pressure cooker cheesecake was a bridge too far. I mean…who in their right mind would bother to make a cheesecake in a pressure cooker?
(Looks embarrassed, hesitates, then slowly raises hand)
I resisted this idea for a long time, but the pressure cooker does a fantastic job with cheesecake. You know how you're supposed to cook a cheesecake in a water bath? The pressure cooker does the same thing, pressure steaming the cheesecake, resulting in evenly cooked cheesecake. No cracks, no overdone edges - perfectly creamy cheesecake. The best cheesecakes I've ever made.
That said…this has been a frustrating recipe for me to get right enough to publish. Different recipes suggested a low of 16 minutes (not enough) to a high of 35 minutes (good - but seemed long). My test results were all over the place. One time, the cheesecake was perfect at 25 minutes; when I re-tried at 25 minutes, it was undercooked and runny in the middle. That said, my kids loved the experiments. Even the 16 minute cheesecakes that were falling apart in the middle were fought over. "No, I get the leftovers - you had an extra piece last time!"
I learned three things, trying to get the timings down. The first: minor differences make for major changes in the cheesecake. I get a smooth top on the cheesecake when I cover the pan with foil - but it adds ten minutes to the cooking time. (That's why one was perfect at 25 minutes, and another was not.) The second: the pan matters. I prefer a springform pan, because it is easy to get the cheesecake out of the pan - but a heavier aluminum pan with solid sides and a push-up bottom cooked the cheesecake quicker.
The third thing: pressure cooker cheesecake is hard to mess up. (And, even when I messed up, everyone gobbled down the "failures".) Pressure cooking steams the cheesecake at 240°F to 250°F, a much lower temperature than you get in an oven, so it is difficult to overcook. My most consistent results were at 35 minutes under pressure; they never overcooked, and came out creamy and smooth all the way through.
Want to impress your guests with something completely out of left field from the pressure cooker? Make a cheesecake.
Video
Video:
Pressure Cooker New York Cheesecake - Time Lapse
[YouTube.com]
Recipe: Pressure Cooker New York Cheesecake
Adapted from Philadelphia Classic Cheesecake [Kraft.com]
Print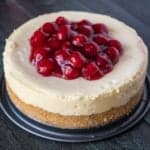 Pressure Cooker New York Cheesecake
---
Author:

Mike Vrobel

Total Time:

1 hour 45 minutes

Yield:

8

pieces of cheesecake

1

x
Description
Pressure Cooker New York Cheesecake recipe. Pressure cooker cheesecake? Yes, you want to try it. Perfectly cooked cheesecake in about an hour from your pressure cooker.
---
Crust
¾ cup

graham cracker crumbs (

4

whole graham crackers, crushed)

2 tablespoons

melted butter
Cheesecake
1

pound regular cream cheese, softened (

2

8-ounce packages)

⅔ cup

sugar

2

large eggs

½ teaspoon

vanilla extract

¼ cup

sour cream
Topping
---
Instructions
Prep the pan: Spray the 7-inch cheesecake pan with nonstick cooking spray. Mix the graham cracker crumbs and melted butter, then spread evenly across the bottom of the pan and pack down, pushing the graham crackers up the sides a little.
Make the cheesecake filling: Soften the cream cheese by leaving it out at room temperature for at least 1 hour (or heat it in the microwave for 20 to 30 seconds, until it is softened). Beat the cream cheese in an electric mixer on medium speed until smooth, about 1 minute. Slowly add the sugar and beat on medium speed until the sugar is completely blended, about 3 minutes. Add the eggs one at a time, beating on low speed until just blended. Stir in the vanilla and sour cream by hand. Pour into the cheesecake pan, then tap the pan on the countertop for about 30 seconds to get rid of air bubbles. Cover the pan with aluminum foil, and crimp around the edge to seal.
Pressure cook the cheesecake: Put 2 cups of water in the pressure cooker pot and add the cooking rack. If your pressure cooker rack doesn't have handles, make an aluminum foil sling by folding a 2-foot long piece of aluminum foil over a few times, until it is a long strip about 4 inches wide. Use the sling to lower the cheesecake pan into the pot and set it on the rack. Lock the pressure cooker and pressure cook on high for 35 minutes in an electric PC or 30 minutes in a stovetop PC, then let the pressure come down naturally, about 10 more minutes.
Cool the cheesecake, then serve: Lift the cheesecake out of the pressure cooker. Immediately run a knife around the rim of the cheesecake pan to loosen the cheesecake from the sides. Cool the pan at room temperature for an hour, then refrigerate for at least 4 hours, preferably overnight. Top with the cherry pie filling and serve.
Notes
Tools
6 quart or larger pressure cooker (I love my 6 quart Instant Pot)
7-inch x 3-inch cheesecake pan, to fit my Instant Pot 6 quart (My favorites are by NordicWare and Fat Daddio)
Rack for pressure cooker
Aluminum foil
Prep Time:

1 hour

Cook Time:

45 minutes

Category:

Pressure Cooker

Cuisine:

American
Notes
Soft cream cheese prevents lumps - if the cheesecake is cold, it doesn't smooth out in the mixer.
After cooking, the cheesecake can be refrigerated for up to 6 days…if it lasts that long.
What do you think?
Questions? Other ideas? Leave them in the comments section below.
Related Posts
Pressure Cooker Beef Shank Osso Bucco
Pressure Cooker Day-After-Thanksgiving Turkey Carcass Soup
Pressure Cooker Macaroni and Cheese
Instant Pot Mint Chocolate Chip Cheesecake
Instant Pot Cheesecake with Sour Cream topping
Instant Pot Carrot Cake
My other Pressure Cooker Recipes
My other Pressure Cooker Time Lapse Videos
Enjoyed this post? Want to help out DadCooksDinner? Subscribe to DadCooksDinner via eMail or RSS reader, recommend DadCooksDinner to your friends, and buy something from Amazon.com through the links on this site. Thank you.