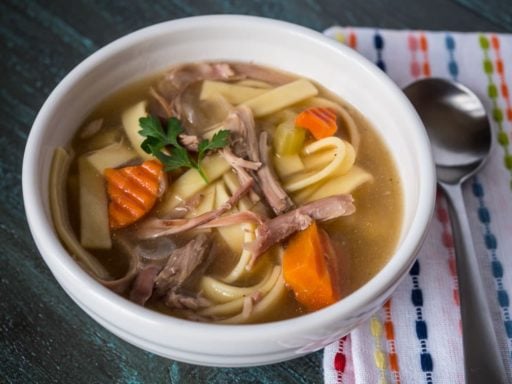 Pressure Cooker Day-After-Thanksgiving Turkey Carcass Soup
Save the bones!
Time again for my Thanksgiving rallying cry. Every year, I beg you to save the carcass from your turkey. Why? So you can make my favorite soup ever, day-after-Thanksgiving turkey carcass soup.
This is my favorite Thanksgiving tradition. Every year, after all the dishes were done, my dad would pull out the gigantic enamelware pot - the one designed for entire clambakes. Into the big pot went all the turkey bones, onions, celery, and carrots. The pot would simmer on low overnight; the next day, the house smelled like heaven.
This is my take on dad's big pot of turkey carcass soup. I make mine in the pressure cooker, of course. My pressure cooker is my favorite way to make broth, and that is the first step in the recipe. I reach for my bigger pressure cooker - 8 quarts is good, and if you have bigger, use it. The broth part of the recipe yields 4 quarts of broth, and we only use 2 quarts in the soup. I freeze the excess, and use it to make a quick weeknight pot of noodle soup a few months later. In the middle of January, a warm pot of soup on a weeknight is a blessing.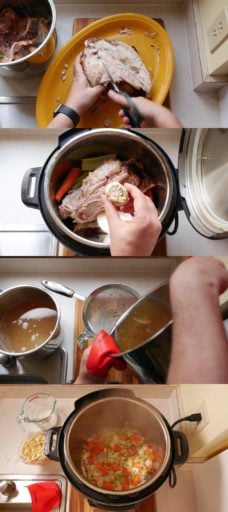 Top to bottom: Breaking up the bones; adding the aromatics, straining the broth; sauteing the aromatics
The tricky part of this is making the turkey carcass fit in the pot. Actually, I should say "the messy part", not the tricky part. It's not hard, if you're willing to rip and tear and get dirty. (I do use a pair of kitchen scissors to help cut through bones.) I cut the backbone out of the carcass, like I'm butterflying the turkey, then break up the larger pieces enough to get them below the max fill line. 2This is where a larger pressure cooker comes in - I don't have to break up the carcass as much in a larger cooker.
No pressure cooker? No worries. Instead of an hour under pressure, simmer the turkey broth on the stovetop (or, even better, in a 200°F oven) for 4 to 6 hours. The soup part of the recipe is non-pressured; it works just as easily on the stovetop as it does in an electric pressure cooker.
Recipe: Pressure Cooker Day-After-Thanksgiving Turkey Carcass Soup
Video Time Lapse
Pressure Cooker Day-After-Thanksgiving Turkey Carcass Soup - Time Lapse
[YouTube.com]
Equipment
Print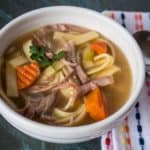 Pressure Cooker Day-After-Thanksgiving Turkey Carcass Soup
---
Author:

Mike Vrobel

Total Time:

2 hours 25 minutes

Yield:

2 quarts

of soup

1

x
Description
Pressure Cooker Day-After-Thanksgiving Turkey Carcass Soup recipe. Save the bones! Use them to make homemade turkey noodle soup, ready in an afternoon thanks to the pressure cooker.
---
Turkey Bones Broth (Makes about 4 quarts of broth)
Carcass from

1

roasted turkey, with clinging meat on bones (From a 12- to 14- pound turkey)

1

medium onion, peeled and halved

1

rib celery, broken into pieces

1

carrot, scrubbed

2

bay leaves

1 teaspoon

salt

3 quarts

of water (or to cover, or to the max fill line of the PC)
Turkey Noodle Soup
1 tablespoon

butter

1

medium onion, chopped

1

rib celery, chopped

1

carrot, peeled and chopped

1 teaspoon

dried thyme

½ teaspoon

salt

2 quarts

of Turkey Bones Broth

2 cups

of shredded leftover turkey meat (about

1

turkey breast)

3 tablespoons

corn starch

¼ cup

water

2 cups

medium egg noodles
Salt and pepper to taste
Minced parsley, for garnish
---
Instructions
Pressure cook the broth: Break up the turkey carcass so it fits below the max fill line on your pressure cooker - ⅔rds of the way up the pot. Add the onion, celery, carrot, bay leaves, and salt to the pressure cooker pot, then add water to cover by 1 inch, or to the max fill line on the pressure cooker. (About 3 quarts of water) Pressure cook for 60 minutes in an electric PC, 50 minutes in a stovetop PC. Let the pressure come down naturally - about 30 minutes. (It takes a long time for all that water to cool off. If you're in a hurry, let the pressure come down for at least 20 minutes, then quick release any remaining pressure.) Scoop the bones and vegetables out of the pot with a slotted spoon and discard. Strain the broth through a fine mesh strainer and discard the solids. Reserve 2 quarts of broth for the soup, and refrigerate or freeze the rest for another use. (I portion it into 2 and 4 cup containers, and freeze for up to 3 months.)
Sauté the aromatics: Wipe out the pressure cooker pot. Melt the butter in the pot over medium heat (sauté mode in my electric PC). Add the onion, celery, carrot, and thyme, and sprinkle with ½ teaspoon of salt. Sauté until the aromatics start to brown around the edges, about 5 minutes.
Simmer the soup: Add the turkey broth to the pot, turn the heat to high (sauté mode with the "adjust" button set to high in my electric PC). Cover the pot, and bring the broth to a boil. While the pot is coming to a boil, whisk the corn starch and cold water to make a corn starch slurry. Stir in the noodles, shredded turkey, and corn starch slurry. When the pot returns to a boil, turn the heat down to medium (regular sauté mode in my electric PC) and simmer until the noodles are tender. (Ten minutes, or for the time listed on the noodle package). Add salt and pepper to taste, and don't be shy with the salt - taste as you add the salt, and when the broth starts to taste sweet, it has enough salt. (Homemade stock is bland without salt; I add about 2 teaspoons of kosher salt to get the taste right.)
Prep Time:

10 minutes

Cook Time:

2 hours 15 minutes

Category:

Pressure Cooker

Cuisine:

American
Notes
No pressure cooker? No worries. Make the broth by putting everything in a large oven safe pot, bringing it to a boil on the stovetop, then cooking it in a 200°F oven for 4 hours. (Or, simmer on the stove for 4 hours – but the oven method is less work.)
This is a great make-ahead meal – step one can be completed in advance, leaving about fifteen minutes of actual cooking time. Stock can be refrigerated for up to three days, or frozen for months.
It also makes great leftovers – freeze the soup in 2 cup containers, and you have a lunch from the microwave in about 6 minutes.
You don't want to make turkey stock, but you still want soup? Sigh. I guess you can use two quarts of store bought chicken broth. But…it's so easy…try making your own stock, just once, then see if that cardboard carton of stock seems like a good idea.
Don't be tempted to add more noodles to the soup. They will look lost in all that broth when you first put them in the pot. Don't do it! The noodles soak up the broth as they cook; any more, and you're left with noodle stew, not soup.
What do you think?
Questions? Other ideas? Leave them in the comments section below.
Related Posts
What should you use that extra 2 quarts of turkey broth with? Here are a few suggestions:
Turkey Soup with Chickpeas and Vegetables
Southwestern Turkey and Black Bean Soup
Instant Pot Rotisserie Chicken Noodle Soup
Turkey Ramen Soup
My other Pressure Cooker Recipes
My other Pressure Cooker Time Lapse Videos
Enjoyed this post? Want to help out DadCooksDinner? Subscribe to DadCooksDinner via eMail or RSS reader, recommend DadCooksDinner to your friends, and buy something from Amazon.com through the links on this site. Thank you.