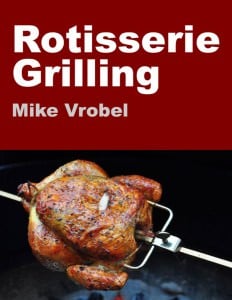 The paperback edition of Rotisserie Grilling is now available!
Rotisserie Grilling: 50 recipes for your grill's rotisserie, is $9.99 through Amazon.com, with the same content as the Kindle edition. The only difference is the interior pictures - a full color book would have cost over $30, so I had to go with black and white pictures.
If you've been waiting patiently for a physical book, thank you.
Paperback: Rotisserie Grilling - $9.99, with black and white pictures.
Kindle: Rotisserie Grilling - $4.99, available for immediate download, with full color pictures
*My apologies to Nook and iBook readers. I made a mistake. I'm almost done formatting...but I can't publish until August 1st. I signed up for a "Kindle exclusive" program when I first published Rotisserie Grilling, and now I'm contractually obligated to not have other e-book versions until then. I won't do that again, I can assure you...


Thank you to everyone who passed on the news about my cookbook to their friends and readers. When it first came out, I had the #1 selling kindle book in the "Outdoor Grilling" category, and I briefly cracked the top twenty on the "Barbecuing & Grilling" category for all books, e-book or not. Sales have settled down to a couple a day, with a few more over weekends. Rotisserie Grilling would not be doing this well without all your help and support. Thank you!