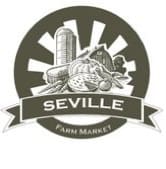 Cooking Demo at the Seville Farm Market: August 21st, 2010
I'm doing a cooking demonstration at the Seville farmers market next Saturday, August 21st, from 9:00AM to Noon. If you're in the area, please stop by and say hello!
I am looking forward to checking out the Seville market - I've never been to it before.  Back in my bicycling days, I used to ride through Seville fairly often, and I loved the farms in the countryside.  Now I get to eat what they grow!
I will be there at the same time as their Zucchini Smackdown contest.  My theme is, well, zucchini. It seemed like the right thing to do.  I'll be making Zucchini and Summer Squash Salad and grilling some zucchini skewers (recipe coming next week.)  I have to check out the vendors at the market to see what else I'll be able to cook. As I always say, part of the fun of cooking from a farmers market is finding out what's available that week.
[Update: The Zucchini Smackdown contest is open to all visitors to the market.  There are three contests:  best Sweet dish, best Savory dish, and largest zucchini by weight.  Bring your best zucchini dish, and good luck!]
Information about the Seville farm market: SevilleFarmMarket.blogspot.com
View Larger Map
I hope to see you there!