I found this picture while going through my photo library, looking for the right pictures for my weight lost post last week. And, while it's not a good picture of my weight loss, it is a good weight loss picture.
This is me and Pam Anderson at a cooking class she was giving at the Western Reserve School of Cooking in 2002: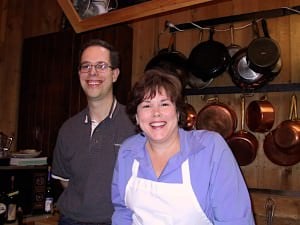 *If you haven't already figured it out, I'm the geeky looking one on the left.
I had already lost all my weight, and was as thin as I've ever been, or probably ever will be. Pam hadn't started her weight loss yet.
*We've been emailing back and forth about our blogs for a little while now, so I sent it to her, because I thought she might like it.
She said that the picture was amazing, and better than any possible advertisement for her book. Take a look at her now: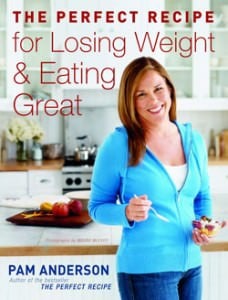 *This has been the best part of DadCooksDinner - I get to connect with people who have been positive influences on my life and my cooking.  And because of this blog, they treat me like I'm a Real Food Writer.  Me!  Can you believe it?  And, as I've said before - thank you, Pam!
Go visit Pam and her daughters, Maggie and Sharon, at their fun food blog: ThreeManyCooks.com
Pam Anderson: The Perfect Recipe for Losing Weight and Eating Great
*Enjoyed this post?  Want to help out DadCooksDinner?  Subscribe using your RSS reader or by Email, recommend DadCooksDinner to your friends, or buy something from Amazon.com through the links on this site.  Thank you!