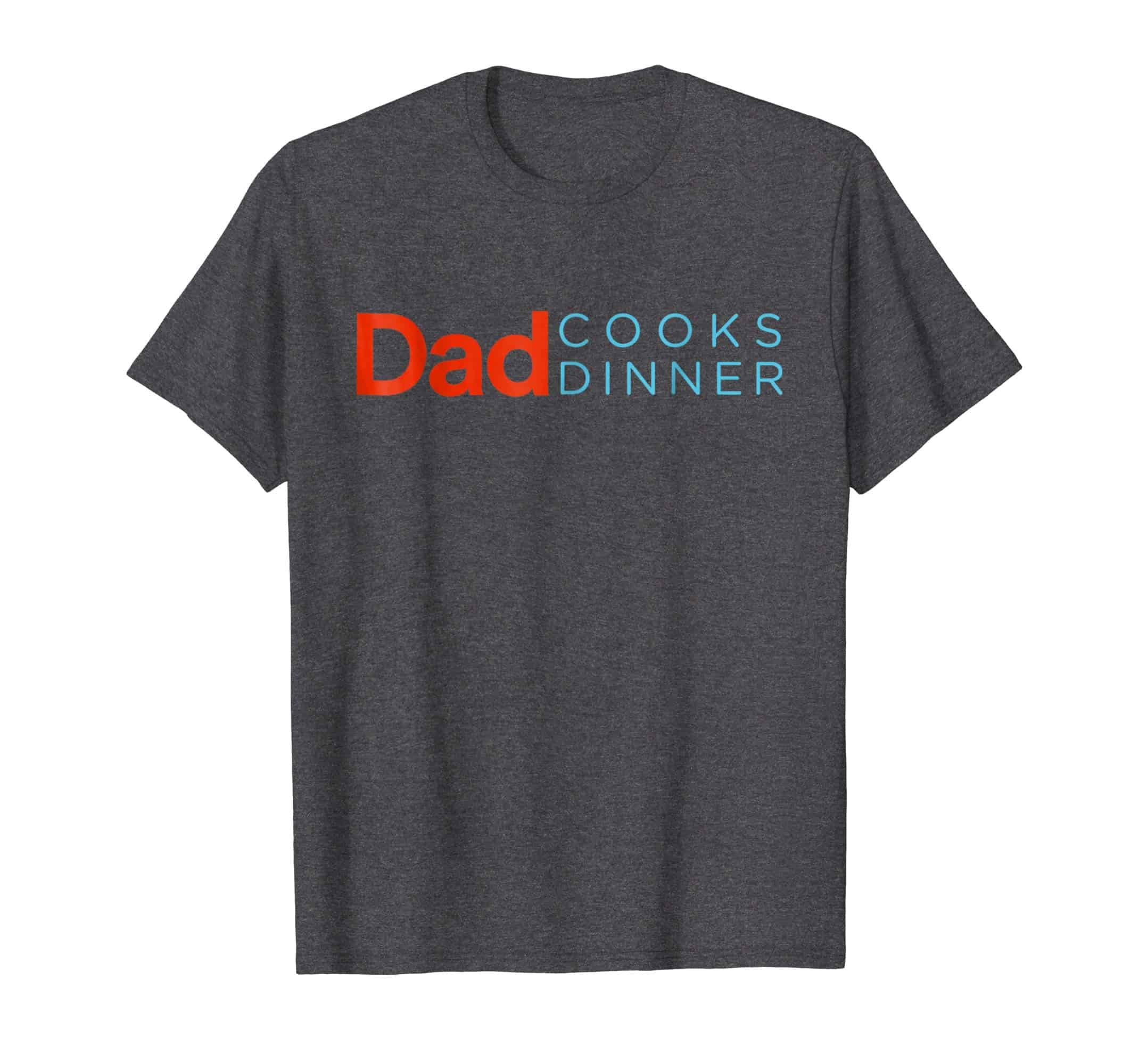 Back by popular demand: DadCooksDinner logo t-shirts!
…um, for some definition of popular demand. My brother asked if he could buy one after last year's limited run ended - that counts as popular demand, right?
(OK, OK, I confess. They're back because I need a new t-shirt. My old one is wearing out.)
Too much info about T-Shirts…
This section is inside blogging info - or should I say, inside t-shirt printing info. Skip ahead to find out about the shirts if you want.
Still reading? Here we go. There are a lot of different services that will print and ship T-Shirts for you; upload your artwork and they do the rest. As a part-time blogger, I don't have the bandwidth to print, stock, and ship t-shirt orders, so a print and ship service was an obvious choice.
Last year, I picked Teespring because they print the shirts for a favorite podcast of mine. Yes, that was the only research I did - "Hey, who printed this shirt I wear all the time?" Teespring only sells shirts through limited time sales - when the time expires, they print the number of shirts ordered during the campaign. And, the campaign wasn't a roaring success. I bought most of the t-shirts that I sold. (Not that there's anything wrong with that; I wanted those shirts.)
This year, I wanted a t-shirt I could keep on sale. (Re-opening campaigns every few months is more trouble than it it is worth.) I did a little more research into t-shirt printing this time around, and found Merch by Amazon. A couple of different "how to print and sell t-shirts" sites recommended them as a good choice. Now, I'm already an Amazon affiliate. My paper cookbooks are printed by CreateSpace, and most of my e-books sales are the Kindle editions. Adding another arm of Amazon to make my t-shirts was an easy choice. I can keep the shirts in stock, and if you're an Amazon Prime junkie like me you even get free shipping.
I was torn with the design - I love the color logo, and wanted it on a dark gray shirt. But I also wanted a white logo on a black shirt. Turns out, I can do both, in colors ranging from…Black to Navy to Gray. (I wasn't real creative on the colors. If anybody's itching for an Orange or Baby Blue shirt, let me know.)
The shirts
The shirts are available in Men's sizes from Small to 3XL, and Women's sizes from Small to XL.
The DadCooksDinner Color Logo Shirt:

Link: DadCooksDinner Color Logo Shirt [Amazon.com]
And, the DadCooksDinner B&W Logo Shirt:

Link: DadCooksDinner B&W Logo Shirt [Amazon.com]
So, buy a shirt, and show your support for DadCooksDinner. Thank you!
What do you think?
Questions? Other ideas? Leave them in the comments section below.
Enjoyed this post? Want to help out DadCooksDinner? Subscribe to DadCooksDinner via email and share this post with your friends. Want to contribute directly? Donate to my Tip Jar, or buy something from Amazon.com through the links on this site. Thank you.