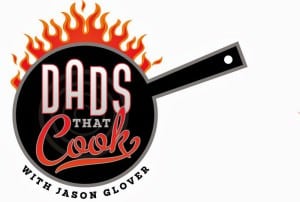 I just had a fun talk with Jason Glover, creator of a new TV food show, Dads That Cook. I'll be sharing that interview with everyone soon, but right now, Jason's show needs your help.
Jason is traveling the country, talking to regular dads who cook for their families, learning new recipes, and filming their stories for his show. Dads That Cook will air on PBS, starting on...Father's day, of course.
Obviously, this show is right in my sweet spot - dads that cook? These are my people. I can't wait to see it.
So, what's the problem? Dads That Cook is in need of funding. PBS doesn't pay to produce the show.
It wouldn't be a PBS show without a pledge drive, now would it?
Jason and his team need to complete the first season of the show to increase their chances of corporate sponsorship. To raise the money to finish season one, Jason is Kickstarting the first season of Dads That Cook.
Want to help out Dads That Cook? Visit the link below and pledge. There are only nine days left in the Kickstarter drive, so please act quickly. Thank you!
Dads That Cook Kickstarter
To whet your appetite, here's the trailer for season one:
Dads That Cook Kickstarter Video
Thanks again, and good luck, Jason!