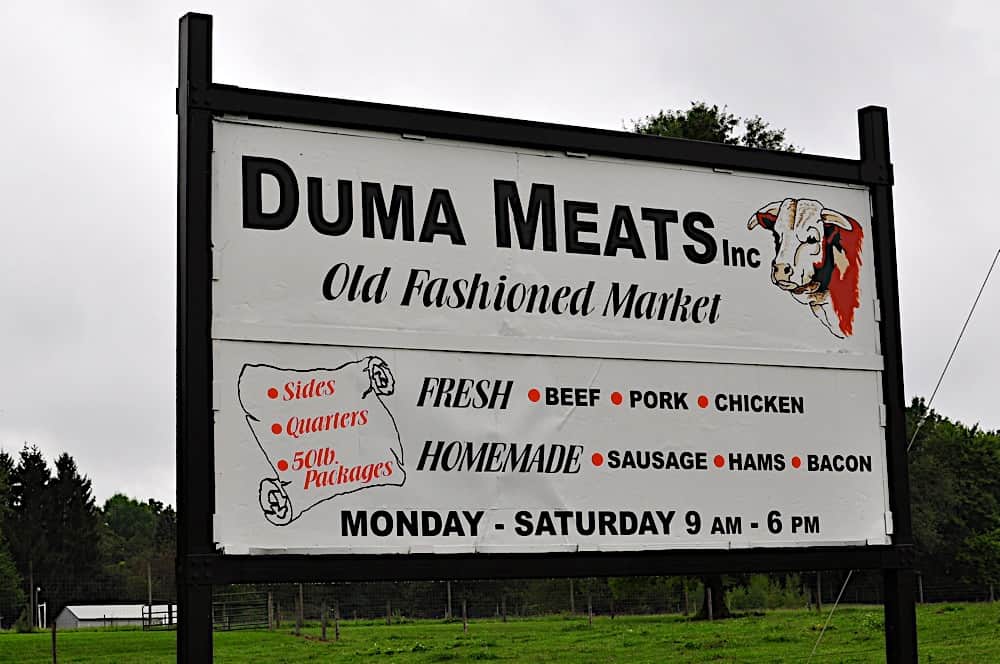 If you are in the Akron area, and are serious about meat, you owe it to yourself to take a trip to Duma Meats. Duma's is a full service butcher. And by full service, I really mean it - they raise their own cattle on site, and sell everything from a 400 pound side of beef down to their own homemade bologna.
They have two locations: the original store in Mogadore, and their new location in the Hartville Marketplace. Either location is worth a visit, but I prefer the original store.
*The original store has cattle wandering in the field out front, chewing their cud and watching you pull into the parking lot.
**Special thanks to my neighbor, Missy, for telling me I had to try Duma's
Duma Meats Farm Market
857 Randolph Road
Mogadore, OH 44260
(330) 628-3438
dumameatsfarmmarket.com
Duma's Hartville Marketplace
1289 Edison Street (Stands #2 to #8 in the Hartville Marketplace)
Hartville, Oh 44632
(330) 587-0032
dumameatsfarmmarket.com
My Top 5 list of favorite things they sell:
1. Meat bundles: Beef bundle, Pork bundle, Chicken bundle, or Mixed Beef, Pork and Chicken bundle.
The guy behind me in line had a mixed bundle, and I was getting jealous. He had 50 pounds of mixed meat for his freezer, and I didn't.
2. Whole cuts: Want to buy a 300 to 400 pound side of beef? How about just a quarter? Need a 150 pound pig? Or just half a hog? You can get it here, cut to your specifications.
I saw the bag of ground beef that came with a side; it looked like they'd be making hamburgers and chili for months. And that was just the ground beef!
3. Whole loins: Ok, maybe you don't want half a cow. How about a whole short loin, to cut porterhouses and t-bones from?
4. Regular meat counter: Just want a steak? Or some chicken legs? A few pork chops? Sure, they can do that.
5. Homemade Deli Lunch Meat: They make their own deli meat, too. The garlic bologna was heavenly. My son loves chip-chop ham, and I was impressed with the quality. Normally, chip-chop ham is an afterthought; Duma's makes it with care.
Related posts:
*Enjoyed this post? Want to help out DadCooksDinner? Subscribe using your RSS reader or by Email, recommend DadCooksDinner to your friends, or buy something from Amazon.com through the links on this site. Thank you!