I had a great time at the Fabulous Food Show at the IX Center in Cleveland last weekend. The entire show was focused on grilling, and I was in heaven as I wandered around the show floor. Weber grills was the main sponsor, and everywhere I turned there was another grill to see. I got to check out the huge 22 inch smokey mountain smoker, the platinum kettle, with its two attached shelves that look like wings, and the massive ranch kettle, that I can barely reach my arms across.
The only grill they didn't have out on the floor was the new Summit Grill Center. I know it is only slightly different from my faithful Summit 650. I still have lust in my heart whenever I saw the celebrity chefs use one on stage.
There was a lot of fun stuff to see and do (wine tasting, salt blocks for the grill, and boneless rib sandwiches were my favorites), but I'm going to concentrate on the highlight of the show, the celebrity guests.
I want to apologize in advance for the pictures. I was excited to meet my favorite authors, and didn't pay attention to the quality of the pictures that I grabbed random strangers to take...
Jamie Purviance
The first show I saw was Jamie Purviance. Author of numerous Weber Grill cookbooks, he talked about what he learned while writing his latest cookbook, Weber's Smoke.
Recipe I have to try:
Smoked Artichokes with Smoke Roasted Aoli Mayonnaise, from Weber's Smoke
Best Grilling Tip:
Watch the color of the smoke coming out of your grill. White smoke, maybe with a bluish tinge, is good. Black smoke is bad. Black smoke means one of two things. One: the dampers on the grill are closed too much, the smoking wood isn't getting enough oxygen, and it's releasing too much soot. Two: the food is on fire.
Funniest line:
"I don't know if your friends are like my friends. I hope not. My friends are food hoarders. With cedar plank salmon, I have to score it crosswise into appropriate serving size pieces…or else one of my friends will put half the salmon on his plate."
Steven Raichlen
Next came Steven Raichlen, my grilling guru, and author of twenty-nine (29!) cookbooks. He showed us a range of recipes from his different cookbooks, and asked an audience member up on stage to demonstrate where different ribs come from.
Recipe I have to make:
Sugarcane skewered shrimp with rum barbecue glaze, from How To Grill
Best tip:
Asparagus rafts. Skewer five or six spears with a toothpick to form a flat raft of asparagus. That way, you only have to flip a couple rafts of asparagus, and they can't work their way parallel to the grill and fall through.
Funniest line:
"The three tips to grilling are to keep the grill hot, keep it clean, and keep it lubricated. Now, there is a gender breakdown on this step. If you're a guy, you lube across the patio. The oil will be over here, and the grill is way over there. (Walks across the patio, dripping oil as he goes.)
I can't take credit for that observation. That's my wife's, and she deserves every shoe and handbag in her closet."
Branching out:
Steven is releasing a novel! Island Apart is a story of "love, loss, redemption, and really good food", and will be published in June.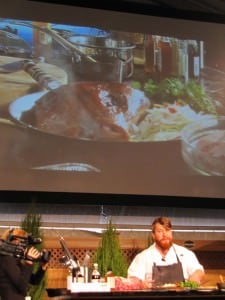 Chef Sawyer with his pig's head
Jonathan Sawyer and Jason Roberts
Jonathan Sawyer is the chef/owner of The Greenhouse Tavern and Noodlecat in downtown Cleveland; Jason Roberts is a celebrity chef from Australia. The two teamed up: Jason talked about homemade sausage, and Jonathan showed how to braise half a pig's head on the grill.
Recipe I have to make:
Half a pig's head on the grill. (Jonathan said I can get a pig's head at the West Side Market.)
Best tip:
Male pigs have pheromones, and occasionally you will get one that has "boar taint" and tastes bitter. To be on the safe side, Jason always orders female pigs from his butcher.
Best line:
Jason is trying to do the math for salting the sausage, 2 percent of salt by weight, but he's used to working in kilograms.
Jason: "Ten kilograms is…five pounds. So that would be 200 grams of salt…um…what's 200 grams of salt in ounces?"
Jonathan grins. "I have no idea. Call Ruhlman. I'm sure he'll be able to tell us."
Wrap up:
And that was my trip to the Fabulous Food Show. They're back in the fall - check the schedule and see if there's a chef you want to see. If you're a food obsessive like me, it's well worth the visit.
Featured Books:
Jamie Purviance, Weber's Smoke
Jamie Purviance, Time to Grill
Steven Raichlen, Best Ribs Ever
Steven Raichlen, Island Apart
*Enjoyed this post? Want to help out DadCooksDinner? Subscribe using your RSS reader or by Email, recommend DadCooksDinner to your friends, or buy something from Amazon.com through the links on this site. Thank you!